Water in Mining: Every Drop Counts
How technology is helping the mining industry to address its dependence on water

By Carly Leonida, European Editor
---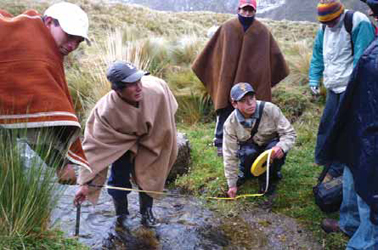 Community members being trained by Newmont Goldcorp technicians on how to test water
quality near the Yanacocha mine in Peru.

Water is a key requirement for sustainable development. It is critical to economic growth, energy and food production, ecosystems and human health. As such, water scarcity represents one of the biggest global societal and economic risks over the next decade.

The World Economic Forum has classified the water crisis among the top five global risks for the last seven years, and the United Nations has also predicted a 40% shortfall in water by 2030. As mines are (and always have been) heavily dependent on water for the extraction of copper, platinum group metals, diamonds and other valuable products, it is extremely important that the industry takes steps to ensure water is conserved as much as possible.

Statistics like this, coupled with the industry's current laser-beam focus on tailings management have pushed technological solutions into the spotlight recently. There have been a number of new dewatering and filtration products announced already in 2019 — Metso's VPX filter and Outotec's second-generation paste thickener are just two examples. No doubt more will follow, but simply recycling water will only get us so far. Water consumption must be minimized as far as possible, and to do so, the mining process as we know it needs to be reimagined.

Going 'Waterless'
Two of the most vocal, and high profile, proponents of water conservation are Anglo American and Newmont Goldcorp. In fact, Anglo American is pushing for the development of a fully "waterless mine." Dr. Hubert Fleming, head of water strategy at the company, told E&MJ: "Our ultimate ambition is, where possible, to eliminate fresh water from our mining processes, especially in the separation and transportation of ore and waste."

Creating a waterless mine, one that uses no external freshwater beyond rampup, is one of the four aspirational concepts within Anglo American's innovation- led approach to sustainable mining, FutureSmart Mining.

"Our short-term goal is that by 2030, we will have a 50% net reduction in freshwater abstraction in water-scarce regions," Fleming added. The company is already making inroads using a closed-loop approach to water dependency. This use of a sealed system delivers greater water efficiencies through direct water recycle and reuse. Most mines operate some sort of recycling system to minimize the draw on new water, but the concept behind a "closed-loop" is to minimize water losses by using the same water again and again. Today, Anglo American meets two-thirds of its total operational water requirements in this way.

"By 2020, we will have further reduced our fresh-water abstraction by more than 20% from our 2015 baseline," Fleming explained. "Much of this will be by creating diversions of fresh water away from the mine site, into communities and the environment for their use." Water sent to tailings disposal often represents the largest opportunity for loss at a mine. Fine particle slurries are diffi- cult to dewater, and current dry disposal options have prohibitive capital and operating costs.

Reducing evaporation losses from dams is another challenge. "Our own dams account for 10-25% of total water lost," Fleming said. "Not only are we wasting a very scarce and precious resource, this water costs approximately US$200 million annually to replace."

Technology to Reduce Water Loss
Technology, of course, has a role to play in helping to stem loss in these areas. The exponential growth of new disruptive, digital, and energy technologies will fundamentally change the mining industry, with water preservation being no exception.

Fleming told E&MJ: "Our operations already employ several existing and new technologies that help us implement our closed-loop strategy and deliver greater water efficiencies through direct water recycle and reuse." Anglo American is currently trialing a range of technologies, with a focus on three areas: evaporation measurement, recovery of water from tailings and dry tailings disposal.

"At our Drayton mine in Queensland, Australia, we have installed a new technology developed by Australia's Commonwealth Scientific and Industrial Research Organisationee (CSIRO) that supports the more accurate measurement of evaporation rates," Fleming said. Consisting of two floating buoys, the technology calculates, in approximately three to six months, the relationship between local meteorological conditions and actual evaporation, producing much more accurate evaporation data. Having accurate evaporation data drives a better understanding of the water balance at the mine site, focusing efficiency efforts in areas where impact can be greatest.

To help reduce evaporation from the Las Tórtolas tailings pond at Los Bronces in Chile, Anglo has deployed a pilot photovoltaic plant. This consists of 256 photovoltaic panels located on a floating island connected to a service room. The project is expected to reduce CO2 emissions at the mine by 58 metric tons per year (mt/y) and generate 150,000 kWh/year of renewable electric power. The system will reduce water evaporation in the area it covers by 80% providing an additional source of water for reuse in the mining process (currently, Los Bronces recirculates 70%-80% of process water.)
By 2030, Anglo American is aiming to reduce its net freshwater abstraction in water-scarce
regions by 50%.

The results of this initiative are being monitored throughout 2019 to determine where to pilot it at a larger size plant. "We are also exploring low-cost methods to minimize the amount of water sent to tailings ponds," Fleming said. "Our approach combines coarse-particle flotation to concentrate the mineral, and dry stacking technologies to dewater the residual waste. It allows us to float particles at sizes two to three times larger than normal, making it easier to extract water from the process and leaving a waste stream that is dry and stackable."

In addition to its water-reduction efforts, Anglo is also going one step further and laboratory testing a non-aqueous processing technique in partnership with "a global leader in science innovation." This uses a bespoke polymer instead of water to separate the ore from the remaining waste rock particles. "We are confident that these dry processing techniques will allow us to reuse 80% of process water, moving us closer to our goal of a waterless mine," Fleming added.

Names and Numbers
A number of operations have already benefitted from Anglo American's water saving efforts. For example, Fleming said the design of the tailings dam at Quellaveco in Peru, incorporates exceptional levels of water efficiency; with just 0.44 m3/mt of freshwater intake of ore processed, compared to 0.5 m3-0.6 m3/mt of freshwater intake of ore processed currently. "The balance of any water needed will be recovered from the tailings," he said. "The tailings will be transported by gravity along an 18.4-km concrete channel that traverses a series of viaducts, tunnels and bridges before reaching the dam. The finer tailings will be deposited and allowed to settle with the water content pumped back upstream for reuse in the processing plant."

Los Bronces copper mine in Chile also has an ambitious plan to recycle more water. More than 200 million m3 of wastewater is retained in the fine tailings of the Las Tórtolas dam, which is currently up to 100 m deep and retained water will increase to more than 750 million m3 during the life of the mine. The proposed water-recovery scheme aims to increase water reuse efficiency by extracting some of this water and pumping it back to the Los Bronces processing plant. The plan is for 29-mm horizontal wells to be drilled through the permeable weathered bedrock along the bottom of the dam and then lined with a 19-mm perforated steel pipe into which water will drain.

"It could improve Los Bronces' water efficiency by reducing water consumption by up to 20%, contributing to meeting our sustainability targets," Fleming said. "A trial well is scheduled for the first quarter of 2020, and we are expecting to see the monitoring and evaluation of results by mid-2020."

Newmont Goldcorp: New Name, New Goals
Following closure of Newmont's acquisition of Goldcorp in April, the company has been working to combine its sustainability efforts. Both companies had ambitious plans to reduce their water usage prior to the deal and none of this work will go to waste. Briana Gunn, environmental director for Newmont Goldcorp, spoke to E&MJ about the company's plans.

"Newmont Goldcorp will be utilizing the former Newmont Global Water Strategy to support our approach to responsible water management moving forward," she said. "The strategy identifies five pillars that aim to continuously improve how we manage water and respect water's shared use in the catchments and river basins where we operate. "Central to this strategy are securing water supply while protecting and enhancing other water uses, mitigating environmental and social impacts, managing water as an asset (operational efficiency), external engagement and internal collaboration with stakeholders."

Gunn reinforced the importance of setting and meeting ambitious water-reduction goals. "Increased competition for water poses risks to the mining industry in the form of access to water, operational disruptions, financial loss, delays in regulatory approval, reputational impacts and diminished asset value," she said. "Making a meaningful contribution to responsible water stewardship provides an avenue to manage future risk and secure resources to support longer- term operations and growth."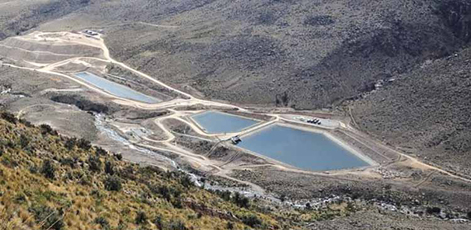 The tailings dam at Anglo American's Quellaveco mine in Peru was built with water efficiency in mind. Just 0.44 m3
of freshwater intake is required per metric ton of ore processed.

Gunn believes the industry is shifting its focus toward having a leadership role in sustainability by setting strategic priorities and addressing shared challenges within the watersheds where mining companies operate. "Having a shared understanding of the value of water, working in partnership to advance water stewardship, and supporting the objectives of the Sustainability Development Goals (SDGs) is a growing priority for the industry," she emphasized.

With this goal in mind, former Newmont sites are developing watershedbased targets that focus on collaborative management and action. This will be incorporated with the work that was completed as part the H2Zero program by the former Goldcorp sites, establishing targets to reduce water consumption and improve recycling rates. "Moving forward, we will have a combination of qualitative and quantitative targets for the Newmont Goldcorp operations focused on both water efficiency and collective action to sustain the availability and quality of our shared water resources," Gunn added.

Collaboration is Key
Techniques such as water removal, dry processing, pre-concentration and ore sorting have the potential to significantly reduce water use in mining and processing. However, utilizing some of them will require a fundamental change in how companies mine and access mineral resources (i.e., groundwater dewatering), as well as significant changes in technology and waste management.

Currently, the application of these technologies is not technically or economically feasible for all types of mining. However, Gunn said Newmont Goldcorp continues to support water research internally and externally, as well as stay abreast of advances at a number of organizations and universities that could be adopted in the future. One excellent example of the company's collaborative work is its EcoTails solution. Prior to its acquisition, Goldcorp worked closely with mineral processing expert, FLSmidth, to develop this concept. EcoTails blends filtered tailings with waste rock in transit (co-mingling) to create a geotechnically stable product called GeoWaste that is easy to convey and has a high strength when stacked.

EcoTails makes it possible to reuse a significant amount of process water at a mine, potentially reducing the operational cost associated with acquiring additional water. The project was first announced in 2017, although around four years of research and development work is thought to have been invested so far. A feasibility study and field testing are now complete, and a consortium is being formed to take the concept forward. The aim is to establish a group of like-minded mining companies that will jointly contribute capital and resources to implement a fullscale EcoTails prototype facility at Minera Peñasquito in Mexico in the near future.

Gunn mentioned that Newmont Goldcorp is also working collaboratively on a number of other projects related to water management and innovation. "We are working with the ICMM Tailings Aspirational Goal working groups to identify technologies for tailings dewatering," she said. Adding that, "the company continues to evaluate multiple methods for reducing water use including ore sorting, dry processing and in-situ recovery. Methods are evaluated as part of project development and examined further to determine if they are economically feasible, and do not negatively impact human health and the environment."

Delivering Results
In 2016, former Newmont sites set targets to improve their water efficiency with a target of a 5% reduction in water consumption from the 2016 baseline by 2019. This included site-level projects that improved recycling, identification and use of lower quality water, reduction in freshwater withdrawal, increased discharge, and reduction of consumptive loss.

Overall, the company has increased its recycling rate and reduced the intensity of water use per gold equivalent ounce (geo), reducing long-term liabilities, improving operational performance and supporting collaborative management efforts within the watersheds where it operates. In 2018, former Newmont sites reduced their water consumption by 6% as compared to the 2016 baseline, increased the rate of recycling by 4% (68% to 72%), and reduced the intensity in mega liters (ML) per geo by almost 3 ML/geo since 2016 (from 19 to 17.3 ML/geo).

A key example of this work is the implementation of storage and water efficiencies at both the Akyem and Ahafo sites in Ghana that have nearly eliminated the need for surface water from external sources.
---
As featured in Womp 2019 Vol 09 - www.womp-int.com