Drilling in the Digital Age
E&MJ looks at some of the newest products and solutions in the blasthole drill rig market

By Carly Leonida, European Editor
---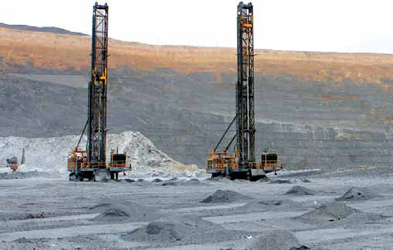 Two Pit Viper 351's from Epiroc operating at Newmont Goldcorp's Peñasquito gold mine
in Mexico.

Blasthole drill rigs are a staple of surface mines across the globe. Representing a major capital investment for any mine, these machines are not replaced regularly and so it is important that new rigs come ready for whatever the "mine of the future" may throw at them.

Autonomy and digital optimization tools are currently high on mining companies' lists of requests, and this trend is reflected both in original equipment maufacturer's (OEMs) R&D efforts, and the newest products and solutions that have come to the market over the past 12-18 months. Let's look at key developments from four of the biggest vendors in this space.

Epic Advance Automation Solutions
Epiroc held a press conference at the SME meeting in Denver, U.S., in February, highlighting the breadth of its automation solutions for blasthole drill rigs and the work of its Automation Center in Garland, Texas. At the event, Matthew Inge, business line manager for drilling solutions at Epiroc, spoke of the Pit Viper-231, which was first introduced to the market in September 2016 at the MINExpo trade show. He said the rig had undergone 18 months of field testing at a gold mine in Nevada and would be available to the market very shortly. The PV-231 can drill 53 ft (16.2 meters) in a single pass with hole diameters from 6.75 in. to 9.88 in. (171-250 mm). As with all Epiroc blasthole drill rigs going forward, it comes automation-ready from the factory and customers can choose varying levels of autonomy to suit their needs.

Tyler Berens, Epiroc product line manager, automation, explained to E&MJ: "We first introduced a control system on our drills back in 2006. Since that time, we've continued to develop the platform and advance automation levels taking us to fully autonomous.

"That detailed path has brought about a very sound autonomous platform that is now being deployed globally. It's running in rough winter conditions above the Arctic Circle, in high elevations and extreme heat. We continue to see the rollout to sites growing. We are continuing our journey to bring more intelligence to the drill fleet to make a smarter, more productive autonomous drill fleet. There will be more to come on intelligence solutions in the upcoming months." Berens said Epiroc's Automation Center is one of the most tangible areas that empowers the company's automation program, allowing it to be progressive and somewhat disruptive.

"It allows us to have a cutting-edge facility to grow our global automation team through very focused and handson training," he said. "It also allows for a realistic environment where we can do both focused development testing as well as work with our customers hands-on with the automation they are about to employ. This center allows us to move much quicker and more accurately in development by bringing cross-functional teams together around the systems."

The New 'Norm'
Berens described autonomy as "the new normal" when it comes to drill rigs. "There are quite a few autonomous and teleremote installs going on now and into the near future," he said. "They are global, not specifically centralized to one region. What has us excited about these is the trend. These installs are not trials and haven't been for a few years now.

"I see a few interesting areas where digital technologies will continue bringing about safer and more efficient operations in drilling. Digitizing work commonly done manually is ensuring more frequent and accurate data goes into decision-driving systems. Additionally, this information is being used in robotics systems to automate processes, ensuring safety and efficiency."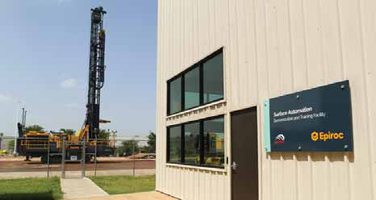 Epiroc's Automation Center in Garland, Texas. This is used for both R&D and to train
clients on new technologies.

In October 2018, Epiroc's drilling business acquired part of ASI Mining, a U.S.-based company that provides technology solutions for the autonomous operation of mining vehicles.

Epiroc took a 34% stake in ASI Mining, which is based in Utah, gaining access to a product range that includes onboard hardware and software to convert vehicles to autonomous operation, as well as system level software platforms for command and control of autonomous fleets. ASI's solutions are vendor agnostic and can integrate with various mobile machines, regardless of make or model.

In a press release accompanying the announcement, Jon Torpy, vice president of marketing drilling solutions at Epiroc, explained the relevance of the acquisition: "A decade ago, we started the Pit Viper automation program that has now led to a paradigm change in how drilling is done in surface mining," he said. "We see that the ASI Mining solutions will also fundamentally change the industry toward higher productivity and improved safety. We are excited about the potential that exists when we work together to bring new solutions to the mining community." And in terms of new products coming soon to the market?

"We work really closely to the market," said Heino Hammann, product line manager, blasthole, at Epiroc. "We have explored opportunities and benefits our solutions can bring to our customers … Historically, we have introduced a new rig model at MINExpo, so stay tuned."

Sandvik Rigs Get Smarter
Commenting specifically on the market for blasthole drills, David Shellhammer, president for the Rotary Drilling Division at Sandvik Mining and Rock Technology, described it as "stable but flat."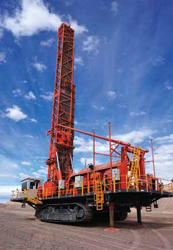 Sandvik's DR416i rotary blasthole drill
was released in June this year.

"Most drills coming to the market are replacements as opposed to new drills for new projects," he explained. "Current trends are toward autonomous operation and integration into existing mine digital infrastructure to drive data collection and improve operational efficiency." Shellhammer explained that automation and digitalization continue to make the drilling process more precise, consistent, information rich, cost-efficient and safe. "Providing 'cross-process' (extraction, hauling, milling) communication and third-party integration (such as that offered by Sandvik) between OEM equipment will only amplify the power of digitalization," he said. "When combined with the lower cost of connectivity and data storage, it enables improved decision- making and lowers overall mining process costs."

In line with this, many of Sandvik's customers are currently concerned with achieving consistent, predictable results at the lowest possible cost per hole, with an increasing number looking to enable these results via automated functions and/or autonomous machines. Dependable post-sale service and support including readily available replacement parts also rank high on their list of priorities.

"We continue to evolve our R&D efforts to meet the ever-changing technology landscape, but more importantly to make sure we are delivering exceptional value to our customers. The products we have recently released along with the soon-to-be-released products reinforce our culture of aggressive innovation and our never-ending focus on customer satisfaction," said Shellhammer.

New Autonomous Rig on the Way
Indeed, when it comes to product releases, Sandvik has been one of the busiest vendors in this space over the past 12 months. In June, it released the DR416i rotary blasthole drill, which delivers a single-pass capacity of 69 ft or 21 m (the longest single- pass mast in its class). Constructed for large diameter 16-in. rotary drilling, the DR416i is automation-ready, scalable, and supplies the highest rotational torques and pulldown forces at the lowest possible operating cost. It's also equipped with Sandvik's patented Compressor Management System to reduce fuel consumption and improve productivity.

Shellhammer explained: "In developing the latest addition to our iSeries family, we looked at our customers' greatest challenges in the large-diameter drill space and developed a cost-effective, highly-efficient solution to solve those challenges." In January, Sandvik introduced the D75KX, the first rig in the xSeries family.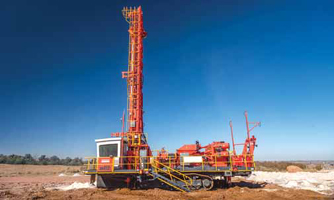 Sandvik's DR412i in action.

"The xSeries family is built upon the proven design, and reliability of our diesel-powered rotary blasthole drills and features added intelligence and improved operator ergonomics, providing operators with the right balance of reliability and technology to safely drill the perfect hole," Shellhammer said. "The xSeries offers a migration path to the iSeries should the customer's business needs dictate."

xSeries rigs feature a touch-screen GUI interface with the Sandvik Automation Module (SAM), a health monitoring system that replaces old-style shutdown switches and enables continuous, real- time measurement, and the same hardware and software components as iSeries machines.

To date, Sandvik has two automation- ready products, the DR412i and the DR416i, which can be adapted to autonomous operations. "We will be launching a third automation-ready rig in the coming months," Shellhammer told E&MJ.

Interoperability Key for Komatsu
Komatsu has nearly doubled its expected units recently, with drill placements in Canadian iron-ore operations, and the Peruvian and Chilean copper regions. Matt Collins, Komatsu Mining product director for drills, described the current market for blasthole drill rigs as "in a steady uptick." "The need for efficient drill and blast options carries across commodity markets," he said. "Across Komatsu, we are seeing the benefits of synergies resulting from the Joy Global acquisition. We've implemented effective training programs and are focused on worldclass support where our certified technicians work with customers to optimize operational and maintenance practices on their drill fleet."

The company is currently seeing a wide range of feedback from customers centered around application-specific needs. For example, customers near the Arctic Circle are looking at efficient ways to handle ice buildup and component functionality in extreme temperatures. In other parts of the world, customers need options to handle dust safely and effectively.

"There is a common thread on how to handle tooling on board the drill to enhance safety — from bit handling to rod handling, while providing operator visibility," Collins explained. "Also, across all applications, attention always drives back to the fundamentals of achieving optimal fragmentation. Looking at the powder factor, pattern layout, geological condition, and then mapping out the most effective way to use data input to achieve that desired fragmentation.

"Some of this evaluation has led to a trend in stepping the bit diameter slightly smaller to match the patterns adjustment effectively. The drill is a key piece that can aid in providing the tools to continuously improve those functions. We guide our R&D efforts around value creation through innovation."

Komatsu is actively working on new models and designs to expand its drill options. "We recently did some rack-andpinion down-the-hole percussive drilling on a mining-duty production drill rig, which is an exciting innovation as the pulldown and pullback is done on racking with constant pinion engagement," Collins told E&MJ. "This offers a more effective way to control the operational parameters to match geological conditions."

Komatsu has also noticed a strong market pull for autonomous features. "Beyond the initial step of moving personnel, we also hear feedback around defining a common automation language. Not all assets are created equal or operate on a common platform, so there has been a push for interoperability, layered on top of fundamental autonomous solutions that enable the drill to operate independently. This is an area where we are focusing to meet future demand and emerging trends," said Collins.

Cat Drills: Revamped and Ready for Action
Seeing an improvement in sales for blasthole drilling rigs, Jason Anderson, marketing manager–drills, Caterpillar Global Mining, told E&MJ that "the market continues to be strong across the major regions driven by strong commodity prices."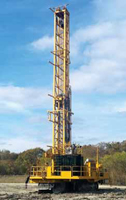 The Cat MD6250 operating
autonomously in a demonstration

Over the past few years, Caterpillar has been working to revamp its drill line, and three of the five planned new models (all rotary; Caterpillar exited the top hammer drill business a few years ago) are now in production. The MD6250 and MD6310 came to the market in 2017, and the MD6200, the smallest in the Cat line, began production in October 2018.

The MD6200 will see its main use in small mines and quarries. It is capable of rotary or down-the-hole (DTH) drilling of holes 5 in. to 7.87 in. (127-200 mm) in diameter. Offering both single- and multipass modes, it can drill at a negative angle up to 15° to match the slope of highwalls for pre-split drilling. Caterpillar said the result is cleaner highwalls with less waste material going to downstream operations.

The MD6250 and MD6310 are the core of the new family of Cat drills. The MD6250 is designed to drill 32.8-ft and 39.4-ft benches, including angle drilling for cast blasting, making it a good choice for mining, quarrying and heavy construction applications. The MD6310 offers single-pass drilling down to 44.9 ft or 57.4 ft depending on the mast configuration. It can create holes angled up to 30° for cast blasting and is a good all-rounder in mining applications.

Caterpillar said the new family of drills leverage the same electronics, hardware and software used across other Cat product lines. They have the same look and feel as other Cat products, and the design also supports service needs with straightforward diagnostics and expanded use of common components. The first Cat MD6250 rotary blasthole drill in Queensland, Australia, was recently delivered to contractor Mining and Civil Australia (MACA) for use at Bluff coal mine, an open-cut operation producing coking coal. MACA has a 10-year A$700 million (US$476 million) contract with Carabella Resources to manage both the drill-and-blast and load-and-haul operations at the Bluff mine.

Hastings Deering, the regional Cat dealer, handled all logistics, including assembly of the drill on site. "It's an interesting site as there are restrictions around noise," said Adam Davis, product manager for drills and large motor graders at Hastings Deering, in the company's press release. "MACA had experience with the MD6250's predecessor model and believed they could get the same value and production out of the new model."

"The MD6250 has proportional hydraulics, which means the machine makes less noise during operation and the fan circuit only operates when it needs to. The machine only creates horsepower when needed, which cuts down on heat, noise and energy." The two larger drills in Caterpillar's range, the MD6540C (diesel) and MD6640 (tethered electric), are next in line to be replaced with new models, but the company has not publicly announced a schedule yet. These drills are most commonly used in coal mines where they drill large diameter blastholes.

Koodaideri Opts for Autonomy
Anderson said the company is currently seeing a lot of interest from mining customers in technology and automation features, so it is a continued area of focus for his R&D team. "Caterpillar is well along the autonomy journey and Cat drills are an important part of this," he said. "The industry focus is on employing digital technology to help equipment perform more productively and efficiently. There is also a strong pull from mining companies for automation. Not all mining operations, however, want or need a fully autonomous solution.
The MD6200 is the smallest model in
Caterpillar's revamped line of rotary
blasthole drills

"To meet these varying needs, the MD6250 and MD6310 offer a building block approach to technology — using Cat hardware and software that delivers automated functions ranging from basic operator assist, such as auto-level, all the way to autonomous drilling of single rows. The building block approach enables upgrading the level of automation in the field as the customer's needs change." There are several sites today running various levels of automation and autonomy on Cat drills. The most recently announced (May) was Rio Tinto's smart mine, Koodaideri, in Western Australia.

The A$2.6 billion mine was approved in November last year with construction commencing earlier this year. Phase 1 of the operation will help sustain Rio Tinto's existing production capacity by replacing depletion elsewhere in the system. The mine is expected to produce 43 million metric tons per year (mt/y) commencing by year end 2021. A prefeasibility study into Koodaideri Phase 2, which could increase annual capacity to 70 million mt/y, is ongoing.

In May, Caterpillar announced with support of its local dealer WesTrac, it will supply a fleet of 20 autonomous 793F trucks and four autonomous blasthole drills to the mine, as well as loaders, dozers, graders, water carts and diggers. The operation will be Rio Tinto's first Pilbara mine to be primarily operated using Caterpillar machinery. The two companies have also agreed to study the potential for increased levels of automation of heavy mining equipment at the mine in the future.

Caterpillar's machinery will be integrated with Rio Tinto's Mine Automation System, which collects and enhances data created by the company's mining operations, to improve productivity across Rio Tinto's entire iron-ore network.
---
As featured in Womp 2019 Vol 09 - www.womp-int.com