Galena Developing Abra Project
---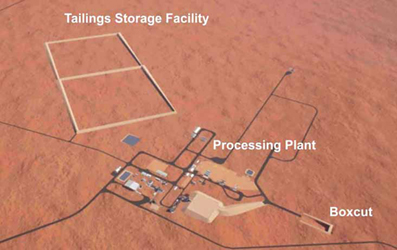 The Abra layout is configured to feed ore from the portal in the boxcut directly to the processing
plant. (Photo: Galena)


Galena Mining has initiated construction of the Abra underground lead-silver project in the Gascoyne region of Western Australia, 200 kilometers (km) north of the town of Meekatharra. Development is based on a definitive feasibility study that demonstrates outstanding economics for a mine producing a highgrade lead-silver concentrate containing 95,000 metric tons per year (mt/y) of lead and 805,000 ounces per year (oz/y) of silver over a 16-year mine life. Preproduction capital expenditures are estimated at A$170 million.

Abra mill feed is planned at 1.2 million mt/y at diluted mined ore grades of 8.1% lead and 20.2 grams/mt silver to produce a concentrate grading 75% lead and 200 g/mt silver. C1 direct cash costs of production are estimated at US$0.44/lb of lead produced.

Abra has received all major permitting approvals required for construction and as of late July was nearing completion of the project's development drilling program, including drilling required for finalized design and positioning of the surface box-cut, mine portal and initial decline. Some long-lead-time items had already been ordered. Galena is targeting initial production from Abra in 2021 and the first full year of steady-state commercial production in 2022.

The operating company at the Abra project is Abra Mining Pty. Ltd., (AMPL) currently owned 91.11% by Galena and 8.89% by Toho Zinc. Shareholders and investment agreements between the companies call for Toho to inject a further A$70 million into AMPL to increase its ownership share to 40%. Abra is a base metal replacement- style deposit hosted by Proterozoic sediments. The deposit is divided into two main zones, an upper Apron zone and a lower Core zone. Mining in the Apron zone will be by long-hole open stoping and room-and-pillar mining, depending on the dip of the orebody. Most of the stopes will be backfilled with cement paste fill.

In the steeply dipping Core zone, mineable shape optimizer (MSO) shapes were generated at vertical heights of 25 m and strike lengths of 10 m, with widths defined by the hangwall and footwall. These shapes were combined using Deswik design software to generate stopes with strike lengths of 20 m to 60 m. The Abra plant flowsheet includes three-stage crushing; single-stage ball mill grinding with a flash flotation cell to treat cyclone underflow; flotation and concentrate regrind to produce a lead-silver concentrate; concentrate dewatering utilizing a thickener and a filter to produce a transportable concentrate; and tailings thickening and storage in a designated facility.

Analysis and testing of Abra's concentrate, including direct-lead smelter testing, confirmed that Abra's concentrate will be unusually high-grade for a primary lead concentrate product and will contain no penalty elements. AMPL expects to ship its concentrates through the Port of Geraldton, Western Australia.
---
As featured in Womp 2019 Vol 09 - www.womp-int.com