Pure Gold Starts Construction of Madsen Red Lake Mine
---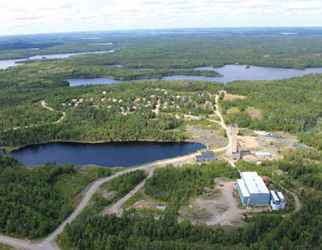 The new Madsen Red Lake headframe sits beside an existing mill. Both will be
upgraded soon. (Photo: Pure Gold)


Pure Gold Mining began construction of its Madsen Red Lake gold mine in northwest Ontario in early August and is targeting an initial gold pour by the end of 2020. Plans for detailed engineering and procurement were being formalized, and a hiring strategy had been initiated to facilitate the short project implementation schedule.

During operations from 1938 to 1976, the historical Madsen mine produced 2.5 million ounces (oz) of gold. Current project development benefits from existing infrastructure, including a mill and tailings facility, paved highway access, and access to power, water, and experienced labor. The current project has probable mineral reserves of 1 million oz of gold in 3.5 million metric tons (mt) grading 9 grams/ mt. The reserves are included in indicated resources of 2.06 million oz in 7.2 million mt grading 8.9 g/mt and inferred resources of 467,000 oz in 1.9 million mt grading 7.7 g/mt.

Initial capital costs to develop the Madsen Red Lake project are estimated at C$95 million. Pure Gold has closed a US$90 million project financing package with Sprott Resource Lending Corp. that will fully fund the costs of project development. The Madsen Red Lake project feasibility study released in February describes an 800-mt-per-day (mt/d) underground mining operation with a 12-year mine life. Gold production will average approximately 102,000 oz/y in years three through seven of operations and 80,000 oz/y life-of-mine. Life-of-mine all-in sustaining cash costs are estimated at $787/ oz of gold recovered. The payback period is estimated at three years.

Mining will be conducted from new ramp development, utilizing a combination of cut-and-fill and long-hole mining methods. A new hoist house and double- drum production hoist will utilize the existing shaft infrastructure to hoist ore and waste from the mine, beginning in year four of operations. Ramp and level waste development will be performed by an owner-operated fleet of one-boom and two-boom electric hydraulic drill jumbos, LHDs with 3-m3 buckets, 20-mt haul trucks, scissor-lift bolters, and other rubber-tired support equipment.

The existing mill and tailings management facility will be upgraded to achieve mill throughput of 800 mt/d. The plant flowsheet will include one stage of crushing and two stages of grinding to achieve a final grind size of 75 microns, gravity concentration, cyanide leach, carbon adsorption/ desorption, and electrowinning, with an overall recovery of 96%. The product from electrowinning will be refined in an induction furnace to produce gold doré bars.

The feasibility study focused exclusively on the Madsen deposit. Pure Gold exploration to date has demonstrated that the project has potential for growth and opportunities for scalability. Commenting on the feasibility study, Pure Gold President and CEO Darin Labrenz said, "The Madsen Red Lake orebody is an exceptional foundation on which to build a gold mining company. With access to existing infrastructure, a high-grade reserve, and exceptional growth potential, Madsen is one of the outstanding gold deposits in Canada.

"With the completion of the feasibility study being one of the last de-risking steps, we look forward to rapidly advancing Madsen Red Lake to become Canada's next gold mine." JDS Energy and Mining Inc. led the Madsen Red Lake feasibility study, with contributions from Knight Piésold, Nordmin Engineering, MineFill Services, Integrated Sustainability, Lorax Environmental Services, Ginto Consulting, and Equity Exploration Consultants. Since completion of the feasibility study, a rising gold market has seen the gold price advance from the feasibility base case price of $1,275/oz to around $1,500/oz, adding measurably to the prospectivity of the project.
---
As featured in Womp 2019 Vol 09 - www.womp-int.com