Golden Predator Advances Reopening of Brewery Creek
---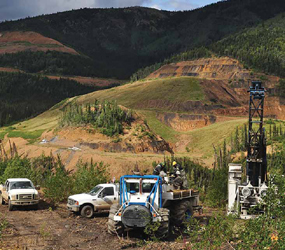 This reverse circulation rig has completed 1,200 m of drilling at
Brewery Creek. (Photo: Golden Predator)


Golden Predator Mining Corp. announced it has commenced site improvements and an accelerated exploration/development drilling program at its fully licensed 100%-owned Brewery Creek Mine near Dawson City, Yukon, Canada. Site development work is under way following the receipt of formal notification from the Yukon government confirming the validity of the current Quartz Mining License and Water License, which permits the immediate start of work to reactivate the Brewery Creek Mine.

The 2019 exploration drilling program will test numerous targets across the property with the objective of expanding and upgrading the existing mineral resource. Golden Predator CEO Janet Lee-Sheriff said, "This is the ideal time to intensify our Brewery Creek Mine work program, which has been ongoing since 2009. This mine shut down in 2002 due to a collapse in the gold price, not a failure of its technical underpinnings or a lack of gold resources.

"With the recent resurgence of the gold price and the lack of licensed projects in North America, we believe we can create significant new value by adding resources and working toward a near-term startup of a relatively high-grade heapleach project that has extensive economic and environmental information to support a viable operation." Golden Predator intends to proceed with a feasibility study on the Brewery Creek Mine, and thereafter, should the feasibility study support a production decision, proceed to production.

At present, one reverse circulation drill rig is operating at the Brewery Creek Mine and has already completed 1,200 meters (m) of drilling. Two additional drill rigs are planned to commence drilling in mid-August. In addition, the company is mobilizing heavy equipment to commence pre-construction work in preparation for mine reconstruction which is expected to begin in earnest in 2020.

The company has commenced work to put in place infrastructure as approved under its Water License and Quartz Mining License, which permits mining at a rate of 4 million metric tons (mt) of mineralized material per year with gold processing and recovery by sodium cyanide heap leaching and activated carbon recovery.

The licensed Brewery Creek Mine consisted of a permanent heap-leach pad, an adsorption-desorption and gold recovery (ADR) plant, process and overflow ponds and ancillary facilities. The ADR plant and the laboratory building were removed, but the concrete foundations were preserved. Testing is under way to assure their ability to be returned to use.
---
As featured in Womp 2019 Vol 09 - www.womp-int.com