Keeping on Top of Tires
Tires are no longer just consumables; they are mission-critical pieces of kit, and it pays for mines to do everything within their power to optimize their performance.

By Carly Leonida, European Editor
---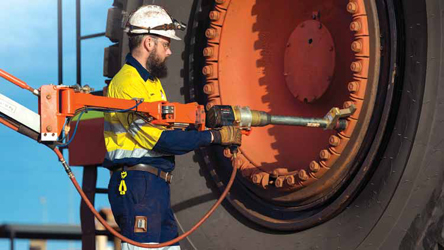 Kal Tire's Gravity Assist System helps to reduce strain on technician's arms and back when installing or
loosening wheel nuts. (Photo: Kal Tire)

Mining tires, often termed "off-the-road" (OTR) or earthmover tires, are a signifi- cant investment for any operation. And, like any investment, they require care during use to achieve the best productivity and to maximize return on investment. While the concept of the tire as a product has changed in recent years, mines' needs and requirements have remained broadly the same.

If you had asked a mine six months ago what their primary concern was regarding tire management, the answer would probably have been "ensuring access to tire supply." Although that is still important, it is becoming less of an issue as things level out on the supply side. "We see many customers still very focused on costs," Dan Allan, senior vice president at Kal Tire's Mining Tire Group, told E&MJ. "For them, we work with solutions that will minimize spend or inventory levels. For customers more focused on productivity, we work on programs to assist in generating a better overall TKPH (ton-kilometer- hour) performance.

"For those concentrating on asset utilization, we work on extending tire lifetimes, preventative repairs, and contributing to reducing unplanned downtime." Klant Reinhard, product manager for Earthmoving at Continental Specialty Tires, agreed: "Customers are especially interested in reducing their operational costs per machine/fleet. Besides choosing the right product for their application, our clients are interested in increasing their tire life by constantly having a full control of their operational data. This includes the right air pressure for an increased tire life and fuel reduction as well as heat development/generation in service as an indicator of early breakdowns."

Supply and Demand
Miners' concerns regarding tire management are intrinsically linked to the availability of their desired brand of tire and sizes. At present, the market for OTR tires is relatively stable. The replacements market ended positively in 2018 and has remained healthy this year reflecting the upturn seen in original equipment sales. Following the last significant tire shortage, approximately six years ago, miners have been learning to manage their inventory more carefully, and likewise, vendors have been taking steps to improve their supply chain and match forecasts accurately with demand.

Allan explained: "We do not see any fundamental changes in our customers' short- or long-term planning. However, we have seen that demand and availability for some tire sizes previously 'constrained' are opening up. "We have also seen some signs of customers reassessing their inventory holding parameters and adjusting forecasts downward. Overall, this is not alarming. In fact, we see it as positive. There has been capacity built since the last shortage situation, and we have new(er) entrants who are frankly making better product now. These factors have really helped to ensure the shortages we saw over the last year or so were not more severe."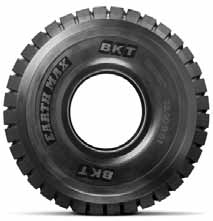 BKT's new EARTHMAX SR46 in size 33.00R51 is presented
at the bauma tradeshow earlier this year. (Photo: BKT)

OTR Global, which specializes in earthmover tire management, reported that global supply of OTR tires is still trailing demand, notably for 240-ton to ultra-class haul trucks operating on 40.00R57 to 59/80R63 tire sizes. Supply is also tight for some smaller sizes, including 23.5R25 used on graders and small loaders, and 27.00R49 and 33.00R51 tires used on 100-ton and 150-ton trucks.

Principal consultant Tony Cutler said strong ongoing demand depends mainly on the Chinese market (as it has for the past two decades). "If their requirements for mining product slacken substantially then OTR tire supply shortages would quickly dissipate," he said. With continued growth in both original equipment and replacement markets, customers are continuing to demand more performance out of their tires. They are striving to go faster and carry heavier loads.

Jake Thompson, North American marketing manager, mining, at Michelin, said: "Customers obviously want to leverage fully the improved commodity market without overinvesting. We see growing interest in optimizing mining operations to get the most for the lowest resource investment."

Assets, Not Commodities
Supply shortages and rising operational costs have made miners reconsider their approach to tire management in recent years. Rather than viewing tires and wheels and their care as separate to vehicle maintenance, many operations are now taking a more holistic approach, and this feeds through to the services and products offered by tire vendors and management companies as well. "That is probably the biggest evolution that has taken place in the contemporary tire world: the awareness that a tire is not an accessory component," Lucia Salmaso, managing director of BKT Europe. "It is exactly the opposite."

Thanks to the substantial mass of rubber used in production and their overall value, earthmover tires, especially the larger sizes, are now seen as important assets. This is why tire monitoring as well as consulting and performance tracking are becoming more crucial for mines. Tire management is now a carefully planned out operation that concerns everyone from the operator, maintenance supervisor and general manager all the way to procurement.

Eric Matson, global field engineering manager for OTR tires at Goodyear, explained: "Mining operations are much more attuned to tire management than in years past, due to increasing pressure to optimize equipment uptime while reducing operation costs. "We also are seeing an increase in the use of digital tools to help ensure that tires are delivering expected performance and longevity." Allan added: "While customers have always been focused on productivity, we see an even greater emphasis on this now. There are so many other factors as well that contribute to the overall cost of ownership or return on the total investment.

"For example, we are seeing a continued more widespread adoption of autonomous vehicle capabilities that constantly prove that lifetimes on just about every facet of the equipment can be extended. "Even technology like TPMS [tire pressure monitoring systems] are becoming common place." Johni Francis, global OTR product manager at Titan Tires, concurred: "Customer attitudes toward tire management practices have changed because of the increase in available technology for fleets.

"Today, most fleets likely already have access to technology that can improve their tire management practices. By implementing a tire management plan and thoroughly tracking it with software, the fleet manager will be able to see the cost per hour of every tire and wheel in the fleet decrease over time, thus providing a positive impact to the operation's bottom line. That's only possible, however, if the fleet manager is willing to look at tires and wheels as assets, rather than commodities."

Francis is right. There is little point investing in expensive equipment if it cannot perform optimally thanks to poorly managed tires.

Intelligent Solutions
"Today's OTR customers expect more than just products that perform from a tire manufacturer," Tim Netzel, director of marketing for OTR, U.S. and Canada, Bridgestone Americas Tire Operations, said: "They want an integrated approach from manufacturers and their dealer partner, inclusive of products, services and technologies to effectively manage all parts of their vehicle, including their tires."

For tire manufacturers, that means delivering monitoring and maintenance solutions that help customers maximize their investment, improve productivity and minimize downtime. Digital tire management solutions help equip mining sites with real-time data and analytics on tire pressure and temperature to make informed decisions about tire performance. These systems are designed to closely track tire pressure and temperature in real time and help monitor, optimize, and report on the condition of tires and rims using predictive analytics and reporting. TPMSs can provide operators with a performance dashboard that details key tire performance indicators on different vehicles and alerts operators in-cab when adjustments need to be made. TPMS technologies can also help to digitize part of the inspection process, which operators should be conducting before, during and after each haul. This allows more time for a thorough hands-on inspection.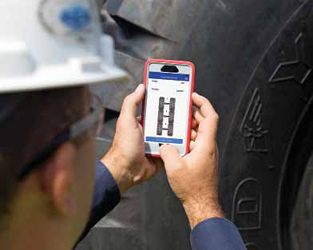 Goodyear has incorporated digital technologies into its EM Track tire
management system, which is used at mines around the world.
(Photo: Goodyear)

Tom Clauer, senior manager of commercial and OTR product planning at Yokohama, summed this up nicely: "The cost of tires for this type of equipment are high by any measure, and by using the available technology, users can have more control over the products," he said. Indeed, the use of tire and rim management technologies is now so widespread that the availability of "intelligent tires" equipped with sensors to measure the parameters outlined above has become a key driver in mine's purchasing decisions.

Reinhard explained: "The sensors have become one of the main drivers for their purchase decision. The reason is obvious: smart tires can help to extend tire life and identify failures, which might lead to a breakdown soon enough. Standstills are reduced, which can be of huge monetary advantage." Many tire manufacturers now offer their own TPMSs or management systems, and the benefits don't just extend to the customer. While the mine gets key data on tire performance and better visibility over future fleet maintenance requirements, vendors are able to leverage the data to optimize tire design and better inform clients how to manage their products.

Goodyear's TPMS Heavy Duty, which is being deployed in Europe, features advanced telematics and predictive analytics technology called G-Predict. Sensors mounted inside tires monitor pressure and temperature and transmit this information via onboard telematics to a Goodyear server, where data is analyzed. Operators are immediately notified of potential issues and captured data is analyzed to help predict tire life and plan tire maintenance.

Michelin launched MEMS4 in 2018. The latest version of the solution uses real-time GPS and accelerometer data to create a complete monitoring and reporting platform for tires and trucks. The system can record data unique to each tire serial number, and also uses a data capture tool that interfaces with a web-based software platform. The company said that MEMS4 is performing very well, and that customer responses have been overwhelmingly positive. Kal Tire, meanwhile, is in the process of rolling out its new Tire Operations Management System (TOMS), which gathers data from sites that the company provides tire management services to. This allows Kal Tire to develop predictive maintenance schedules based on historical event information.

BKT offers a system called SPOTECH. This provides information on equipment positions via satellite tracing. The system includes an accelerometer recording data, which is positioned on the equipment in order to record all lateral, longitudinal, and vertical movements as well as related forces in addition to speed, cycle duration and other parameters. A GoPro camera is also installed on the vehicle to record videos from the operator's perspective and this is synchronized with the data recorded on the device.

"All these data provide a full picture, to optimize tires for a specific job," said Salmaso. "It is possible to use the data to study vehicle routes and change them, if appropriate, to see if the driving style is more or less functional, or to test mechanical stress and strain on the tires and its effects on the machinery."

Continental presented its new ContiLogger consultancy concept at bauma 2019 in April. This incorporates an onsite study into suitable tires, hardware, software and data, and allows the customer access to Continental's expertise. Continental is already refining and enhancing the ContiLogger and is developing a complementary remote version which will see the concept shift from a single/one-time solution to a remote service and consultancy solution.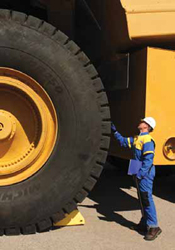 TPMSs can also help digitize parts of the
tire inspection process making it more
thorough. (Photo: Michelin)

Telematics monitoring capabilities now come standard on most new heavy equipment, and each system has features that can help extend tire life. Making an impact to tire costs is just a matter of knowing which features to utilize, what to look for and how to react. Francis explained: "Successful implementation of telematics hinges on the fleet manager defining allowable parameters for these data points and setting the software to create an alert when inflation pressures, temperatures, weight or TMPH (ton-mile-per-hour) ratings fall outside those parameters. Then, of course, the fleet manager must take action."

Tire software can document the condition of any removed tires with remaining life to ensure they can be matched with others, reinstalled and used to their full capacity, rather than going to waste. The ability to document more in-depth descriptions of tire condition at the time of service allows for better cause-and-effect analysis of tire problems. Similarly, the software can be synced to have complete transparency between tire dealer and site to ensure new inventory is delivered on a just-in-time basis.

RIMEX, which provides wheels for mining vehicles, also offers a TPMS called TyreSense. "We believe that digital technologies can and are playing a significant role in improving safety and limiting downtime," said Jonathan Robertson, director of business development at RIMEX. "These systems can alert operators to conditions that may not otherwise have been detected and, which, if not addressed, could result in serious safety hazards or costly repairs and downtime."

Errors like under-inflation, overloading and exceeding a tire's maximum recommended speed can lead to irreversible wear, which can lead to safety compromises and downtime. Moreover, the data gathered by these technologies can be analyzed to deliver insights that translate into further operational efficiencies. One of RIMEX's customers discovered that by analyzing TPMS data it could increase truck loads and speeds at night and during winter months when ambient temperatures are cooler and tire pressures are lower without incurring increased tire wear.

Autonomy and Tires
As mentioned earlier, the implementation of autonomous equipment is beginning to impact tire management practices. One would assume that trucks operated continuously under optimum conditions would extend the life of tires. However, Cutler urged caution.

"It is regularly claimed so, because of increased operational consistency," he said. "However, there are elements of autonomous operation that submit tires to higher dynamic loading mainly related to following the same identical track, negotiating roadway dips and depressions without speed adjustment, and generally being operated at higher speeds than with manned haulage." Rutting of haul roads, especially on curves and at intersections, is a signifi- cant issue with autonomous haul trucks. "The tire of an autonomous truck will run over the same pothole each and every time the truck travels that section of roadway," explained Cutler.

There are many advantages of autonomous trucks over manned ones, including improved safety and reduced labor, and labor- associated mine site infrastructure and other costs. Another benefit is the potential increase in haulage productivity by consistently operating trucks at higher maximum and average speed. However, tires — the prime limiting factor to maximizing truck productivity — bear the brunt.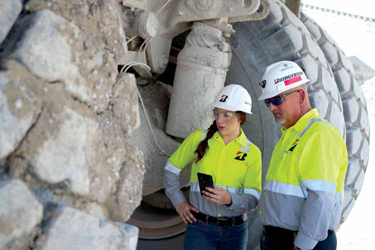 To get the most out of their tires, operators should leverage technologies like TPMSs and
tire and rim management platforms. (Photo: Bridgestone)

Cutler said, "Autonomous haul trucks need to be fitted with tires that can handle the additional dynamic stress associated with this form of haulage. Only tier one manufacturer tires should be considered. Others will not be able to sustain the workload demands of autonomous operation." Most of the original autonomous haulage operations have been at mine sites or in mine areas specifically designed for autonomous haul trucks. Going forward, in the short- to medium-term, the majority of new autonomous haul trucks will be retrofit to existing vehicles in mining operations set up for manned haulage. Cutler believes this will create issues related to the additional demands that will be imposed on tires and truck componentry.

"Proper haul-road design and construction is more critical for autonomous compared with manned haul-truck operation," he said. "The mining industry is not generally known for the quality of its roads and working areas. Road base and surface integrity, width, crossfall, smoothness (undulation free) and the relationship among curve radius, super elevation and speed are fundamental to trouble-free autonomous haul-truck operation." Tire fire has also become an issue for some operators. Autonomous trucks are not usually fitted with monitors that can detect smoke, and TPMSs are not yet capable of performing this function.

"The use of autonomous haul trucks, given that autonomous is becoming synonymous with maximizing productivity, will increase demand for tier one tires at the expense of lower-quality offerings," added Cutler. "However, autonomous haulage is unlikely to produce any substantial effect on the level of recycling of OTR tires, including tire reconditioning (repairing and retreading)."

Best Practice
As the top wear-part expense on a fleet, tires offer one of the greatest opportunities to reduce costs, but only if properly managed. "Establishing a strategic tire management plan is crucial for companies with large fleets of equipment," said Francis. "Each machine requires a unique tire replacement schedule, and managers who develop a tire buying and maintenance strategy are ultimately more productive than managers who wait until a problem occurs."

Matson added: "Every effective tire maintenance program starts with regular inflation checks. Maintaining proper inflation levels is one of the most effective things a mining operation can do to achieve optimal tire performance. Consistent, correct inflation yields many benefits. It positively impacts tire wear and casing life and can influence fuel consumption." As Cutler outlined earlier, mine site conditions also can have a considerable impact on tire life and performance. Frequent site audits can help mining operations identify and correct conditions that could damage their tires.

"We recommend that mining operations take a careful look at their sites, such as the haul roads that lead into and out of the critical loading and dumping areas. Are these areas free of debris that can cut into tires? How are they manicured? Are there things that can be done to help improve tire traction? How many curves are vehicles required to navigate and how steep are surface inclines and declines?" said Matson. "Water management also is important. Is there standing water on the site or on incoming/outgoing roads? It's often difficult to know what tire-damaging items are silently lurking beneath a puddle's surface."

It's important to evaluate tire wear on a routine basis through tracking tire life and always matching tire depths according to the equipment manufacturer's recommendations. There are two main areas to check when evaluating tire wear: the tread and the sidewall. Mines should be on the lookout for signs of cutting, chunking, stone drilling or debris penetration and rubber tearing. Some of these damages are signs of over- or under- inflation, or poor site maintenance in a fixed-site application. Determining the root cause may allow a mine to address the concern and mitigate or eliminate the damages.
Yokohama tires in action. (Photo: Yokohama)

Francis pointed out that when a fleet has multiple tire manufacturers (as many do), a common concern when implementing a tire management program is the necessity to train technicians to understand that every tire is manufactured differently and needs to be managed differently. "When fleets perform regular maintenance on machines, a tendency is to set all air pressures at the same PSI. This becomes an issue when every tire manufacturer has their own PSI ratings and needs to be set individually," he explained.

Another effective way to optimize tire performance and longevity is by conducting a TMPH/TKPH study. Every mining tire, regardless of application, has a specific TMPH rating that dictates how much weight the tire can carry at a specific speed. This rating is the result of multiplying the vehicle's average load by its average speed. Making sure that tires do not exceed their TMPH rating can help optimize tire performance and extend tire service life. There are different ways to track vehicle load and speed information. Matson said that Goodyear places GPS tracking units on haul trucks and other vehicles to monitor their movement over a certain period (24 hours is common). Collected data is then used to calculate the TMPH.

Yokohama's Clauer said: "We always say heat buildup is the enemy of tires, and this is extremely true with OTR equipment. The extreme loads generate tremendous amounts of heat. Combine that with longer distances being traveled and higher speeds the potential for failure is multiplied. "Constant monitoring of the heat inside the tire wheel cavity is crucial to mitigating damage or loss to the assembly."

An important but often overlooked aspect of tire management is keeping the worksite clean of potential tire dangers. Supervisors and personnel should pay special attention to road surfaces and the cleanliness of loading and dumping areas to eliminate potential puncture hazards. "These are fairly obvious factors to extended tire life, yet they require commitment, equipment, training and diligence from everyone at a site," Thompson told E&MJ.

Ask the Experts
Every company interviewed for this feature mentioned the importance of expert input when it comes to creating and optimizing a mine tire management plan. Whether this means direct involvement from the manufacturer, a dealer, or services from an independent tire management company or consultant, this is advice to heed.

Salmaso commented: "A tire is a complex topic when it comes to choosing the right pattern, size, specific features. Finding the most efficient solution needs specific know-how and in-depth expertise. "This is why I recommend that mines rely on professional figures who have the proficiency to determine the best solution, taking into account all requirements and possible issues. "I also recommend regular visits and monitoring in order to assess tire performance and to be able to intervene, if necessary, with adjustments if the tire is already operating."

Most manufacturers and dealers offer educational training sessions for mining clients, which help them to take care of tires in between their visits. "This would enable the entire team at the mine to best manage the tires in their specific working environment," Salmaso said.

She added that it is the technician's job to provide advice and technical information not only in relation to tire usage, but also as far as instruments for analyses and monitoring are concerned. Bridgestone's Netzel agreed: "A trusted partner will keep business needs in mind while designing a custom tire management program to help operators reach their business goals."

Second Life
The responsible disposal of end-of-life assets has always been an issue for mines. In many cases, companies are keen to do the right thing. "We find that as our customers' corporate sustainability charters encourage them to look for solutions, we also have governments getting involved to ensure good levels of oversight are happening," explained Allan. Later this year, Kal Tire will inaugurate a Thermal Conversion large tire recycling facility in Chile.

Allan said, "This plant is a new venture for us, but we see both the demand and the potential for helping solve this challenge." Kal Tire is not the only player in this field; there have been an increasing number of announcements made on recycling initiatives across the globe recently. "Many have made claims or stated aspirations that, in our experience, would be difficult to substantiate," Allan said. "Our advice to mines would be to do their due diligence when reviewing recycling options to ensure solutions being presented are consistent with their environmental charters. Kal Tire is also working to open a new OTR retread facility in Cananea, Mexico. Allan told E&MJ: "We have tried to make this a plant that uses the best techniques and equipment to bring quality and reliability to the output products."

Reduce, Reuse, Recycle
While statutory compliance has been the main driving force for tire recycling, like Kal Tire, OTR Global has registered the growing trend of companies wishing to demonstrate their social license to operate. "Until recently, interest has been minimal apart from in Brazil where legislation was introduced more than a decade ago," Cutler explained.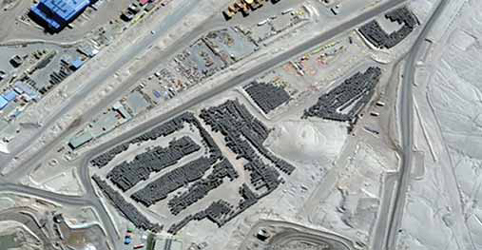 Scrap tires pile up. The responsible disposal of end-of-life assets has always been an issue for mines.
(Photo: Kal Tire)

Colombia, Chile and Peru are now in the process of enacting similar legislation, mostly for the purpose of sustainability. The main options for recycling OTR tires involve mechanical and/or heat treatment processes. Recycling systems range from basic (e.g., cutting tread rubber for use as liner material), to intermediate (shredding tread rubber to create crumb), through to using tire segments as fuel/feed (in cement kilns) or complete decomposition into gas, carbon and steel.

Pyrolysis is currently the go-to solution for OTR tire recycling. However, it requires tires to be mechanically sectioned into manageable segments — smaller than a soccer ball — that can be processed within a pyrolysis chamber. The products are carbon, gas (that condenses to fuel oil), steel and a small amount of waste material. However, there is a new process on the horizon: destructive distillation. This produces products similar to pyrolysis, but because it operates at a lower processing temperature, the quality of the oil and carbon products is claimed to be higher. Another major advantage is that tires do not require expensive pre-sectioning; a distillation chamber is capable of accepting several whole tires up to 63-in. size for processing.

Cutler concluded: "A detailed cost study needs to be conducted by the mine to determine which recycling products and process will result in the lowest net cost per ton of processed tire, balancing process and freight costs against product revenue. It may vary substantially depending on local demand for recycled product."
---
As featured in Womp 2019 Vol 08 - www.womp-int.com