Blackjewel Becomes Latest PRB Casualty
---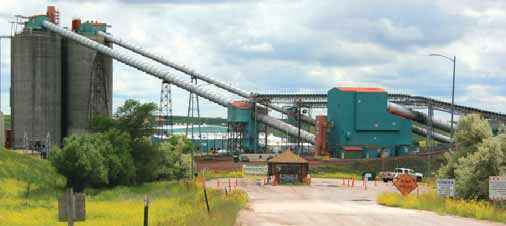 The entrance to the Belle Ayr mine, Wyoming, USA, is blocked after employees were sent home after the company declared
bankruptcy. (Photo: Vikki Strande, former Blackjewel employee)

After filing for bankruptcy on July 1, Blackjewel LLC has received approval for the sales of most of its mines. "The company believes the proposed transactions generate the maximum value possible for each of Blackjewel's assets, provide a path to reestablishing safe, sustainable operations and, importantly, get the majority of our employees back to work," the company said in a statement. A judge approved the sale of Blackjewel's mines in the Powder River Basin (PRB) mines back to Contura Energy, which sold the mines to Blackjewel in 2017.

U.S. District Court Judge Frank Volk approved the sale on August 6, which includes the Belle Ayr and Eagle Butte thermal coal mines in Campbell County, Wyoming, and the S-7 surface metallurgical coal mine, also known as the Pax mine, in Fayette County, West Virginia. Contura sold the mines in Wyoming to Blackjewel more than a year ago.

"Contura's divestment of these PRB assets over a year and a half ago was a strategic decision to focus on our metheavy eastern asset base, and while that remains our strategic focus, our considerations changed when Blackjewel declared bankruptcy," said Andy Eidson, interim co-CEO, Contura Energy. "Absent another qualified purchaser for the assets, we have determined that the most prudent path forward is to reacquire these mines to reestablish operations, resume safe and responsible coal production, and bring hundreds of miners back to work." Initially, Contura's bid included a deposit of $8.1 million and an additional $12.5 million in cash, for a total of $20.6 million. However, after a three-day auction, Contura's bid jumped to $34 million.

Contura said it would be able to reinstate 500 jobs immediately. It also said it would resume normal operations as soon as possible. In the court hearing, the judge also approved the sales of Blackjewel's other assets, including the Black Mountain and Lone Mountain operations to Kopper Glo Mining; Virginia Subdivision assets to Rhino Energy; Pardee mine to Coking Coal; and LM6 mine to Tye Fork Coal Co.

Blackjewel also got approval in a previous hearing to terminate the 401(k) plan, which will make it possible for employees to access their savings. After filing for bankruptcy, Blackjewel sent nearly 700 employees in Wyoming home, after then- CEO Jeffrey Hoops said financially they could not keep the mines running and couldn't afford to pay workers. On July 10, more than 140 employees returned to work, but the rest remain unemployed.

Blackjewel's bankruptcy filing also included its affiliate, Revelation Energy. Revelation listed 24 metallurgical coal mines and processing and prep facilities in Virginia, Kentucky, and West Virginia, which employ 1,100 workers. The Appalachian mines have an estimated 600 million reserve tons of coal. Last year, the company mined 3.3 million tons. In 2017, Blackjewel's combined output made it the sixth-largest US coal producer.
---
As featured in Womp 2019 Vol 08 - www.womp-int.com