World Bank Awards Settlement in Reko Diq Arbitration
---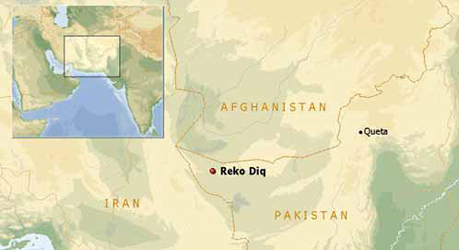 RekoDiq is located in the remote northwestern section of the Chagai district, a western desert province of
Balochistan. (Photo: Tethyan Copper Co.)

The World Bank International Centre for Settlement of Investment Disputes (ICSID) has awarded $5.84 billion in damages to Tethyan Copper Co. Pty. Ltd. (TCC), a joint venture held equally by Barrick Gold Corp. and Antofagasta plc, in relation to the arbitration claims filed against the Islamic Republic of Pakistan. The claims alleged the government unlawfully denied a mining lease for the Reko Diq project in Pakistan in 2011.

Damages include compensation of $4.087 billion in relation to the fair market value of the Reko Diq project at the time the mining lease was denied and interest until the date of the award of $1.753 billion. Compound interest continues to apply at a rate of US Prime +1% per year until the award is paid.

"After a lengthy and thorough arbitration, the tribunal has ruled upholding our rights," said Barrick President and CEO Mark Bristow. "Along with our partners at Antofagasta, we remain willing to engage with Pakistan to explore the potential for a negotiated settlement."

Prior to denial of the mining lease application, TCC completed a feasibility study that showed Reko Diq as one of the world's largest undeveloped copper and gold deposits, with a potential mine life of more than 50 years and an estimated initial capital investment of more than $3 billion.
---
As featured in Womp 2019 Vol 08 - www.womp-int.com