Supplying the Rapid-development Mine
Shotcrete solutions suppliers are racing to develop safer and smarter solutions and services for the continuous ops of tomorrow.

By Jesse Morton, Technical Writer
---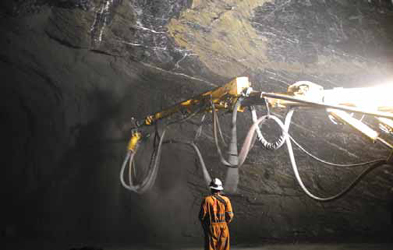 Sika provides comprehensive solutions at an underground operation in Switzerland.
(Photo: Sika Services AG)

The future of the shotcrete solutions space is bright, according to longtime expert Fabian Erismann. According to him, societal trends all but guarantee opportunities for companies in the space with the right solutions, services and technology. Take, for example, the trend in electrification of transportation, something that will require massive amounts of metals the reserves of which are in general decline at the world's biggest pits. "When we talk about the energy revolution, this will not be possible without large future underground projects that mine for gold and nickel and copper, and all these other metals that are used for the energy revolution," Erismann said. "We are very positive not only for the overall underground construction industry but particularly for mining."

However, he said, all shotcrete solutions suppliers are not equally positioned. Those that can provide key technologies of course are at an advantage. More critically, he said, is the ability to provide complete solutions that enable rapid mine development. Indeed, it would appear the biggest suppliers in the space appear to be locked in a race to supply exactly that.

Integrated Solutions Sourced Locally
With two significant acquisitions in the global shotcrete solutions space in the last year, Sika Services AG, with key contracts at some of the biggest projects in the world, reported it is growing its market share. In June 2018, Sika announced it acquired Fibermesh, a concrete fibers supplier, from Propex Holding LLC. The acquisition netted a U.S. plant, sales operations globally, and a "strong brand," Sika reported. Based in Chattanooga, Tennessee, USA, Fibermesh reported it had developed a five-year "growing relationship" with Sika, and that its brand is a "great fit" for the Sika's portfolio.

Sika described the Fibermesh brand as "the industry standard" and reported the acquisition will "further expand our offering to concrete customers worldwide." In March 2019, Sika acquired King Packaged Materials Co., a Canadian manufacturer of shotcrete. "With the acquisition, Sika will further expand its geographical footprint in Canada and improve its growth potential," the company reported. "The acquisition will make Sika one of the leading suppliers of concrete solutions in Canada."
Sika personnel work with miners to ensure rapid development at an underground
polymetallic operation in Sweden. (Photo: Sika Services AG))

With 180 employees, King operates plants in Quebec, Ontario and Sudbury. Leadership at Sika reported both acquisitions are "quite important" and situate the company well. "We are very optimistic," Fabian Erismann, market field manager, mining, Sika, said. "We think with underground construction and in particular mining, we will see strong growth in the years to come." Demand rising from the ongoing energy revolution and the shift to electric vehicles is expected to push miners to extend existing underground projects, expand aging pit projects with new underground extensions, or break ground on new underground projects. "The trend is clear; the trend is underground," Erismann said. "We see a strong growth in these kinds of projects, like we already see today. By 2035 or so, a substantial part of global copper production will be sourced from large underground cave projects, which are very challenging."

And Sika has experience at some of the largest block- and sublevel-cave underground projects in the world. For example, at Chuquicamata Underground, Sika is "providing a range of products and support for wet-mix shotcrete, fibers, conventional concrete, self-compacting concrete and products for maintenance of the large ore treatment facility on site," the company reported. Sika was "awarded 70% of the total concrete admixture business technologies for the underground infrastructure."

The block cave operation has been designed to provide a potential 40-year life targeting an orebody made of 1.7 billion tons of copper and moly ore. Approximately 140,000 tons of ore will be mined and processed per day, sustaining Chuqui as one of the largest copper mining operations. An investment of $4.2 billion allowed an iconic open-pit mine to transition to underground operations in Chile. Sika also provides shotcrete solutions, such as accelerators, for LKAB's Kiruna operations, the world's largest underground iron ore mine. "Special SCC designs for shaft and ore pass linings were tailored for the specific needs of the ore handling infrastructure and together with LKAB, we developed an easy-to-handle retardation system for the cable bolters," Sika reported. "Sika not only offers products that meet all the requirements, but also provides continuous customer support on site for shotcrete production and application."

Erismann said Sika is established at both projects and at others, such as Grasberg and El Teniente, due to the company's ability to facilitate rapid mine development rates. "In order to achieve these projects in time and on budget, you really have to have rapid development rates because there will be no substantial cash flow for these projects til the whole block cave setup is installed," he said. "That is why this whole rapid mine cycle with improved efficiency has really emerged over the past two decades. We provide basically efficient technologies for these in-cycle shotcretes." One Sika solution that speaks to rapid development cycles is Sika Sigunit. "During spraying, these accelerators are dosed into the concrete stream," Erismann said. "They will trigger a very fast cement reaction, the early hardening of the concrete."

Sika broke into the underground construction business when contending with waterproofing issues for the Gotthard rail tunnel construction project in Switzerland a century back. "From then on, Sika was involved in the development of chemicals in the form of concrete additives and admixtures to change the properties of the concrete for specific uses," Erismann said. Sigunit is described as the core component of an otherwise customizable accelerator offering. "We think today that future shotcrete solutions will be highly customized," Erismann said. "The effectiveness of any kind of concrete chemicals is strongly dependent on the availability of local raw materials. We are really customizing our solution for the specific projects."

That starts with determining the customer needs. "What goals have you set for yourself in terms of underground effi- ciency?" Erismann said. Then the supplier begins assessing and testing available materials. "We need to test what kind of cement he is using all the time," he said. Sika has developed a couple of tools to aid in the tests. "We've developed, for example, an ultrasonic device, which is basically shotcrete equipment but small scale so we can spray in the lab," Erismann said. "We spray on an ultrasonic device and measure the in-situ strength development with our different chemicals. By using this, we can basically preselect the best performing tool we have in our toolbox and then basically go for large scale testing. It is ground-breaking new technology."

The key to success in landing and completing contracts is local production, Erismann said. The company has been in Chile since 1942 and is supplying Chuqui from its Antofagasta supply hub. "We have admixture production in Antofagasta," Erismann said. "And whenever there is need for technical support, we send guys from our subsidiary there." Similarly, the supplier established rapport with LKAB by proving its ability to provide the needed logistics. Kiruna is above the Arctic Circle, making sourcing viable resources locally challenging. "LKAB at one point produced over 200,000 m3 of shotcrete and concrete per year," Erismann said. "This is a massive volume of concrete that needs to be produced and batched at the required quality and workability in each shift."
Above, a prototype Spraymec 8100 VC SD concrete sprayer, which is described as more efficient than its diesel
equivalent. (Photo: Normet)

The chemicals Sika supplies are produced in Sweden. "And then we have very efficient supply logistics to the mine site." Which indicates the tactics behind the acquisition of King and Fibermesh. "Propex is a high-quality fiber producer in the U.S., and King is really the go-to name in Canada when it comes to shotcrete," Erismann said. "We obviously will leverage these positions now using those two companies to grow further, mainly in North America."

Battery-power Brings Bounteous Benefits
At bauma 2019, Normet released the SmartDrive product family for underground mining machines. The company also released a number of machines leveraging the system, including the Spraymec 8100 VC SD concrete sprayer. SmartDrive is designed for companies transitioning to a "new era of sustainable underground operations," the company reported. It is comprised of battery technology, direct-drive architecture, and charging technology.

The benefits are numerous and include no local emissions, an extensive range, fast charging capability, lowered noise level, and lower operational costs to include reduced ventilation and cooling needs, the company reported. "One of the key answers that SmartDrive brings to the table is it allows us to work at a much higher altitude or to a greater depth," Mark Ryan, vice president, equipment offering, research and development, Normet Group, said. Such will be critical going into a future where, "resources are getting harder and harder to come by."

Ryan said SmartDrive speaks to the pressing needs of miners today. "We don't need to bring fuel underground for this machine," he said. It offers more speed and higher performance," and is otherwise "more efficient than a diesel counterpart." Samu Kukkonen, technology director at Normet, said the lithium ion batteries were selected to be "as safe as possible, as durable as possible, and then fastcharging capable." Fast charging typically means tens of minutes, he said. "This charging system is based on the industry standard used in automotive applications," he added.
The CT40 (left), CC300 (middle) and CC150 (right) can recharge the system in minutes.
(Photo: Normet)

The typical charging time using the standard onboard charger spans roughly 150 minutes, Kukkonen said. In contrast, the 40-kilowatt (kW) CT40 charger takes 95 minutes. The 300-kW CC300 charger takes as little as 20 minutes. Each machine features an onboard charger, cable reel and industrial AC socket. "It doesn't matter what the voltage is: 1,000 volt, 400, 600, 9,600," he said. "We can fit all voltage ranges, 50 hertz or 60 hertz." The direct-drive architecture on the Spraymec 8100 VC SD leverages two 75-kW permanent magnet motors, one per axle. The gear box and drop box are eliminated. "The combined power rating is 200 kW and this will give you double the speed for uphill driving."

The redundancy helps maximize uptime, he said. "Should there be a malfunction in one of the motors, you can still continue driving with the second motor until you can service the malfunctioning motor," Kukkonen said. "The same is true for the batteries as well. If there is a rare occasion that there should be a malfunction in the battery, the system will automatically isolate that part of the battery and you can still continue driving the machine." Kukkonen said SmartDrive had been "comprehensively onsite tested" during the course of "months of site testing near our factory." On the market for years, the Spraymec 8100 features IoT and automation capabilities. The SD units will offer greater "energy efficiency and lower operational expenses," Ryan said.

Normet also showcased the Smart- Scan 3D laser scanner, which measures concrete thickness "instantly after spraying," the company reported. It "allows operators to calculate and monitor the applied shotcrete thickness and volumes automatically." The margin of error is as little as 5 millimeters or less, the company reported. The solution is offered as an add-on to new equipment or as a retrofit. The offerings illustrate the company's dedication to developing solutions and services designed to improve underground mining processes, Ryan said. "Process ownership is one of the key cornerstones of our business," he added.

Compact Machines for Narrow Ops
In 2018, Putzmeister launched the Wetkret 4 and Mixkret 3, designed to be deployed in tandem. Both feature capabilities that speak to the needs of narrow vein mining ops, Santiago Lopez, head of sales, underground division, Putzmeister, said. The Wetkret 4 leverages a heavy-duty 2.2-m-wide chassis capable of a tight turning radius, the company reported. Spraying arms are offered in two lengths. One offers a maximum vertical reach of 10 m. One offers a maximum reach of 7.5 m.

Spraying is managed using cable or radio remote control, the company reported. The controller can be used to regulate the concrete flow and adjust the additive dosage. Most important, however, is the pump, Lopez said. "Putzmeister has been world famous as the manufacturer of concrete pumps par excellence for 60 years," he said. "This know-how is applied to the concrete pump mounted on the Wetkret 4, specially designed for concrete spraying."
Above, The Putzmeister Wetkret 4 is 1.9 m wide and 2.2 m in height.
(Photo: Putzmeister)

The Putzmeister Wetkret 4 pump "guarantees a homogeneous shotcrete application," Lopez said. It ensures the required quality and layer thickness, and reduces rebound. Its flow rate of 20 m3 per hour (hr) allows for increased productivity, he said. "Wetkret 4 also comes equipped with automatic synchronization of the additive dosage with the concrete flow, a FOPS/ ROPS-certified cabin, an integrated air compressor and optimal weight distribution," Lopez said.

Optional equipment includes a closed cabin, PVC glass, air conditioning and heating, a waterproof seat, and tramming direction lights. The unit can be equipped with either a Stage IIIA-Tier 3 or a Stage IV-Tier 4f diesel engine. Mixkret 3 joins the series that includes the Mixkret 4 and the Mixkret 5. Compact and robust, it is capable of a tight turning radius, the company reported. "The perfect complement to Wetkret 4, it has the same components as Wetkret 4, facilitating and improving spare parts management," Lopez said.

The unit is the only mixer in the market with a height of 2.2 m and that has a mixing capacity of 3 m3, Lopez said. "The tank's novelty lifting system offers a wide versatility in terms of the height of concrete release in roboticized equipment for shotcrete," he said. Like the rest of the Mixkret range, the Mixkret 3 has a powerful motor, he said, "which gives it great capacity for climbing and transfer, as well as the ability to work at height." A four-cylinder Stage IIIA-Tier 3 diesel engine that offers 106 kW comes standard.

It features a continuously variable hydrostatic transmission system without gear changes, the company reported. Optional equipment includes a closed cabin and tramming direction lights, among others. Benefits offered by both machines include higher-quality support, safer working conditions, energy savings, and personnel and time savings, Lopez said. At bauma, Putzmeister exhibited the Wetkret 5, ideal for large tunnels. The unit "ensures safe and accurate spraying in middle and large sections of tunnels and mines," Lopez said. "The spraying arm, which has a vertical reach of 17 m, has demonstrated its efficiency in projects around the world. What's more, it can perform movements simultaneously, resulting in improved maneuverability and reduced times."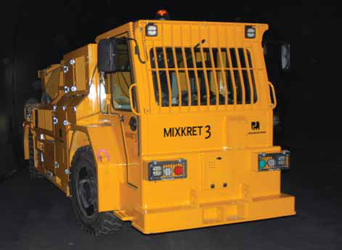 The 2-m-wide Putzmeister Mixkret 3 is capable of an outer turning radius of 5.5 m.
(Photo: Putzmeister)

The unit's concrete pump offers a maximum output capacity of 33 m3/ hr. "The compressor integrated into the chassis allows autonomy in the spraying process, and ensures maximum quality," Lopez said. "For greater additive dosage accuracy, it boasts a peristaltic additive pump, or a screw additive pump with flowmeter. All of the equipment's functionalities are remote controlled, guaranteeing operator safety and ergonomics." Putzmeister offers after-sales service and support that relies on knowledge gained from 30 years in the business. "We know our customers can't stop their projects," Lopez said. "For commissioning, breakdown repairs, and inspections, our extensive after-sales service network guarantees rapid assistance to ensure efficient solutions in any situation. Our service also provides both a remote telephone service with a 24-hour helpline, with onsite service through our local staff worldwide."

The flipside to that is the company uses the feedback it receives from customers to improve its offerings, Lopez said. "We love that customers tell us what they need, what they don't like, what they love and what can be improved," he said. "This way, we enrich not only our products but also our service."
---
As featured in Womp 2019 Vol 07 - www.womp-int.com