First Copper Concentrate Ships From Cobre Panama/font>
---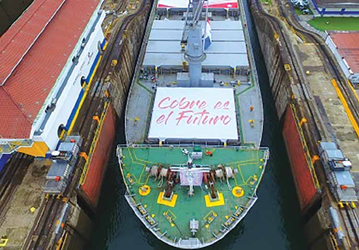 The first ship laden with copper ore from Cobre Panama passes through the Panama
Canal with the words 'Copper is the Future' emblazoned on it.

The first copper concentrate from First Quantum's Cobre Panama project was loaded on to a ship at the Port of Punta Rincon in mid-June. The 31,200 tons of copper concentrate marks the beginning of copper exports from Panamanian lands, the company said. This is the second milestone for this project. The first was the start of milling, which began February 18. To date, the Cobre Panama project has attracted $6.3 billion of foreign direct investment to Panama. The company said it believes this investment was made because international financial institutions were satisfied with Panama's reputation as a reliable and stable destination.

General Manager Tristan Pascall said he believes copper is the future and Panama will contribute to world sustainability of the material. At the beginning of the operation, Cobre Panama will employ approximately 4,200 employees. The project is expected to produce between 140,000 tons and 175,000 tons of copper this year. It will ramp up to between 270,000 tons and 300,000 tons next year.
---
As featured in Womp 2019 Vol 07 - www.womp-int.com