Minnesota Issues Permit to Mine for PolyMet Copper-Nickel Mine
---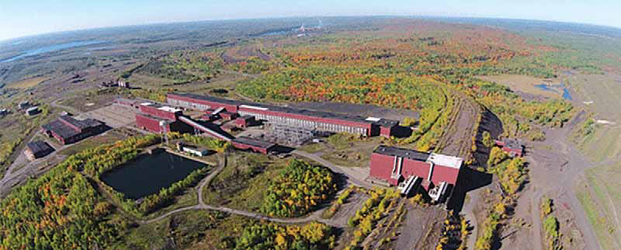 PolyMet plans to rehab the LTV Steel Mining Co. processing facilities (above), starting in the spring of 2019.


PolyMet Mining has received its Permit to Mine from the state of Minnesota, a crucial permit for construction and operation of the NorthMet Project in northeastern Minnesota. This permit is the first non-ferrous mining permit issued in Minnesota. The Department of Natural Resources also issued all other permits for which the company has applied, including dam safety, water appropriations, takings, and public waters work permits, along with Wetlands Conservation Act approval. These permits were issued after the company demonstrated its designs meet strict state environmental standards and at the conclusion of an extensive public input process, PolyMet said.

"We look forward to building and operating a modern mine and developing the minerals that sustain and enhance our modern world," said Jon Cherry, president and CEO. "Responsibly developing these strategic minerals in compliance with these permits while protecting Minnesota's natural resources is our top priority as we move forward."

PolyMet aims to be the first to commercially produce copper and nickel, in addition to platinum, palladium, gold and cobalt, from the world-class Duluth Complex in the Iron Range's historic mining district, the company said.

The permit authorizes the company to build and operate open-pit mining operations that are expected to yield approximately 1.2 billion lb of copper, 170 million lb of nickel, 6.2 million lb of cobalt and 1.6 million ounces (oz) of precious metals over a 20-year mine life. The 225 million tons of ore permitted for extraction represents roughly one-third of the NorthMet 649-million-ton measured and indicated resource.

Cherry said the permit provides a level of certainty for which the community and investors have been waiting. "It is a victory for Iron Range families who have steadfastly supported us and who depend on and will benefit from the hundreds of jobs that construction and operations will create and support for years to come," he added. "This certainty will also allow the company to move forward with financing and final engineering designs."

Meanwhile, the Minnesota Pollution Control agency said it will make final air and water permit decisions before the end of the year. The federal Record of Decision and wetlands permit from the U.S. Army Corps of Engineers are expected to follow thereafter.

In relation to the permits issued today, site preparation and rehabilitation of the former LTV Steel Mining Co. processing facilities, which the company acquired in 2005-2006, will occur through the winter and early spring as the company prepares to modernize those facilities to process ore for the NorthMet project. The bulk of work will start with the 2019 construction season and is expected to take 24-30 months.
---
As featured in Womp 2018 Vol 11 - www.womp-int.com