Rio Tinto, Hancock Prospecting Open New Mine at Hope Downs
---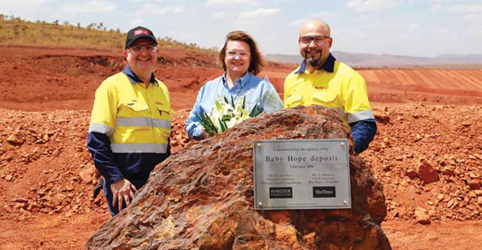 Rio Tinto Iron Ore Chief Executive Chris Salisbury, Hancock Prospecting Group Executive Chairwoman Gina Rinehart
and Greater Hope Downs General Manager Gaby Poirier open the Baby Hope deposit at Hope Downs


Rio Tinto and Hancock Prospecting opened a new mine at Hope Downs in the Pilbara, Western Australia. The joint venture partners also approved an investment in greater automation, driving productivity and improving safety. Development of the Baby Hope deposit will help sustain existing capacity at the Hope Downs No. 1 operation, supporting ongoing jobs at Hope Downs, the companies said.

By 2020, a total of 28 existing haul trucks at the Hope Downs No. 1 mine will be retrofitted with Autonomous Haulage System (AHS) technology. Three production drills at the Hope Downs No. 4 mine will also be retrofitted with Autonomous Drilling System (ADS) technology. This deployment will deliver safety benefits to both haulage and drilling operations as well as productivity gains to the business through a higher utilization rate of the existing fleet.

"This investment will ensure sustainable production levels at the Hope Downs No. 1 operation and is a clear demonstration of our continuing commitment to the people of Western Australia and the joint venture partnership," Rio Tinto Iron Ore Chief Executive Chris Salisbury said. "Together, we have played an instrumental role in developing the Pilbara and remain committed to pioneering new ways to innovate and improve our business for the future."

Salisbury said the company has redeployed or upskilled employees impacted by automation and expects the trend to continue with the extension of this technology at Hope Downs.

At the mine opening, Hancock Prospecting Group Executive Chairwoman Gina Rinehart said, "Thank you very much again to Rio for investing in Baby Hope, and other Hope Downs mines too, as well as all of your earlier investments in the Pilbara and Australia. A truly giant contribution, offering employment and more indirect employment and opportunities to many Australians over decades.

She added, "Hope Downs is very special to Hancock. It was named after a very special and beautiful lady, my mother Hope, a truly wonderful West Australian. My father, Lang Hancock, whose flights of discovery entailed him risking his life many times, was responsible for finding a significant number of major iron ore deposits in the Pilbara, indeed about 10 of which now form major mines for Rio Tinto, plus Hope Downs."

Hancock Prospecting and Rio Tinto are equal partners in the Hope Downs Joint Venture. Rio Tinto bought in to Hope Downs in 2005 after Hancock completed a bankable feasibility study and exploration of other Hope Downs areas.

Rio Tinto and Hancock's shared history extends back to the early 60s when Sir Val Duncan was chairman of Rio Tinto. Baby Hope is located about 4 kilometers southwest of the Hope Downs No. 1 South Deposit and immediately north of the Lang Hancock rail line. All necessary government and environmental approvals have been secured.

Hope Downs Nos. 1 and 4 produced 46.9 million metric tons (mt) of iron ore in 2017.
---
As featured in Womp 2018 Vol 11 - www.womp-int.com