New Twists for Traditional Conveyors
In addition to high capacity, new conveyors are being engineered for safety and spillage

By Steve Fiscor, Editor
---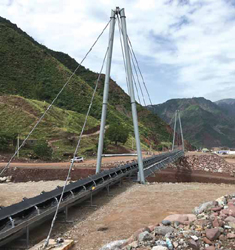 RBL-REI designed this 6,000 mt/h conveyor system with
a 100-m span for the Rogun Dam works in Tajikistan.


Belt conveyor systems are one of the most cost-effective methods of transporting bulk materials. The limitations for these systems are the rise and the run. The length and the difference in elevation either add to the power requirements or the complexity of the braking system.

Traditional belt conveyors are designed in flights, a set of shorter straight runs, with transfer points. Each flight requires belting, hardware and a drive, and each transfer needs chute work and the steel supports to redirect the flow. Erecting a conveyor in a straight line at a manageable grade usually meant considerable earthwork. Today's engineering firms are challenging those conventions and designing high-capacity systems that can navigate curves and undulations over long distances.

Anyone who has spent time around conveyor systems knows they can be dangerous and dirty if not properly maintained. Spillage is common during normal operation and can be catastrophic if something goes wrong. Designers are considering more enclosed systems to prevent injury and fugitive emissions.

Engineering Overland Conveyors
When it comes to engineering overland conveyors, French-based RBL-REI is one of the leaders as far as design, manufacture and construction. Oftentimes, long, high-capacity overland conveyors have to overcome technical complexities such as curves and great vertical relief. RBLREI has proven its skills and capabilities for challenging mining projects in Latin America. In addition to those projects, the company highlighted several current overland belt conveyors projects, which have been recently commissioned or are under construction.

The Rogun Dam works in Tajikistan is being developed with the contribution of a 4-km-long overland belt conveyor with horizontal curves engineered and supplied by RBL-REI. The design has been challenging due to the combination of a high-capacity, 6,000 metric tons per hour (mt/h), with a narrow corridor demanding tight radius curves for such a system. The Italian-based EPC contractor Salini Impregilo has selected RBL-REI not only for its ability to deal with these difficult conditions, which includes a single flight with a 100-m-long span bridge, but also to complete the project and in the shortest delivery time ever for such a system.
Curved conveyors are becoming more common. (Photo: RBL-REI)


Belgium-based LHOIST also trusted RBL-REI to design and construct a 3.5-km overland belt conveyor, which will deliver lime to a processing plant in Tarnow, Poland. Due to the narrow corridor available between the quarry and the plant, RBL-REI had to engineer a system including a transfer point between the origin and the discharge point. The innovative solution developed by the French engineering company consisted of a belt twisting device on a single-flight system, meaning the same belt is working upstream and downstream with a 122° angle transfer point. The belt twisting system without motorization has been specially developed for this project to unify the two sections. This design achieved the following benefits: no chute clogging as no stopping time difference between the two sections, and capital expenses were optimized by eliminating the drives and substation at the intermediate transfer point.

More recently, RBL-REI has just been awarded a new contract to supply two belt conveyors for the coal extraction in an underground mine based in Soma coal basin, owned by the Turkish energy company Polyak Eyneez. For this application, RBL-REI will design a system to convey raw coal from 650 meters underground to the prep plant on the surface. This will be a first and an engineering feat for Turkey as it will be fitted with a total drive power of 9,000 kW and high resistant belts ST6600. RBL-REI expects this system to be commissioned in the second quarter of 2019.

Takraf Technology Selected for Iron Ore Ops
In September, Rio Tinto initiated a major sustaining capital project to replace the original stackers at its Paraburdoo iron ore mine in Western Australia. The existing stackers were part of the mine's original infrastructure, stacking the very first load of iron ore from Paraburdoo in 1972. In 46 years of operation, they have stacked more than 800 million metric tons (mt) of ore, requiring only minimal structural changes throughout that time.

Takraf is leading the design and implementation phases of the stacker replacement and has committed to sourcing all material and equipment from well-known, reputable suppliers with a high preference for local content predominantly in Western Australia. The company's Perthbased subsidiary will manage the entire project, with support provided from the company's offices in Brisbane and global competence centers. The design of the new stackers is under way and the start of fabrication is scheduled to begin later this year with installation and commissioning completed by early 2020.

The new Paraburdoo stackers, according to Takraf, will boast several advanced features. The fully-automated stacking system, which will be monitored from Rio Tinto's Operations Center in Perth, will incorporate the latest in engineering design such as variable-speed drive control, fiber optic network infrastructure and an advanced anti- collision system with GPS backup.

Earlier in the year, Dr. Frank Hubrich, Takraf CEO, along with West Australian Premier Mark McGowan and Rio Tinto Iron Ore CEO Chris Salisbury visited the Paraburdoo mine to mark the start of the project. "We are extremely proud of having been selected to provide some of our most-advanced machines to this important project for Rio Tinto, the state of Western Australia and the country as a whole," said Dr. Hubrich. "This only serves to reinforce TAKRAF as a leading global provider of mining and bulk material handling equipment and we look forward to working together with Rio Tinto in other important projects in the future."

This project forms part of Rio Tinto's broader sustaining capital program estimated at $1 billion a year over the next three years. The company is also investing in replacing depleting assets with an estimated $2.2 billion expected to be spent on replacement mines over the next three years.

Beumer Installs Another Curved Conveyor
The U.S. subsidiary of the Beumer Group, an international supplier of conveying systems, was recently awarded a contract to design, supply and install a nearly four-mile overland conveyor at Knight Hawk Coal's Prairie Eagle mine in central Illinois, USA.

The Knight Hawk project is a strategic win for Beumer, allowing the company to broaden its mining sector footprint, according to Brad Williams, vice president of sales and business development for Beumer's Conveying & Loading Division, based in the Kansas City area. "We are very accustomed to handling coal and coal residuals in the power industry, but we are excited about the opportunity to focus on a project directly in the coal mining sector," Williams said.

Prairie Eagle is the hub of Knight Hawk's coal mining operations, processing and shipping more than 80% of the company's 5 million tons per year of coal production. Opened in 2005 as a surface mine, the Illinois facility was expanded to two underground mines, a prep plant and multiple truck loading facilities.

The curved troughed belt conveyor will carry coal from a mine portal to its main the prep plant. The overland conveyor will allow Knight Hawk to seal a portion of its underground mine and bring coal to the surface near its current mining activities. Commissioning of the new conveying system is scheduled for April 2019.

"This project is right up Beumer's alley from a technology standpoint, as it will become our third overland curved troughed belt conveyor installed in North America in the last five years," Williams said. "Our curved conveyor technology allows for a single-flight system that costs less to install and operate than a conventional conveying system, and will offer Knight Hawk long-term financial and environmental benefits when compared with trucking."

The original request for proposal called for four straight conveyors requiring three transfer towers," Williams explained. Beumer's winning proposal features a single-flight curved conveying system that eliminates the cost of tower steel, and greatly reduces the quantity of components and necessary spare parts. It will reduce the dust, noise, maintenance and operating costs associated with the transfer points, and offer 98% reliability compared with roughly 92% reliability for four conveyors operating in series.

Enclosed Conveyors Put Safety First
Whether they are operating underground or on the floor of a processing plant, conveyors are vital to automating an operation. But they still require human interaction to operate effectively, so there will always be safety concerns whenever human contact is required with equipment.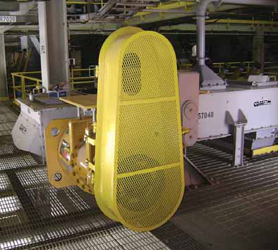 Proper guarding and enclosed conveyors prevent fugitive emissions
and safety mishaps.


A conveyor's level of safety begins with how it is designed, explained Andrew Parker, vice president, CDM Systems Inc. "Covering moving parts and preventing access to materials that often move at high speeds are important starting points," Parker said. "The more you can minimize human contact with a conveyor or prevent things like boot laces or shirt sleeves from getting caught up in a shaft rotating at 2,000 rpm, the better your chances of having a safe operation."

Belt conveyors are some of the most common conveyors in use today, but they bring a litany of safety concerns that are inherent in their design:
• Exposed idlers located approximately every four feet along a run, which means an extensive number of maintenance points as well;
• There is the potential for spillage or dusting from the movement of the exposed materials;
• If materials become wedged under a roller or between two points on a belt conveyor, the belt can be cut, creating an unsafe operating situation; and
• Material jams can generate friction and heat that can ignite flammable materials.

All conveyors require a certain amount of expected maintenance. Protecting maintenance crews is especially important and it's important to adhere regulations and guidelines. "Whether it's a 70-lb weight limit for removable pieces, requiring a tool to gain access to moving parts, or eliminating any gap larger than 0.5 in. between exposed shafts and rotating equipment, those regulations and guidelines are not always enough when the human factor is taken into consideration," Parker said.

One should never assume that maintenance workers will follow safety guidelines when servicing equipment, Parker explained. Any conveyor can be shipped and assembled with guarding in place, but maintenance workers, possibly in an effort to work faster or more efficiently, often take shortcuts that leave guards loose or completely removed. On a belt conveyor, that safety risk exists every 4 ft for the entire run.

One solution to ensuring optimal safety while enhancing efficiency, productivity and profitability lies in the adoption of an en-masse conveyor, such as a chain conveyor, screw conveyor, or bucket elevator, that features an enclosed or sealed design. These types of systems move materials more safely and eliminate concerns about dusting and airborne material. Enclosed conveyors also reduce the potential for injury by allowing only two access points to moving parts at the front and back of the conveyor run. This means easier maintenance and relief for technicians who are used to handling heavy guards and access panels.

En-masse conveyors in particular can carry more material in less space compared to other conveyor technologies, with minimal material degradation. This addresses the profitability issue by increasing efficiency, and because it moves material in an enclosed steel casing, the en-masse design is a viable option that results in fewer injuries, less dust, fewer aspiration problems, and less potential contamination of the material.

With millions of dollars and people's lives at stake, ensuring the safest possible environment for employees should be the top priority for any industrial manufacturing operation. "It's simply the right thing to do," Parker said. "Fortunately, it doesn't have to come at the expense of attaining and maintaining profitability. With any conveyor system, it's important to identify safety challenges before they result in an injury, worker's compensation claim, or worse. Doing so requires a thorough understanding of a variety of material handling demands, which underlines the importance of partnering with an experienced equipment manufacturer before deciding on any conveying solution."
---
As featured in Womp 2018 Vol 10 - www.womp-int.com