A Different Perspective Adds to Sustainable Goals
Euro Mine Expo conference showcases some of the latest technologies being used in Scandinavia

By Steve Fiscor, Editor
---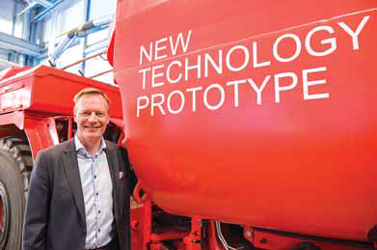 Mats Eriksson, president, Product Area Load & Haul for Sandvik.


Scandinavians see things differently. For example, the discussion in Sweden is not about if the mining business will move away from the use of fossil fuels, but when it will happen. It will likely happen soon. Battery propulsion will replace diesel- powered equipment underground and the electricity used to recharge those batteries will come from renewable sources. Having a grid powered mostly by hydroelectricity is a huge advantage of course.

Likewise, some of the leaders in this region are already envisioning the next steps that will build on autonomous mining. Advanced drones developed for underground mining can give the system eyes and ears, mapping the headings with great detail, exploring stopes or ore passes and investigating the face before the smoke clears. That seems logical until one realizes these units do not have access to GPS or light for line-of-sight control.

Boliden's Kankberg gold mine is the first mine to have 5G cellular service at the face. Why? One, because they can. They are laying the future proof groudwork for advanced technology. As mining systems become more advanced, the amount of data generated will be incredible. Wi-Fi systems work well, but they have their limitations. Many mining companies are considering private mobile networks, which have better coverage and faster roaming between access points.

When it seems the expectations that have been placed on machinery have reached their limits, engineers are finding new solutions that will not only allow the mine to continue to pursue ore at depth, but lighten the load on the supporting network.

"These are very interesting times," said Tor Einar Norbakk, Sandvik's managing director and territory manager for Sweden, told E&MJ while on location at Euro Mine Expo during mid-June. "There has been a paradigm shift as to how we can use the technology and it has matured and we have absorbed the technology into the market as well. These digital solutions will drive the optimization for the mines. We are using the technology for the propulsion of new mobile units. Fully autonomous use of these machine will all contribute immensely to productivity and also the possibility to pursue ore that was once thought impossible to extract."

Describing the areas where they are working now, beyond the traditional development of equipment and services, Andreas Simoncic, Sandvik's automated business line manager for northern Europe, discussed the trends they are seeing in the Nordic countries. "The mines are getting deeper and larger and with that comes a lot of challenges from both safety and production perspectives," Simoncic said. "Rock stress and temperatures increase. There are places where mines want to minimize exposure and to do that they need to use some level of automation."

Sandvik was the first to automate truck haulage underground and the company has had autonomous underground mining for more than a decade now. "The technology is now well proven and it's totally accepted," Norbakk said. "We have mines that have increased productivity tenfold as a percent because of it. Operators monitor activities from the surface, which improves availability. Delays related to shift change and blasting are minimized."

Canada's first carbon-free mine, the Borden mine, selected Sandvik for its equipment. "From the mine's perspective with this new technology, their overall investment to go deeper is less," Norbakk said. "We can drive efficiency using autonomous systems and fossil-free propulsion. This minimizes the size and dimension of the supporting infrastructure, which makes mine development easier and that allows deeper mining or more efficient extraction of low-grade ore.

Talking about caring for equipment, Norbakk joked that autonomous machines do not have bad days. "These systems reduce equipment damage and improve the equipment availability," he said. "Production increases. Or, from another angle, if the mine maintains the same production level, they can reduce capital equipment costs by running a smaller fleet. That also reduces operating expenses."

"The mining industry works hard to change how its perceived externally," Simoncic said. "Automation and digitalization are ways to get educated young people excited about our industry and that's quite important." Both Norbakk and Simoncic are excited about the new technology and the levels and opportunities that will be achieved in the future that can't even be perceived today.

The Push to Electrify Underground Ops
More mining companies are looking to install battery-powered equipment underground and the original equipment manufacturers (OEM) are working with them to develop this technology. Identifying these trends is important as the equipment suppliers need time to develop and test the machines. One of those leading the charge is Erik Svedlund, Epiroc's global marketing manager-electrification, who spoke at Euro Mine Expo 2018. "On average, our customers are going 30 m deeper per year and costs increase with depth," Svedlund said.

As miners pursue deeper orebodies, rock pressures and temperatures increase, which drives costs higher. Maintaining large openings at depth is difficult work. Transportation times for miners increase. Compared to operations on the surface, deep mines in general require more machines to move the same amount of rock and more operators and a larger infrastructure to support them.

A prime example would be ventilation. Temperatures increase approximately 1°C for every 100 m. Currently the world average is 1,000 m for metal mining and many mines are approaching 2,000 m, the deepest mines are already below 4,000 m. "The diesel engines we are taking underground are affecting the health of the miners and increasing the temperatures in the headings and the ventilation requirements," Svedlund said. "This is why we are quickly moving toward electrically powered equipment."

Svedlund joined Atlas Copco (Epiroc's predecessor) in 2003 and said he spent much of his career designing new diesel engines to comply with emission regulations. "We reduced particulate matter and NOx levels, but future directives call for better air quality and running the cleanest diesel engines won't be an option," Svedlund said. "[The mining business is] the only business allowed to run diesel engines indoors and it's acceptable. We are polluting the air we breathe."

For the OEMs, developing a new product can take five years and developing new technology takes a few more years, Svedlund explained. "If we're going to turn around underground fleets, it will take a considerable amount of time. The positive side to this is that we started several years ago" Svedlund said.

One of the first battery-electric machines Epiroc developed was a drill rig affectionately known as "Betsy." The costs were high and it was complicated, Svedlund explained, but it worked. "In 2013, we started development of the first battery- powered loader. It was so successful that we launched a product in 2016," Svedlund said. "Loaders and trucks consume about 80% of the diesel fuel shipped underground. If these production machines are not addressed, mining companies can't solve the problem."

Currently, the biggest push is from the deep mines in eastern Canada and some of the mines in Sweden. "These mines are not being forced by regulators to make this change," Svedlund said. "They see the obvious benefits and the miners see the company making the investment for their health. We already hear operators saying things like, 'I don't have a headache when I come home and I have enough energy to play with my children.'

Svedlund claims that Epiroc is leading the way in this area. "We have the most models in production," Svedlund said. "Admittedly, we took some short cuts. For example, these machines do not have air conditioning. If we would have focused on air conditioning, it would have taken another year to get these units in production. With these first-generation machines, it was all about learning to use the technology, proving that it would work and that there is a market for it. The object was to get these machines into the mines and we have placed several units in mines in Canada and today we have about 47,000 hours on battery-electric equipment."

Svedlund and his colleagues are now looking ahead to zero emissions. Hybrid vehicles provided a nice stepping stone as far as emissions reduction, but it makes little sense for underground applications. "Diesel exhaust causes cancer," Svedlund said. "Safety first is popular mining slogan. Can you say 'safety first,' and at the same time place operators in machines that cause cancer? If a hybrid reduces emissions by 30%, does that mean 30% less cancer? Is that acceptable? The answer is 'no,' and that's why we are targeting zero emissions because that's the only safe limit."

One of the more important variables for battery-electric equipment development is energy efficiency. These developers are looking to reduce the energy consumption by as much as 80% compared to diesel engines for the same amount of work. In addition to the health and safety benefits, there would also be cost savings associated with ventilation, which on average represents 70% of the electrical costs for underground mining.

"If we could get rid of these diesel engines, the potential savings could be enormous," Svedlund said. "Costs related to diesel are buried everywhere — maintenance, fuel transportation and storage, etc. Transporting electricity underground is easy."

Today, battery-powered equipment can beat diesel in every aspect of performance except run time, Svedlund explained. Depending on site-specific conditions, battery- powered loaders have a 4-hour run time on average in heavy operations. "It typically takes two hours to muck out a face," Svedlund said. "Depending on the haulage, energy consumption can be higher or lower. We can also use regenerative braking in certain situations like traming down ramp."

"Considering the average life for underground equipment is seven, if we start tomorrow, it will be seven years before we are all electric," Svedlund said. Svedlund side-stepped questions about the weight of the battery and how it impacts payload nor would he disclose Epiroc's battery supplier. However, just before Euro Mine Expo, Northvolt was breaking ground on Europe's largest lithium- ion cell factory in the same town, Skellefteå, Sweden.

The company received its environmental permit, which covers both construction and operation, from the Land and Environment Court in Umeå less than six months after the final application was submitted. The permit was issued for the first section of the factory that will be completed in 2020 and produce 8 GWh cell-capacity annually. The full factory will be ready in 2023 and produce at least 32 GWh annually when it reaches full-scale capacity.

Since its launch in March 2017, Northvolt said it has entered into industrial partnerships with ABB, Nemaska Lithium, Scania, SECI, Siemens, Skellefteå Kraft and Vestas, as well as been selected by Epiroc as a supplier of battery systems for zero-emissions mining machines.

Sandvik Opens Battery-electric Research Center
Sandvik officially opened its Battery Electrification Innovation and Development Center for loaders and trucks in Turku, Finland in June. "Innovation and development start here," said Mats Eriksson, president, Product Area Load & Haul. "Our new innovative battery electric vehicle development center will bring leading talents together from around the world to help develop the electrification and e-Drive technologies of tomorrow."

With its close proximity to Sandvik's major mining product areas in Finland, the center gives the company's developers the opportunity to collaborate on projects. "Sandvik has a long history of pursuing innovation and we are excited to be bringing that same passion and technology leadership to battery technology and electrifi cation initiatives," Eriksson said. He believes this strong technology ecosystem coupled with a network of globally recognized technology partners will provide a pipeline for innovation and development.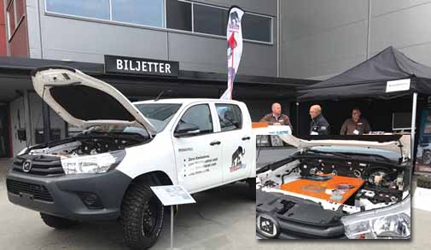 Tembo has converted a Toyota Hilux to battery power.


Electrically-powered Light Vehicles
One of the show stoppers outside the Euro Mine Expo event was the battery-powered Toyota Hilux light-duty truck. Manufactured in the Netherlands by Tembo Vehicles, the truck had a mine-duty frame and powertrain in addition to a battery in the engine compartment. Tembo also makes a Land Cruiser 70 Series for underground use as well. Tembo refers to them as 4x4 electric light vehicles (e-LVs) and so far they have placed them in mines in in Ireland, Canada, Australia and Germany.

Doofor Launches New Rock Drills
Nokia, Finland-based Doofor recent launched its newest rock drill, the DF800. It is in the 25kW power class and it's designed to drill up to 127-mm diameter holes in hard rock. The new rock drill has hydraulic cushioning and drill steel extractor functions as standard. It utilises a patented valve system for economical drilling. "Our customers have requested a rock drill in this size class. We designed it using our latest innovations, such as a new piston type and valve. Also, changing of the flushing seals, should now be quicker than ever," says Kalle Kuusento of Doofor rock drills. "We received positive feedback from our customers, who are using the first individual drifters." The rock drill can use T38, T45, T51 and GT60 shank adapters.
The Doofor DF800 drills holes up to 127 mm.


Jama Celebrates 80 Years of Serving Underground Miners
Sweden's Jama Mining Machines was founded by Torbjörn Bask in 1948. Today, it carries on with the tradition of supplying rugged, custom equipment for underground metal miners. Bask worked for Boliden for many years before he decided to start a mechanical workshop. He made and repaired the legs for jackleg drills. Then the business involved into drill rigs mounted to a cars that could be moved on narrow-gauge rails.

Basks Mekaniska AB worked with Alimak and other Skelleftea-based companies, creating different types of equipment for the mines in the region. In the mid-1970s, they started to make larger machines, which were comparable to the Atlas Copco machines at the time. They like many others, however, could never master the quality of the drills and they could not compete.

Toward the end of the 1970s, the business fell into bankruptcy. Later a young entrepreneur and handful of mechanical engineers formed Jama Mining Machines and purchased the assets of Basks Mekaniska. Based in Boliden area, Jama began to build equipment based on standard chassis such as service machines with baskets and scalers.

A couple of years later, the three large Swedish mining companies, LKAB, Boliden and Zinkgruvan, were looking for a solution for scaling equipment. They were having trouble with the equipment, especially with the reliability and safety. Together, those mining companies wrote a set of standardized specifications and contacted three suppliers. Jama purposedesigned concept won the bid.

In 1996, Jama began production of the SB800 and they continued to make them for eight years, selling 45 units. Today's mechanical scaler, the SBU 8000, was launched in 2004 and they have sold 60 of those units. The majority of which were placed in Swedish mines.
Jama's RBU 8000 has an 11-m reach and an extendable boom with a rotation device and a two-pronged tool.


"Our customers tell us what they want and we make it for them," said Anders Norberg, business development manager for Jama. "Jama's priorities are safety, ergonomics and productivity, and we believe there is a strong correlation between ergonomics and productivity. One of our customers measures whole-body vibration and Jama makes one of the few machines that miners can operate for eight hours without exceeding whole-body vibration limits. We have developed an advanced vibration dampening mechanism for the scalers."

"Based on the same chassis, we have also developed a shotcrete rig, the CSU 8000 and a secondary scaling unit, the RBU 8000, for Kiruna's sublevel caving operations. With an 11-m reach, the operators can sit at a safe distance and work." The machine has a three-piece, extendable boom with a rotation device and a 2-prong ripping tool.

"Taking the modern, standard chassis at step further, we are making several different machines today, such as different utility vehicles and charging units," Norberg said. These products are all placed on a standardized truck or dumper chassis. "We add the equipment to the chassis and deliver a fully tested, certified machine," Norberg said. "The machines have different stabilization systems, such as outriggers, depending on the application."

Jama has also developed a rescue hoisting system. "You have to be extremely fit to climb a 300-m shaft," Norberg said. "Our mobile rescue hoist could be used to rescue miners from smaller diameter ventilation shafts." The compact system can be carried around the site by a wheel loader.

For both underground and surface applications, Jama has developed drill rig for a wheel loader that can be used to drill and shoot boulders. More recently, Jama signed an agreement with Epiroc to supply grouting machines. "This is a Craelius legacy project," Norberg said. "Epiroc selected Jama as a partner to build these units for them. Jama assembles, tests and delivers the units."

Cross Reality Safety Training
Innan AB specializes in risk awareness and cross reality (XR) safety education. The company's CEO Nicklas Karlsson was walking miners through various training program at Euro Mine Expo. "We are helping the mines develop custom safety education programs using XR, not just VR, but also AR and MR — all kinds of different Rs," Karlsson said. In a 2-m x 3-m space on the show floor, he was able to walk people through three different demos, which included an exercise to extinguish an electrical fire, turning on the oxygen in a rescue chamber and a workshop for identifying fire risk hazards and evacuation procedures.

In addition to the education tools, Innan also develops risk awareness systems to measure, evaluate and validate personnel knowledge in real time. "No matter what training option is selected, XR, eLearning, etc., it's important to determine retention rates," Karlsson said. "When mixing education programs, bad base-knowledge inputs affect results, so control questions are useful for informing management as to whether their people know their stuff or not."

These portable systems are made possible with VR lighting and two receivers. Innan wants to sell mines the software. The mine would buy these units and conduct their own training at their location at their convenience.

Normet, Oulu University Sign Partnership Agreement
Normet Corp. and Oulu University signed a partnership agreement to develop their co-operation. They will now initiate research and training co-operation to strengthen the development and testing conditions of vehicle technology.

"The ongoing transition in vehicle technology sets new challenges with the tightening of environmental legislation and changing needs of miners," said Heikki Ojala, vice president, Global R&D for Normet. "At the same time, our personnel's expertise is subject to new demands that we can answer with this partnership agreement signed with Oulu University of Applied Sciences." Normet is one of the Northern Finland's leading mining suppliers whose success radiates to a wide range of companies in supply chains throughout northern Finland.
An Inkonova developer holds a drone developed for
underground applications


Drones Developed for Underground Application
The Tilt Ranger, the first drone truly designed for underground operations, according to Inkonova, can help miners avoid delays and planning errors. It can also access and scan no-go areas in the mine. A company that originally developed its tilt-rotors drones for racing began to equip the units with collision avoidance systems for underground applications in 2017. To do this, Inkonova developed an autonomous navigation system to guide the drones in unknown zones — those with no infrastructure, GPS or light. They are calling the solution Batonomous and a beta version has been commercially available since the start of 2018.

In late February, Inkonova demonstrated the Batonomous system in Gällivare for Swedish iron ore miner LKAB. During the demo, untrained LKAB personnel commanded the drone by waypoints around a warehouse. Six weeks later, LKAB purchased the Batonomous system to use at its Malmberget mine.

Word has since spread, Inkonova received a purchase order for an underground aerial survey (flying scan) from Barrick's Golden Sunlight mine in Montana in August.

Extinguishing Engine Compartment Fires
Outside the Kraft Center during Euro Mine Expo, a technician from Fogmaker International AB had a demonstration with a 2-m3 box that represented the engine compartment on a piece of underground equipment. The demo was set up so that two nozzles were spraying diesel fuel into the compartment, which also had four nozzles in the top of the box that discharged the extinguishing agent.

The technician ignites the fuel and a fire grows inside the compartment. The temperature continues to increase and, when it reaches 155°C, the fuel line bursts. A massive fireball erupts and the temperature quickly moves toward and passes 800°C. The agent is released and the fire is extinguished almost immediately. The amount of fluid, which is 97% salt water and 3% foam additive, used in this demo is 2.5 deciliters. On a mine truck or LHD, it would amount to 15 liters to 19.5 liters of extinguishing agent. The Fogmaker system can eat up 700°C in 10 seconds.
The Fogmaker system extinguishes the fire immediately and cools the compartment in seconds.


The Fogmaker system attacks the three components of the chain reaction that causes a fire: heat, oxygen and fuel. The company says cooling is the far-most important factor when breaking the chain reaction, and water is the best agent for that purpose. During the evaporation process, the water mist cools the burnt gases and hot parts in the engine compartment.

One 7.5-liter Fogmaker extinguisher generates up to 12 m3 of steam, causing oxygen displacement, and supports the knockdown effect on the fire. A small amount of surfactant creates a coating, which isolates hot surfaces or fuel from oxygen. This prevents the fire from reigniting.
---
As featured in Womp 2018 Vol 10 - www.womp-int.com