Silvertip Achieves Commercial Production
---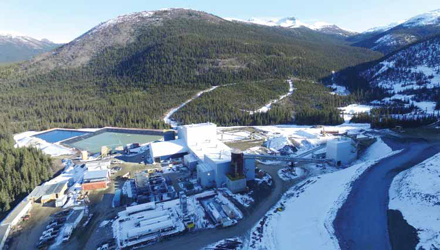 Processing rates at the Silvertip mine (above) are on track to reach 1,000 mt/d in early 2019.


Coeur Mining Inc. has announced commercial production, effective September 1, at its new high-grade Silvertip silver-zinc-lead mine located in northern British Columbia.

"We completed the acquisition of Silvertip in October 2017 and commenced production in March after successfully commissioning the mill," said Mitchell J. Krebs, Coeur's president and chief executive officer. "Since then, our team has been focused on optimizing plant performance and on upgrading the mine's infrastructure. We continue to be excited about the impact Silvertip is expected to have on our production, margins and cash flow beginning next year.

Krebs said processing rates are on track to average 750 metric tons per day (mt/d) by year-end and reach 1,000 mt/d in early 2019. The company expects to receive approval of the permit amendment application to operate at 1,000 mt/d around year-end in the fourth quarter.

During August, processing rates averaged approximately 450 mt/d, up from approximately 350 mt/d during July and approximately 250 mt/d during June. Processing rates regularly ranged between 500 mt/d to 650 mt/d during August and exceeded 800 mt/d late in the month. During the same time, plant availability improved to 80%, up from 75% in July and 65% in June.

Through July, the company has invested a total of $51.3 million in Silvertip, including $29.8 million of capitalized operating expenses, $8 million of capitalized resource infill drilling and $2.1 million of expensed resource expansion drilling.

In July, the company increased its fullyear production guidance from 36 million to 39.4 million silver equivalent ounces to 37.3 million to 40.5 million silver equivalent ounces due to strong first half performance at its Palmarejo operation in Mexico.
---
As featured in Womp 2018 Vol 10 - www.womp-int.com