Digital Initiatives Connect Safety Challenges and Solutions
Interest in AI is booming as producers tap into ever-increasing data streams to make mining safer and more productive

By Russell A. Carter, Contributing Editor
---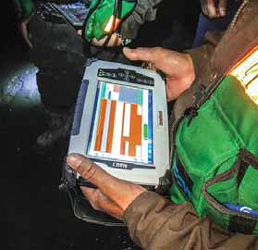 'Wi-Fi to the face,' ruggedized mobile devices and smarter
wearable digital solutions offer many potential safety
improvements for miners.


No segment of the mining industry is more critical to productivity and sustainability than worker health and safety. Inattention or failure in this area can lead to consequences for mine operators that range from immediate (worker injury or fatality) to enduring (occupation-related disability, regulatory investigation, production suspension or even loss of social license to operate).

It's an area that offers some opportunities for quick fixes — but also presents formidable challenges stemming from complex interactions. For example, a simple change in materials, such as switching a processing plant's manhole, trench and other types of access covers from heavy metal or concrete to, say, lighter but tough synthetic composites might reduce common work-related lifting injuries. A solution to reduce operator fatigue could require attention to factors that might include anything from personal sleep habits to complicated social and work environment issues.

For mine operators, making correct choices in health and safety policies in a business environment defined by competitive success and ability to weather market swings will most likely get harder before it gets easier. The global mining workforce is changing because of demographic and geographic trends, and today's miner will not be the miner of the future.

In fact, the miner of the future may not even be human, as the industry edges incrementally toward the ultimate safety goal of removing workers from hazardous environments wherever possible, replacing them with autonomous or teleremote-controlled equipment. Achieving this objective requires a new way of looking at traditional policies and workflows, and even though the future may see a lower population of workers underground and in the pit, safety problem-solving will always have to take the human factor into account. Autonomous trucks, drills and dozers can be programmed to adhere without fail to best practices. With human workers, it's not quite that easy. Risky on-the-job behavior is a leading cause of safety-related incidents. In the U.S., for example, government statistics show that improper handling of materials, slipping or falling, and improper use of hand tools accounted for almost 60% of nonfatal losttime injuries in underground mining operations between 2011 and 2015.

Connected Future
Empowering employees by providing onthe- job, real-time guidance and status information through better communications is one way of reinforcing desired workplace behaviors, and Gaston Carrion, a resources- industry talent and organization lead for Accenture, believes mining's future will involve highly connected workers who use digital technologies, such as connected devices, automation, real-time analytics and wearables, to optimize processes both at mine sites and via remote operation centers.

Mining companies that take steps to realize this vision will build a more productive and safer workforce with point-of-need knowledge, according to Carrion. They will invite innovation through social collaboration and employee empowerment. And they will improve the employee value proposition in an industry that faces a talent shortage. The workforce of the future is an exciting proposition, he predicted, but will require the industry to modify how work is organized, performed and managed.

Part of that workflow modification will come from increased use of Artificial Intelligence, or AI, loosely defined as systems that can perform tasks that normally require human intelligence, including visual and speech recognition, decision-making and language translation. AI is one of those topics that people like to bat around in discussion, but not many people thoroughly understanding its underlying concepts. The sidebar Why is Artificial Intelligence Important? on p. 46 offers some insights into its uses and advantages.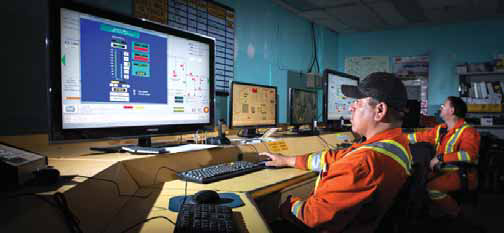 After years of relying on a paper-based system and radio communications to relay vital information to underground
equipment operators, Goldcorp's Musselwhite mine recently implemented a digital management system for underground
vehicle dispatch that helped improve productivity and enhanced safety.


Although it's currently a matter for debate as to whether computer-based decision systems will ever completely possess a level of generalized intelligence that rivals the human brain in terms of complexity and variability of thought processes, it is clear that AI will play a major role in the future of industry, mining included. Major mineral producers are exploring and, with increasing frequency, adopting AI-based approaches to streamline complex tasks ranging from exploration program planning to mill optimization. In the past, AI solutions typically haven't risen to the top of the list when companies address critical health and safety issues, but that is changing.

Carrion provided some examples of potential safety and productivity benefits to be gained from a digitized workplace:
• Equipping the workforce with wearables makes it possible to easily monitor employees and contractors on-site. Using head-mounted displays enables the workforce to request "over the shoulder" coaching while repairing equipment.
• Putting analytics in the hands of managers helps them make preventive maintenance decisions more quickly. For example, instead of reviewing tire truck pressures on a weekly basis, team leads can view real-time sensor data to understand the pressure of every tire on every piece of equipment at any time.
• Using intelligent machines to conduct mining processes and managing multiple operations remotely enables miners to achieve faster growth and the ability to scale.

Barrick Gold is an example of a mineral producer aggressively pursuing a company-wide digitalization plan. Its Digital Transformation initiative calls for weaving a "digital fabric" throughout its operations, aimed at achieving full capability by 2019-2020. Barrick described Barrick Digital Fabric (BDF) as an "enterprise- grade, big data analytics platform that provides a unified data management environment to support flexible processing of workloads at a low cost-to-serve." Key features and enhanced capabilities of the system include a highly secure data environment; scalability; real-time integration of large data sets from disparate systems; and flexible support for streaming, micro- batching and long running workloads.

In addition to the operational and financial advantages Barrick intends to reap from implementing BDF, the system is also designed to provide live operational insights and to issue alerts and alarms when necessary. Using AI principles, BDF will generate operational recommendations using auto-generated prompts and responses, along with data-driven simulations and what-if scenario testing.

To achieve maximum effectiveness, BDF needs "connected" mine sites — and Barrick is moving quickly to reach that objective. At the Pueblo Viejo gold operation in the Dominican Republic, for example, the company intends to improve safety and operational efficiency through the use of digital information. After achieving a 97% reduction in "fatigue management events" by using Cat's Driver Safety System during 2017, the company is targeting digitally based concepts such as Wi-Fi to the workplace, conversion to e-forms for training assessment optimization and QR code-based license and competencies information immediately available for on-site verification.

At its Turquoise Ridge underground mine in Nevada, Barrick said it had Wi-Fi available at 79% of the mine's headings in 2017, with 100% availability targeted for 2018. Mine employees are equipped with iPads and apps for Short Interval Control, Digital Work Management and Predictive Maintenance information exchange. The mine's digital safety objectives for 2018 include operator fatigue management, real- time dust monitoring, digital lifesaving controls and development of a pilot system for collision avoidance.

Barrick's competitor, Newmont Mining, also is intent upon expanding minesite digital technology. In March, the company announced that a newly established Operational, Technology and Innovation group will focus on IT/OT integration architecture and infrastructure throughout "connected" operations. Mine monitoring and control teams will work to implement wearable technology for safety and operational efficiency, while machine control and automation crews will aim at improving equipment performance, safety and consistency through AI and other tools.

Meanwhile, Goldcorp is looking closely at possible applications of virtual and augmented reality (VAR) at its mine sites, with the goal of improving worker efficiency and safety. In a recent posting on the company's Above Ground blog, Gil Lawson, Goldcorp's vice president, geology and mine planning, said the company sees tremendous opportunity for VAR technology in the areas of mine planning, training and safety. "Using virtual and augmented reality to transport people to the face of the mine to address an issue in a high-risk area without them having to physically go underground would go a long way toward making our operations safer," Lawson said.

Lawson also sees potential for savings by reducing travel. "Cerro Negro mine is our most remote mine site. It's a 20-hour trip just to get to the mine. If we can use this technology to virtually do an inspection or share information in real-time without having to send people to the mine site, that would improve efficiency significantly." Trainers could also instruct miners globally, he said, without having to travel, by combining step-by-step instruction with holographic images providing a more engaging and immersive learning environment.

Making Choices
Although AI, Augmented Reality and Virtual Reality are the hot-button concepts currently dominating the industry's conversation concerning digitalization, it's clear that in order to optimize the safety and operational benefits of these technologies, major minesite functions and systems are going to have to be digitally linked — and mine operators are going to need to judiciously choose the digital tools and concepts that best serve their needs. Those choices are constantly expanding as major industry vendors upgrade their existing product lines with enhanced digital capabilities, while new entries in the supplier ranks are introducing devices and systems that not too long ago were mostly fodder for science-fiction stories.

As an example of the former, Epiroc recently announced it upgraded its existing Serpent mine ventilation system to a higher level by incorporating automatic functionality. Serpent Automatic, as it is now known, is claimed to optimize air quality, air flow and energy expenditure automatically and can significantly reduce energy consumption and ventilation costs, according to the company.

Diana Baldeon, global product manager for Serpent Ventilation at Epiroc, said, "With the launch of Serpent Automatic, we are taking a giant leap into the future toward a more modern, reliable and cost-efficient automatic operation." The Serpent Automatic module minimizes energy consumption while ensuring compliance with environmental requirements and regulations. Sensors regularly measure carbon monoxide and nitrogen dioxide levels to determine air quality, then automatically adjust fan speed to continuously ensure adequate air flow and a well-regulated underground work environment.

Existing Serpent fan stations, as well as other VOD systems, can be conveniently upgraded to include automatic functions, according to Epiroc. Serpent Automatic is delivered as a central module that is mounted onto the base station, while the sensors are placed in the tunnel or mine. "Easy installation saves both time and money," said Baldeon. "It has been very important for us to create a truly installation-friendly solution. The only thing you need is a wireless network."

In a project directly linked to worker safety from a different angle, Nick Chrissos, director of innovation–Europe for networking specialist Cisco, recently described a partnership between Cisco and AI startup company Cortexica that will focus on an autonomous monitoring system that assures safe working environments. Chrissos said it will be called AI-SAFE (Automated Intelligent System for Assuring Safe Working Environment) and will combine real-time video analysis with advanced algorithms and machine learning to ensure that employees are correctly kitted out with the safety gear they require.

AI-SAFE will be able to match what an employee is wearing — including headgear, eyewear, footwear and other Personal Protection Equipment (PPE) — against preset rules of entering a work area. Non-compliant or missing equipment will trigger an alert, and access to the work environment will be restricted until the person in question is properly equipped.

As Chrissos pointed out, equipment checks are nothing new, but typically they're conducted by a person and, therefore, prone to human error. AI-SAFE aims to eliminate that issue. Mounted above entry and exit points of working environments, the technology replaces the manual spot-check system, and is suitable for any number of different applications and environments. The collaboration is being funded by Innovate U.K.

What's considered critical safety gear for workers also may change, as wearables designed to handle communications, location, physical status monitoring and other tasks continue to evolve. Looking beyond the current crop of devices designed to monitor and report, some organizations are looking at a more robust types of wearables, such as those that physically augment a worker's capabilities.

For example, Turin, Italy-based Comau, a developer of industrial automation solutions, recently unveiled MATE, an innovative wearable exoskeleton. MATE, according to the company, is designed to improve work quality by providing consistent and advanced movement assistance during repetitive tasks.

The MATE exoskeleton, employing an advanced spring-based passive structure, delivers lightweight, breathable, and effective postural support without the need for batteries, motors or other failure-prone devices, said Comau. The compact, ergonomically designed unit was developed in a collaboration involving Comau; ÖSSUR, a non-invasive orthopedics company; and IUVO, a spinoff company of The BioRobotics Institute specializing in wearable technologies.

The MATE exoskeleton is
designed to replicate any
movement of the human
shoulder while providing
effective postural support
during repeitive tasks.


MATE, according to Comau, is fully able to replicate any movement of the shoulder while adhering to the body like a "second skin." Although the initial targets for this product are factory-floor, assembly-line workers performing repetitive tasks in a static environment, it's not difficult to visualize mining applications possibly involving jackleg drill operators, equipment field service technicians or mill maintenance personnel.

Partnering for Productivity
Komatsu and graphics-technology developer Nvidia have formed a partnership to deploy Nvidia's Jetson AI platform to create safer heavy-equipment work sites. Jetson AI will serve as the brain of Komatsu machinery on these sites, enabling improved safety and productivity, according to the two companies.

The overall plan is to have Nvidia GPUs (Graphics Processing Units) communicate with drones and cameras at work sites, acting as an AI platform for analysis and visualization. SkyCatch, a data-imaging company, will provide drones to gather and map 3D images for visualizing the terrain. OPTiM, an IoT management-software company, will provide an application to identify individuals and machinery collected from surveillance cameras.

Jetson is a credit-card-sized platform that delivers AI computing "at the edge." (Edge computing shifts control of computing applications, data and services from central nodes [the core] to the other extreme [the edge of the Internet], which actually contacts the physical world.) Working in tandem with Nvidia cloud technology, Jetson initially will power cameras mounted on Komatsu's construction equipment and enable 360-degree views to readily identify people and machines nearby to prevent collisions and other accidents.

Future applications include high-resolution rendering and virtual simulations of mining sites along with automated control of machinery.

Personnel tracking systems using RFID tags are already a familiar and expanding approach for maintaining upto- the-minute location information for workers and equipment. The next step, as envisioned by Microsoft, for example, could use cloud computing, AI and video not only to provide location information, but also to keep track of employee training and certifications and control their access to equipment and workspaces on a scope much wider than current practice. In a recent demonstration, Andrea Carl, Microsoft's director of commercial communications, showed how a system using its Azure cloud computing and Cognitive Services solutions could contribute to improvements in workplace safety.

Carl said Microsoft's Cognitive Services can provide customer-specific apps, websites and bots with intelligent algorithms to see, hear, speak, understand and interpret user needs through natural methods of communication. She presented a video that showed how AI can be used to immediately call up a list who's on-site and see what any individual is currently doing — and whether they've been trained and cleared to do it. Making up to 27 million facial, object and location "recognitions" per second, the system can, for instance, find a specific piece of equipment, determine whether it's in a safe and approved location, and identify the last person to use it. If an unqualified worker attempts to use the equipment, the system can, if desired, find and notify a qualified employee to come to the assistance of the worker.

Catching Up
The mining industry has long been criticized for lagging behind other industrial sectors in technological innovation. That's not completely accurate. Ten years ago, for example, Rio Tinto successfully tested a driverless haul truck at its Western Australia iron ore operations while prototype driverless automobiles were still trying to avoid pedestrian dummies on closely controlled test tracks, and lately, the industry has quickened the pace of innovation simply from necessity.

In a business environment that both welcomes and fears disruptive concepts, mining companies that fall behind in technological adaptation run the risk of becomig prey to the resource-industry equivalent of a Google, Amazon or Uber. They also may not be able to attract younger workers who are more comfortable with — and more interested in — digital technology than earthmoving. There are definite corporate financial benefits that can be gained through digitalization, according to a number of studies, including pathways to achieving safer and more efficient operations. A 2017 white paper prepared by the World Economic Forum in collaboration with Accenture* predicted that over the next 10 years, the mining industry's digital transformation initiative could generate:
• More than $320 billion of industry value over the next decade, with a potential benefit of approximately $190 billion for the mining sector and $130 billion for the metals sector. The total for mining and metals is equivalent to 2.7% of industry revenue and 9% of industry profit.
• In total, more than $425 billion of value for the industry, customers, society and environment. This is the equivalent of 3%-4% of industry revenue during the same period.
• An improvement in safety, with around 1,000 lives saved and 44,000 injuries avoided. This equates approximately to a 10% decrease in lives lost and a 20% decrease in injuries in the industry.
• A reduction of 610 million metric tons of CO2 emissions, with an estimated value to society and environment of $30 billion.
---
As featured in Womp 2018 Vol 07 - www.womp-int.com