Perfecting Products for a Dynamic Market
The best-selling collision avoidance systems are maturing, evolving and finding their place in an industry transitioning to full automation

By Jesse Morton, Technical Writer
---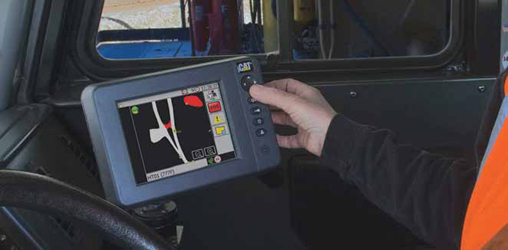 Above, the Proximity Awareness display in a truck cab. (Photo: Caterpillar)


The established companies selling collision avoidance systems promote them as fast and reliable. Not long ago, the latter adjective could not be used to honestly describe advanced communications systems. Generally, Wi-Fi-, GNSS-, GPS-, and radio wave tech-based systems have all proven susceptible to outages caused by weather, by obstacles, by space weather and geomagnetic fluctuations, and by interference from other communications systems. Within the last half-decade, those challenges have reportedly been mostly bested, and the top-selling systems are now being advertised as proven at delivering largely uninterrupted near-realtime data that can help an operator avoid an incident that could result in an injury or death, cause damage and downtime, and permanently mar his or her work record.

As if in response to this development, demand for collision avoidance solutions is reportedly on the rise, and the race to perfect and evolve them has intensified. These developments are timely as the mines with the largest fleets are now considering fully autonomous solutions.

Proximity Awareness Comes of Age
The two big trends for 2018 in the collision avoidance space are the headline-grabbing moves toward fleet-wide automation and the growing adoption of more versatile proximity awareness solutions, said Craig Watkins, commercial manager for surface mining technologies, Caterpillar. "The big growth area in 2018 in automation is the oil sands," he said. "We are getting a lot of strong pull on remote control, semi-automation and fully automated systems." Meanwhile, the "big story in manually operated equipment and safety is Cat's Proximity Awareness," which provides "context" and a "differentiated level of situational awareness to the operator," he said. "We're pretty excited about that."

The Proximity Awareness system, an offering from the MineStar Detect solutions suite, came of age in the last half-decade. The seed concept germinated in 2009 when a partner miner running a large operation in Chile sought a solution to the ubiquitous threat of "big things interacting with little things," Watkins said.

At the time, Cat offered a new radar- and camera-based system called Object Detection, but the Chileans wanted more. In less than four years, that solution grew into the first iteration of Proximity Awareness.

As it grew in popularity and usage, the feedback rolled in and the solution "just evolved," Watkins said. "Once we entered the market, the customers started to say: We need it to manage speeding infringements for us and those functionalities; we need a playback capability; we need to keep trucks out of areas they cannot go; we need to keep light vehicles out of the drill pattern. That is how it has built up over the years."

Based on a peer-to-peer communication system, Proximity Awareness was introduced at MINExpo 2016 and was promoted as delivering "fast and reliable communications between vehicles" and presenting "collision avoidance information to operators without the need for a robust radio network covering the site."

The non-Wi-Fi-dependent system has minimal components and can be deployed to both heavy and light vehicles. It allows vehicles to ping signals off each other and equipped infrastructure, and the resulting data can be processed instantly and stored onboard for a day. It can be configured to trigger various alarms designed to signal possible collisions or infringements, and configured according to site safety procedures. It provided the user basic but actionable data via an in-cab display.

With it, Watkins said, "you can create conditional zones to allow only certain kinds of equipment in." For example, "If you've got a dozer operator working on a stockpile, they can own that zone and the system can be configured to let them know every time a truck is coming in," he said. "Or if you have got one vehicle, like a light vehicle sitting at a blind intersection, and there is a haul truck coming down the haul road, it will alert both operators that there is a vehicle there that they cannot necessarily see but then they will see it on their screen."

The resulting data can be processed to track trends pertaining to worker safety. If an incident takes place, management can review it, see exactly what happened.

Collision Avoidance Gets Personal
In February, Hexagon Mining introduced the Mine Personal Alert, which it described as "an accident-avoidance device worn by field personnel that ensures 360° visibility around heavy equipment." The system "protects pedestrians within 50 m of a vehicle via an ergonomic tag that communicates with strategically mounted proximity anchors integrated with Hexagon's Collision Avoidance System," the company reported.
Above, the Personal Alert tag can fit into a
pocket or be attached to a helmet or belt.
(Photo: Hexagon Mining))


The solution speaks to a need beyond the capabilities of Hexagon's object detection system, Tracking Radar, which can sense ground personnel and leverages "intelligent algorithms" to differentiate threatening and non-threatening obstacles, but is most effective within line of sight, the company reported.

In contrast, Personal Alert offers the capability to literally "track people and to warn people on foot" of possible impending danger, said Fabien Kritter, product manager, safety and autonomous solutions, Hexagon Mining. "We developed a new technology where we can actually detect people without having line of sight, which is working with a tag and an anchor on the vehicle and is fully integrated in our Collision Avoidance System," he said.

While Tracking Radar is excellent at detecting nearby pedestrians, it will not identify them individually, said Marcos Bayuelo, product manager, safety, Hexagon Mining. "Radar will alert you to anything, but it could be a berm, it could be infrastructure, or it could be a person," he said. "Personal alert conveys the importance of a pedestrian to the operator."

Hexagon reported Personal Alert uses time-of-flight technology in the ultra-wide band range. That means the anchor sends a signal that is bounced back by the tag and the onboard CAS computer calculates the distance between the two by the time it takes to receive the return. "The technology is very robust, especially for the mining environment," Kritter said. "It is very resistant to interference," such as from weather events, "and multipass."

The tag is slightly smaller than a handheld device, enabling it to be palmed, built into a helmet or slipped into a pocket. "It is something you can wear on the belt or on the shoulder, or in your front pocket of your safety vest," Kritter said. "It is pretty compact and is especially designed for mining." The tag is ergonomically correct, Bayuelo said. "We wanted to have something that people can wear that is not so small that it will get lost, and not so big that people will not like to wear it," he said.

The anchor is bigger than the tag but is diminutive enough for easy handling. It can be mounted with metal brackets or magnetically for temporary use. "Usually it goes on the roof of the machine, but a haul truck or a large machine may have multiple anchors, such as on the back of the machine to cover the rear," and otherwise provide 360° of vision, Kritter said. "A light vehicle may require only one on the roof."

CAS allows the miner to configure zone-based alarms. "It is our philosophy to have that very configurable for the customer, so they can quickly adapt it to the operation," Kritter said. "It is very easy to install and to configure it to what the customer needs to protect everyone."

Typically, the alarms are configured based on the size and speed of the machine, as well as its expected operating area and movement rate and range. "You have different zones depending on the alarms that are set," Kritter said. Proximity and criticality determine the urgency of the alarm. When a pedestrian enters a zone, both the pedestrian and machine operator receive alarms.

The machine operator will first receive a visual indicator on an in-cab display that gives the general proximity and direction of the pedestrian. "The closer you get, we change the visualization of the alarm and then introduce audio alarms," Kritter said.

Those alarms are distinguishable from the ones used by CAS to advise of an approaching vehicle or the nearness of a structure. A pedestrian triggers a different color code and a different alarm, Bayuelo said. Plus, "there is a windshield sticker that tells you that orange is a visual alarm for a person, so they can truly distinguish," he said.

The pedestrian's tag will vibrate at the exact time the operator receives the alarm. The pedestrian "may not hear the alarm because it is a noisy environment or he is wearing ear protection," Kritter said. "That is why we have a vibrational alarm."

Personal Alert can be set up and calibrated to trigger LED bulbs on the pedetrian's safety vest. "It will flash so a person can be highly visible to the machine operator," Kritter said.

Hexagon literature reported Personal Alert can determine "a pedestrian's distance and position within 5 centimeters." It is able to detect when a "person is getting into the cab and is now the driver," Kritter said. The alarm is then automatically muted. "When he is inside the cab but is going out, it is activated again," Kritter said. Through CAS, the data generated by Personal Alert is funneled to a control room server for processing and analysis for trends and process improvement purposes. "Of course, it will also provide enforcement opportunities created with our reporting functionality," Kritter said. "It will allow the customer to actually see what is going on and adapt the procedures; and the goal is to increase the overall safety and prevent incidents."

The release garnered a "good response from the market," Kritter said, with quick adoption by a large mine in South Africa that has provided the company with "very positive feedback." Mining sites there with a risk level above a certain threshold are mandated to have collision avoidance systems, Bayuelo said. "So, this is deployed in every single vehicle," he said. The miner is particularly interested in using the technology to track personnel in the blasting area, he said. "The challenge we are facing is the range that we have," Bayuelo said. "We can increase this range up to 200 m, but with lower precision."

The system can be most easily adopted as an add-on or upgrade to CAS. It can, in some cases, be deployed as a stand-alone solution, Bayuelo said. "What we have done is we have modularized some of the hardware, so you can have Personal Alert without having CAS," he said. The requisite infrastructure is Wi-Fi, GSM 3G or 4G coverage, Kritter said. Currently, the company is developing the system for eventual use underground, Bayuelo said. "Now we are launching our underground FMS," he said. "Adding personal safety to the fleet management system underground is going to provide a true solution, adding value for our customers." Offered under Hexagon's Safety Suite, CAS is a GPS- and radio frequency-based system that leverages both peer-to-peer or vehicle-to-vehicle communications and satellite tracking of assets. After a decade on the market, it is deployed at more than 25,000 mine vehicles in more than 60 mines worldwide, Hexagon reported.

DSRC Comms Prove Speed, Reliability
Modular Mining Systems Inc. reported strong demand for the MineAlert Collision Awareness System (CAS) due primarily to its near-real-time notifications and warnings and its proven reliability. Both qualities are enabled by leveraging an IEEE 802.11p-compliant dedicated short-range communications (DSRC) platform, said Robert Dunsch, product manager, safety systems, Modular Mining Systems.

DSRC facilitates the near-instant vehicle-to-vehicle communications necessary for Modular's Collision Awareness System.
(Photo: Modular Mining Systems)


Use of the dedicated channel nixes most of the interference that plagues other systems. "Since DSRC operates on its own band, it does not share a frequency band with other broadcasting applications that could interfere with communicating critical safety-related messages to vehicle operators," Dunsch said. This "eliminates the communication breakdown that often occurs when operators are utilizing different or incorrect radio channels."

DSRC enables direct vehicle-to-vehicle (V2V) communications that do "not need access points or central servers to transmit alerts, which further enables fast transmission," Dunsch said. That's critical because "CAS broadcasts updates every 100 milliseconds, so receivers never have to work from stale data."

Via the DSRC platform, CAS can support vehicle-to-infrastructure communications while ensuring a high degree of security and privacy, Dunsch said. These capabilities contribute to the system's ability to transmit "time-sensitive, critical alerts regarding potential collisions in real time." CAS transmits geospatial reference data via antenna. A light vehicle typically is equipped with one. "Modular employs a dual-DSRC-antenna configuration on haul trucks to prevent radio shadows, an area behind a large object in which no radio signals can be received," Dunsch said. Each provides "360° detection around each vehicle, requires no communication infrastructure, and establishes communications immediately," Dunsch said. "The antennas are ruggedly built to withstand extreme conditions, providing high reliability in such harsh mining environments as rain, fog, snow, dust and mud."

The antennae transmit information directly to other vehicles and equipped infrastructure within a 150-m to 400-m range. That information includes data captured by Modular's Global Navigation Satellite System, which tells CAS each vehicle's location, speed and trajectory, Dunsch said. "The host vehicle transmits this information directly to remote vehicles around it via DSRC, helping each vehicle determine potential collision hazards," he said. "If the system in any vehicle determines a high probability for a collision risk with any other vehicle, it will notify the operators, giving them enough time to make corrective actions and prevent the potential collision."

CAS alerts appear on "a mobile display mounted in the cab of each vehicle," Dunsch reported. "The display alerts operators graphically as notification-level alerts, or graphically and audibly as warning- level alerts, depending on the current risk of collision." The system uses "intelligent path prediction algorithms to help filter out false alarms," Dunsch said. "When an operator receives an alert from the CAS, they can trust that the alert is legitimate, and since the alert transmission is near-instantaneous, they have time to take corrective action to prevent collision."

Dunsch described DSRC platformbased communications as the "fastest possible," enabling CAS "to transmit immediate alerts within milliseconds of the system's detection of a potential collision risk, increasing operators' situational awareness and empowering them to take corrective action to prevent an impending collision." By leveraging the DSRC platform, CAS has proven reliability. DSRC communications are "immune to such environmental effects as high dust, mud, snow, rain and fog," Dunsch said. "This makes the DSRC technology especially effective in open-pit coal mines, which tend to have many low-visibility areas, as well as mines located in challenging climates." And because the DSCR platform operates on a dedicated channel, "the message transmission will not be affected by other wireless technology signals," he said.

DSRC tech is being adopted by many of the major automobile manufacturers that sell to the public and will be built into future vehicle models. When one enters the mine site, it would receive pertinent actionable data, Dunsch said. "Since the DSRC capability is already built in to these visiting vehicles, they will be detected by all CAS-equipped vehicles on site, without an operator's need to turn the technology on or off," he said. "The lighter, visiting vehicle may also receive its own notifications, since it will be equipped with the same DSRC technology that the mine site's large vehicles use."

CAS works best in large, open-pit operations. "Cluttered environments with high walls and deep pits might reduce the effective range, but DSRC is intended for use in urban environments and was designed to perform even in challenging mining environments," Dunsch said. "As is true for all radio waves, an open, unobstructed plane tends to provide the best setting and longest communication range for the DSRC technology."

Pre-existing infrastructure requirements for deploying CAS are minimal. It "does not require any communications infrastructure to transmit alerts to operators," Dunsch said. "However, to integrate the CAS with Modular's DISPATCH FMS for assessment or reporting purposes, a separate high-bandwidth wireless network is required." Integrating CAS with FMS enables the former to route data that triggers notifications about non-typical events in DISPATCH, and to alert the mine controller or dispatcher as needed, he said. "Modular does also recommend, and use, network infrastructure for support, health monitoring and firmware updates."

CAS can operate as a stand-alone system and as a stepping stone toward the eventual adoption of Modular's FMS. Its simplicity and dependability make it an optimal entry point, Dunsch said. "The peer-to-peer approach employed by DSRC provides the capability to effectively improve operators' situational awareness facilitating the safety-improving capability that mines need without requiring a wireless data network or other communications infrastructure."

Proximity Detection Underground
Modern underground communication systems are improving safety, productivity and profitability for mining operations. For many years, Becker Mining Systems Group has been committed to providing the best communication, automation and service to the mining sector. Now, with the rise of autonomous vehicles, collision avoidance systems (CAS), Becker has also shifted its attention into this area. They have bundled all these functionalities in the company's proximity detection systems (PDS). These systems are designed to prevent injury and possible loss of life during the operation of mining vehicles in close proximity to mining personnel. Suitable for hard rock mining as well as for coal mining due to its optional flameproof housing, the PDS provides an early indication that alerts the operator to the presence and number of personnel and vehicles in the vehicle's vicinity. The system facilitates bidirectional notification, which warns operators of miners in close proximity. It warns miners of machinery in close proximity and it warns operators of other machinery in close proximity.



The PDS-100 relies optionally on three technologies for improved accuracy and reliability. The patented tri-technology system, which uses UHF, radar and electromagnetic, provides a scalable system suitable for all customer applications. Not all operations and vehicles are the same, however, so they designed the PDS-100 with modularity and customization in mind. From the simplest system, consisting of only UHF detection together with the CRDU200 display unit, to a fully-fledged system with multiple detection points consisting of all three available technologies, the customer can adjust the system to their needs. The modular design of the PDS module itself makes it simple to add and replace individual modules, and by adding downstream slave PDS units to master device, the system can be expanded even further.

UHF is used for long-range detection within the "Caution- Zone" (12.5 m to 100 m) and has to be seen as a detection of the first contact. The medium range for the so-called "Warning-Zone" (5 m to 12.5 m) is realized with radar, while the "Critical Zone" is covered by the electromagnetic field. It is able to penetrate steel and rock within its range field. The specific distances constituting the zone transition thresholds are variable and customizable as indicated in the illustration. The default values, as indicated, are generally for slow moving vehicles with speeds less than 10 km per hour. As the only system globally using all three combined technologies, it is the most reliable, robust and repeatable system on the market, according to Becker.

The system itself consists of a display unit, a controller, different tags for vehicle and personnel, as well as various antennas to receive signals from the tags. The display unit (CRDU) is mounted in the driver's cabin in full view of the driver. The personnel-tag is either powered by the cap lamp or an auxiliary battery and can flash the cap lamp in noisy work conditions.
---
As featured in Womp 2018 Vol 07 - www.womp-int.com