Thiess Receives Contract at Rocky's Reward
---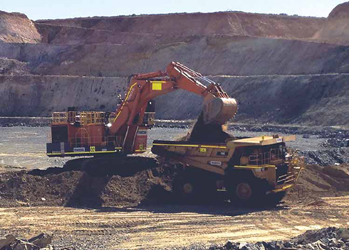 Thiess equipment loads ore at Rocky's Reward in Australia.


Thiess was awarded a A$225 million contract with BHP Nickel West to provide mining services at the Rocky's Reward nickel mine in Western Australia. The 34-month contract incorporates a further cutback at the Rocky's Reward pit and works at a satellite pit. The mining services include mine planning and engineering, drilling and blasting, mining of overburden and ore, and rehandling services to the Leinster processing facility.

"This award continues our strong working relationship with BHP Nickel West," CIMIC Group Chief Executive Officer Michael Wright said. "We're pleased to continue our support at Rocky's Reward, delivering value through our mining expertise and our experience in planning and scheduling mining around existing underground workings."

CIMIC Group Executive Mining and Mineral Processing and Thiess Managing Director Douglas Thompson said, "This contract recognizes our ability to bring the right equipment, people and expertise to projects. We look forward to building on our experience at Rocky's Reward where we delivered strongly in production and safety. We also look forward to continuing to provide opportunities for local jobs and suppliers."

A member of the BHP Billiton group, Nickel West is a fully integrated nickel business comprising the Mount Keith, Cliffs and Leinster mines, the Kalgoorlie smelter, the Kambalda concentrator and the Kwinana refinery.

Rocky's Reward is located at Leinster, 400 kilometers (km) north of Kalgoorlie.
---
As featured in Womp 2018 Vol 07 - www.womp-int.com