Warrior Met Opens New Mine No. 7 North Portal
---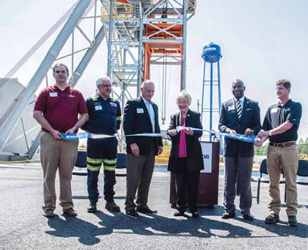 Alabama Gov. Kay Ivey cuts the ribbon on Wednesday, May 2 at 10 a.m.,
celebrating the completion of Warrior Met Coal's new No. 7 mine North
portal facility.


Warrior Met Coal held a ribbon-cutting ceremony on May 2 to dedicate the completion of the company's new No. 7 Mine North portal facility. The new $19 million North portal facility provides a new gateway for 200 Warrior Met Coal miners to enter the northern sections of the mine. Designed for growth, it will accommodate up to 500 underground employees, adding to both the safety and productivity of Warrior employees as it is put into use. The new portal eliminates 5.1 miles of travel underground each way for miners and is located 45 minutes closer to the sections in the North, saving travel time each day.

"The opening of our new portal speaks strongly to Warrior Met Coal's commitment to maintaining safe working conditions for all of our employees, as well as our confidence in the met coal market in the months and years to come," said Walt Scheller, CEO of Warrior. The celebration comes on the heels of the company's second anniversary and it was also just a year ago in April that it became a publicly traded company on the New York Stock Exchange. The new 33,000-plus ft2 portal features a bathhouse, two kitchen areas, 40 offices and training rooms in addition to a hoist system, which is double the capacity of the hoist currently in use at No. 7 West mine. The new No. 7 North hoist features a 40-ton capacity, using the latest technology and operates at a speed of 900 feet per minute to traverse the 1,451-foot-deep shaft. The hoist will accommodate 70 people.

"Our investment in this company has not only been in buildings and infrastructure," Scheller said. "Our investment has also been in people. When we look back over the past year, the statistics show we've added 1,000 new people to our operations roster, and we are still hiring." "Our commitment to the industry and to the people who work in it does not end with the opening of the new portal facility," said Jack Richardson, COO of Warrior. "Our board has committed significant capital of $100 to $120 million to reinvest in our mine infrastructure and equipment needs this year, positioning us well for future growth and improvement."

Based in Brookwood, Alabama, Warrior Met produces steel-making coal from some of the deepest coal mines in North America. The company currently has the operational capacity to mine about 8 million tons per year (tpy) of coal from more than 300 million tons of recoverable reserves.
---
As featured in Womp 2018 Vol 05 - www.womp-int.com