Hochschild Reports Record Quarterly Production
---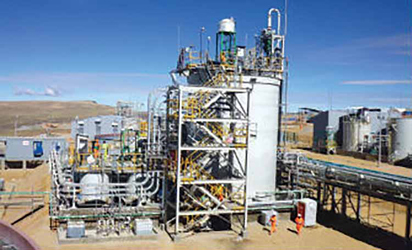 The Inmaculada plant in Peru processes 3,850 mt/d to produce gold and silver.


Hochschild Mining reported record first-quarter attributable production of 4.7 million ounces (oz) of silver, 69,030 oz of gold, or 132,035 gold equivalent ounces. This was achieved despite scheduled annual stoppage at the San Jose mine. The company hopes to deliver overall 2018 production target of 514,000 gold equivalent oz.

"Hochschild has delivered a strong start to the year with better than expected contributions from Inmaculada and Pallancata and our other mines performing as planned," said Ignacio Bustamante, CEO, Hochschild Mining. Hochscild Mining operates four underground mines, three located in southern Peru and one in southern Argentina. The results are mostly the result of record output at Inmaculada as well as Pallancata.

Inmaculada's first-quarter production was 49,781 oz of gold and 1.7 million oz of silver, which amounts to a record gold equivalent output of 72,351 oz and was principally driven by higher than expected gold grades, lower dilution and a contribution from products in process from the previous period. At Pallancata, the ramp up of tonnage from the Pablo vein continued according to plan with the operation on track to mine approximately 2,200 metric tons per day (mt/d) by the end of the first half. Average grades from the mix of several veins were better than expected in the first quarter, although this is expected to be only a seasonal effect. The operation produced 1.4 million oz of silver and 5,292 oz of gold bringing the silver equivalent production total to 1.8 million oz, a 44% improvement on the corresponding period of 2017.
---
As featured in Womp 2018 Vol 05 - www.womp-int.com