Mackay Ventilation Lab Dedicated to Newmont
---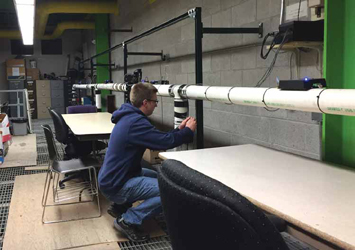 A student tinkers with the ventilation-on-demand model in the Newmont Ventilation Lab
at the Mackay School of Mines in Reno, Nevada.


The Ventilation Lab at the University of Nevada, Reno, was recently dedicated to Newmont Mining for its generous contributions to further education efforts and advance new mining techniques. More than $250,000 has been donated to the Mackay School of Mines in the College of Science to ensure students are equipped with the knowledge and skills for joining the Nevada workforce in the mining industry.

"Our ventilation teaching lab is without a doubt, one of the best in the country," Chair of Mining and Metallurgical Engineering Manoj Mohanty said. "Associate Professor Charles Kocsis has done an excellent job in upgrading the lab with Newmont's generous support of more than $200,000 over the last several years."

The Mackay School of Mines completed updates to the Mine Ventilation Lab in 2016, with the help of the Newmont contributions. Updates to the lab allow students to learn and practice with a physical model of ventilation-on-demand. Ventilation-on-demand is a system that allows mines to operate more efficiently by delivering air flow to the areas where activity is present. Not only does it cut down on operating costs, it also offers more health and safety precautions for working conditions in the mines.
---
As featured in Womp 2018 Vol 05 - www.womp-int.com