Strategizing to Cut Wear Costs and Problems
Check out these new products, systems and tips to handle critical anti-wear applications

By Russell A. Carter, Contributing Editor
---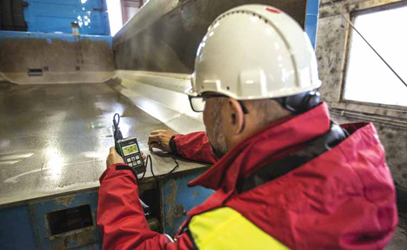 Advances in the physical characteristics of new wear products often expand their scope of
applicability, such as SSAB's Hardox 500 Tuf steel, which the company says combines the best
properties of its Hardox 450 and 500 products to provide superior wear and dent resistance along
with high structural strength.


In the endless campaign that mine operators wage against abrasion of critical wear parts, it might be safe to say that metal wins the battles, but abrasion wins the war. After all, metal components are made strong enough to cut, crack, crush or grind even the toughest ore — but eventually these components wear down to the point of inefficiency or failure. The presence of water anywhere in the process brings another set of problems to the table, and often can shorten the service life of wear components by changing the nature of the abrasive action or by corrosion. There's good reason why water engineers are fond of saying "water always wins."

Full ceramic wear materials offer an alternative to metal, with excellent abrasion resistance and no threat of corrosion, but they can't be formed or cut like metal can, and also can be challenging to install correctly. Likewise, elastomers offer unique characteristics that make them very effective in many applications, but selecting an elastomeric product with optimum abrasion resistance for site-specific applications can be tricky.

However, even though abrasion may always be the eventual winner against any of these materials, there are many options available to mineral producers to prolong the life of wear components, reduce the cost of these consumable items, and soften the overall impact of abrasive wear on production volume and cost. One strategy employs a three-pronged approach:
• Buy the best.
• Plan before you buy.
• Plan after you buy.

Buy the Best
"Buying the best" doesn't necessarily mean buying the most expensive or well-known wear components, it means buying the product that best fits specific operational needs, budget and available resources. In some cases, this could entail buying a more expensive, longer-lasting item for installation in critical areas where failure or excessive maintenance demands could impact production; or a less-expensive product when quick changeout and avoidance of unscheduled downtime aren't principal factors.

It pays to keep abreast of new product introductions and upgrades in the wear materials market. Suppliers are constantly improving the physical characteristics of their wear products, which often expands their horizons for applicability.

Last year, for example, SSAB introduced its new Hardox 500 Tuf, touting the attractiveness of its strength, hardness and toughness combined in one type of wear plate. According to SSAB, it offers the best properties of Hardox 450 and Hardox 500, making it tough enough to perform as a structural material in heavy-duty dump bodies and buckets. Offering performance proven in cold climates and freezing conditions, its superior wear and dent resistance allow for increased service life and the ability to withstand heavy impact, said SSAB. Specific characteristics include:
• 85-100% longer estimated service life compared to Hardox 400;
• Guaranteed impact energy of 20 ft-lb at -4°F (27 J at -20°C);
• Narrow Brinell hardness window of 475–505 HBW; and
• Highly dent and crack resistant when hit by sharp and heavy objects.

However, not all applications will require Hardox 500 Tuf. SSAB noted that XCMG, one of China's biggest construction machinery manufacturers, recently built what it claims is the biggest wheel loader bucket in China, with a capacity of 17 m3. Use of Hardox plate and Strenx structural steel increased overall bucket lifetime by 70%, according to the manufacturer.

The first of these buckets is being used with a large electric-wheel loader in the Eastern open-pit mine in Shuozhou, Shanxi, which is the biggest coal producing area of China. "The original bucket had worn out and the end-user needed a reliable replacement. We have been using Hardox wear plate and Strenx high strength steel for years, but it's the first time that we worked together with SSAB's K1 service center in Kunshan. After having the design drawings of the bucket, K1 developed the entire solution recommending steel grades, thicknesses and welding procedures. We welded based on all the ready-made components provided by K1," said After-Market Service Engineer Cai Tuo of the Earthmoving Division of XCMG.

After the first bucket with Hardox 450 in the main body, Hardox 400 in the side bars and Strenx 700 in the structural part of the main body had been used in the coal mine for three months (2,000 working hours), a survey showed the wear loss to be 2 mm, with an original edge plate thickness of 80 mm. The service life was expected to exceed five years, compared with three years for the previous bucket.

In another sector of the market, SSAB announced its new M43 hardenable steel is formulated to provide a new level of convenience, as it can be quenched in plain water without an immediate need for tempering, yet still reaches high values for hardness and impact strength. SSAB said M43 can be quenched in water instead of aqueous quenching fluids or oil for a cheaper, safer and more environmentally friendly process. It saves energy and time in production and reduces CO2 emissions. Heat treatment results in a fully martensitic, fine-grain microstructure with excellent hardness to toughness ratio. SSAB M43 can reach three times higher toughness than a medium- alloyed chrome-vanadium or chromemolybdenum steel.

Typical hardness and toughness values are 58 HRC and 25 J/cm2 at +20°C. For even greater toughness, low-temperature tempering is enough to reach greater than 30 J/cm2 with hardness still at a level of 56 HRC. Shearing, blanking and piercing can be performed without risk of micro-cracking, avoiding more time-consuming and expensive processing.

Another new product, introduced last year by FLSmidth, is FerroCer Impact, a wear liner material designed to help mining companies reduce production downtime. As Helgi Gudbjartsson, the global launch manager, pointed out in a blog post, in mineral processing applications, different wear liners are applied in different situations, depending on factors such as type of ore, drop height, material lumpsize distribution, and angle of impact. Each wear liner has its own advantages and disadvantages. Common types include hard-metal liners, heavy-duty rubber or rubber/ceramic composite liners, each with their own strength and weakness.

These positive or negative characteristics have a significant impact on maintenance procedures and costs. A general issue facing the industry is the loss in production time because of wear liners frequently needing to be replaced and the time it takes to install new liners.

A typical example could be for common ore such as gold, copper or nickel, with a hard impact velocity of more than 7 m/s. In such a situation, the wear liner may have an average lifetime of one or two months at most. The replacement procedure can take a whole shift, putting the process flow on pause for several hours resulting in significant production losses.

With units of wear liners weighing between 20 kg and 40 kg each, safety is also a concern. A special lifting mechanism is often needed in addition to the scaffolding, allowing maintenance personnel to safely access the installation points. FerroCer Impact specifically addresses the challenges related to wear liner longevity and installation time as well as the safety of personnel involved, according to Gudbjartsson. A unique composite structure of steel and ceramic components, FerroCer Impact provides the advantages of both ceramic and metallic materials. Combining the superior abrasion resistance of a ceramic with the strength, toughness and malleability of a metal, it handles hard and abrasive materials in medium- to high-impact applications.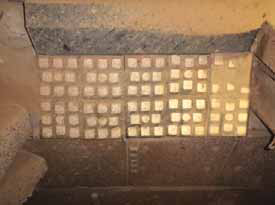 The design of FLSmidth's FerroCer Imnpact ceramic wear panels
allows the remaining wear life of the ceramic inserts to be visually
evaluated.


According to the company, FerroCer Impact has been shown to increase wear resistance by a factor of up to 15 times compared with traditional wear solutions, depending on the ore type and application. This allows minerals processing plants to achieve a total cost of ownership less than half that of other liners.

FerroCer Impact panels are lighter and less bulky than traditional metallic liners. Each panel comprises a number of ceramic inserts enclosed within a matrix of cast metal. The matrix protects the more vulnerable side faces of the inserts and ensures that only the wear face of the ceramic is exposed to material impact. The tapered geometry of the ceramic inserts and corresponding holes within the matrix act to wedge the inserts within the matrix and prevent material particles and fluids from causing them to be ejected from the matrix.

This design also enables the remaining wear life of the ceramic inserts to be visually assessed. As the exposed surface of the insert is progressively worn away, its area and face width increase. There is a direct correlation between an insert's face width and height so that the one can be readily calculated from the other. The panels' low weight (approximately 5 kilograms) and compact shape make them quick and easy to install using nothing more than standard hand tools.

In one nickel processing plant, the FerroCer Impact panels were installed in a conveyor discharge chute downline from the primary crusher unit where the material drops 6 m from one conveyor belt down to another. The hardness of the nickel ore is approximately 5 on the Mohs scale. During an initial measurement after installation, the plant operated for 319 days at full production of 900 mt/h with lump sizes of up to 250 mm in diameter — a significant increase from the previous liner, which had lasted less than three weeks on average.

On a different site, FerroCer Impact panels were installed in a chute downstream from the primary crusher of a gold mine where the drop height is 2 m and the lump size up to 400 mm in diameter. The previous liner type, consisting of heavy-duty rubber bars, typically lasted no longer than six weeks. After the first 17 weeks in operation, the wear measurements taken on-site indicated the new FerroCer panels would last at least another 80 weeks, giving them a tenfold service life increase over the previous liner solution.

Plan Before Buying
Apart from selecting the best anti-wear material for a specific site need, another effective ploy is to identify a type or brand of equipment intentionally designed to be wear-resistant. Case in point, as illustrated by process equipment supplier Weir Minerals: Centrifugal pump impeller vanes are designed to meet the incoming flow and accelerate the fluid. A problem occurs when the slurry approaches the impeller of the slurry pumps, as there is an abrupt change in flow direction. The small, fine particles follow the fluid as it transitions from the pipe into the impeller, but the large particles do not. They continue to move in a straight line, impacting the vane-leading edge as the slurry moves through the impeller. The high relative velocity between the rotating vane and the incoming particles results in leading-edge wear on the impeller. Loss of vane length due to impacting of the large particles results in a loss of pump performance. Eventually the pump will no longer be able to generate the head and flow required for the duty and the impeller will need to be replaced.

After experts at Weir Minerals witnessed this problem repeatedly in mineral processing plants, and wanted to improve the wear performance of its Warman mill circuit pumps, a company engineering team devised an innovative solution to decrease the impact wear on the vane leading edge — the Warman throatbush with pre-swirl vanes.

The pre-swirl vanes change the flow of the slurry, swirling it in an counterclockwise direction, with the rotation of the impeller, before it enters the impeller. This induced rotation of the incoming flow reduces the relative velocity between the impeller vanes and the slurry.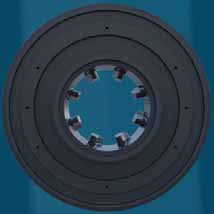 Weir Minerals now includes these pre-swirl vanes
in its Warman pump throatbush to reduce internal
impact wear.


Pre-swirl vanes at the bottom of the throatbush are positioned with a greater angle of twist than those elsewhere on the throatbush. This is to provide the larger particles with a greater tangential velocity. Varying the pre-swirl angle in this way ensures that the relative velocity between the large particles and the vane-leading edge is minimized while at the same time maintaining the correct impingement angle of the fluid on to the vane.

Elsewhere, conveyor equipment supplier ASGCO recently added Semi-Ceramic Pulley Lagging to their pulley lagging product line. The addition of Semi-Ceramic Lagging allows the company to offer a product range that provides customers with a choice between full ceramic coverage for a high-tension drive pulley, as well as less than full (40%) coverage with for smaller pulleys, non-drive pulleys and bend pulleys. The new lagging product, according to the company, provides a solution when conventional rubber lagging wears prematurely. ASGCO explained that the ceramic tiles are embedded in rubber on all sides and separated by a horizontal groove for channeling water and dirt, and a unique backing method provides exceptional bonding for rubber-to-metal applications.

Plan After Buying
Eventually, even the toughest wear components become damaged or reach the effective end of their service lives and require replacement. When it comes time to perform a planned shutdown, the stakes can be high, with significant dollars linked to each minute of downtime. Coordinating all the resources, equipment, tools and parts to keep everything on track can be challenging for even the most experienced team. Metso recently listed four key actions that need to be considered.

Baseline Performance – Assessing shutdown performance and understanding where delays occur is critical. With so much going on during a planned shutdown, it is not realistic to catch and record every improvement opportunity. But what if one could record an entire shutdown and then review it to find every delay? It can be done if one has the right tools and expertise. A lean production tool called Single Minute Exchange of Dies (SMED) or time and motion analysis, frequently used by mining companies, uses time-lapse video sequences to examine repetitive tasks, such as mill and crusher relining. Cameras are strategically positioned to capture the entire process. Maintenance and reline experts then analyze the video sequences to highlight issues and recommend improvements.

Evaluate Tools – Maintenance on crushing and grinding equipment can be hazardous to crews without the proper tooling. Having the right tools that can facilitate maintenance while improving safety is another important element to maximize performance. Observations from shutdown crews or data collected from a formal SMED analysis are used to develop special tooling that will save time and mitigate safety risks. The customized tools listed below can be a better solution:
• Customized concave setting fixtures for gyratory crushers
• Special liner lifting devices for Vertimills
• Concave removal trays for crushers
• Custom work platforms, stands and ladders

Plan, Share and Execute – Small planning adjustments can make the difference between a successful changeover and one that runs hours over schedule. Planning is about making sure that all resources, parts, and tools are available to execute work in a safe and optimal manner. This includes having the right checklists on hand such as pre-planning, tools and previous shutdown checklists. Prior to execution, sharing the plan with the entire team can help raise and solve any unanswered questions. A plan is only useful if everyone is on the same page. Executing the plan is easiest when everyone knows what needs to be done ahead of time. When last minute decisions are eliminated, safety risks and delays are minimized.

Review to Improve – Even after a successful shutdown has been completed, it doesn't end there. One of the most important things to do once the shutdown is completed is to take a step back and once again assess performance by holding a post mortem analysis. Did everything go according to plan? Were there any new safety concerns? How did the shutdown compare to the last one? Were there other unforeseen delays or other issues? In some cases, new problems and possible solutions can be easily identified. In other cases, another SMED analysis may need to be done. In any event, holding a post mortem to assess performance and set targets for the next shutdown is often a neglected step, but if done right can be served as a cornerstone to continuous improvement.
---
As featured in Womp 2018 Vol 02 - www.womp-int.com