A Simple Spin on Classification
In use as an essential classification and dewatering tool for the best part of 90 years, today hydrocyclones play a key role in maintaining concentrator flow. E&MJ looks at the technology fundamentals and how equipment optimization is still in progress.

By Simon Walker, European Editor
---
Installing a large Metso hydrocyclone.
The company's MHC Series cyclones
are designed internally to achieve
smooth flow with less turbulence and
higher throughput as a result.


Although simple in concept, the hydrocyclone fulfils an essential role in both classification and purification across a wide range of industries. Mineral processing is no exception, with cyclones often being an integral part of closed-circuit grinding systems.

The centrifugal force applied to particles being spun within a cyclone is many times greater than gravity, allowing the device to achieve a much better separation efficiency based on either (or both) particle size and density. Larger or more dense particles are directed toward the underflow, while finer or lighter material reports upward to the overflow. The better design of the cyclone, and the less wear there is internally, the less opportunity there is for larger particles to be misdirected to the overflow, or for slimes to sink into the underflow. In a typical closed-circuit grinding system, the consequences of either situation can have a significant impact on operating economics.

Critical considerations include the relative sizes of the inlet and overflow spools, the apex spigot and the vortex finder, while finer separations will be made possible by reducing the overall cyclone diameter. The skill comes in achieving the optimum relationships between each of these variables, together with others such as the required flow rates, flow pressures and feed consistency.

Metso's New Designs
Ben Klein, global product manager for hydrocyclones at Metso, told E&MJ that the company has recently developed a new line of classification equipment to complement its existing product offering. In developing both the MHC Series hydrocyclone and the Metso UltraFine Screen, Metso can now provide the optimum technology for a given application, Klein said.

"Both products have been tested extensively and offer significant advantages over previously available technologies," he said. "These advancements have the potential to deliver long-term benefits in improving classification efficiency while considering capital costs and operating costs."

Klein continued by explaining that when evaluating hydrocyclones and fine screens, it is important to recognize the impact the classification equipment technology has on the capital expense, operating expenses and overall plant performance. With respect to classifier selection, one must target several key objectives, including:
• Selecting equipment that improves overall plant performance, through improved grinding circuit performance and improved recovery of valuable minerals;
• Selecting equipment that will provide acceptable availability and maintenance costs; and
• Reducing the capital costs, including the direct capital costs of the classifier as well as indirect cost implications such as the resulting mill selection, building costs, slurry-transport equipment costs, and indirect cost factors influenced by the classification equipment.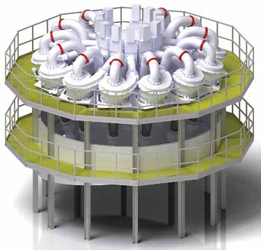 Depending on the throughput required, hydrocyclones can be
mounted in various ways, including in clusters that minimize the
footprint required. (Photo: Metso)


Overall, a comprehensive review of these elements, including application and site-specific details, must be completed during equipment selection to provide the lowest total cost of ownership, he counseled.

Metso reported that the internal geometry of its MHC Series hydrocyclone is optimized to promote smooth flow from the inlet through the entire hydrocyclone, minimizing turbulence and increasing throughput. The low turbulence has the added benefit of reducing wear rates in the inlet head, the company stated. In addition, various liner materials have been tested to provide a more even wear rate throughout the entire assembly, reducing the likelihood that components are removed prematurely due to convenience alone.

Metso pointed out that maintenance time is further reduced via simplification of the design. The number of individual components has been reduced by the single-component conical section, which eliminates the need for multiple conical section liners and housing pieces, reducing maintenance time and cost.

Seven different hydrocyclone sizes are available, ranging from 100 mm to 800 mm (4-32 in.) in diameter. Each size has a range of vortex finder and apex inserts to fine-tune the classification performance. High-grade polyurethane and ceramic wear component options offer a balance between wear performance and cost, depending on the project specifics, Metso said.

The validation process for the MHC hydrocyclone included field and pilot testing of various hydrocyclone sizes and applications. Extensive testing was performed at the pilot scale and at a copper concentrator in the southwestern USA. A 650-mm-diameter unit was installed in the grinding circuit for wear-component prototyping and continued process data collection.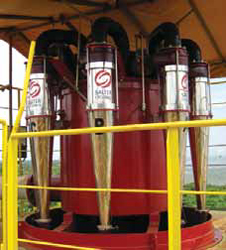 The eight-way 10-in. radial hydrocyclone assembly
supplied by Salter Cyclones for upgrading and desliming
chromite and hematite in the Philippines)


Metso noted, to date, that field trial has been in operation for more than 12,000 hours, with the data generated from the trial being applied to the company's empirical hydrocyclone model used for sizing and simulation purposes.

Over a Century of Experience
According to the U.K.-based company, Salter Cyclones, hydrocyclones were first patented in 1891, but it was not until 1939 that a Dutch company first used them to clean coal and dewater sand. Now they are an integral part of the technology available for solid/liquid separation.

Company Director Lynn Emanuel told E&MJ that Salter has more than 100 years of collective experience, and specializes in the removal of fine solids, typically below 50 microns (µm), with specifically developed hydrocyclones sized from 10 mm to 10 in. Applications range across a wide spectrum of ores, including separating sand and mica from kaolin slurry, and the production of high-grade filler and coating clays for the paper industry.

The hydrocyclones can be packaged in radials, "mushroom" assemblies or canisters, all designed to be practical, operator-friendly and economic systems. They provide continuous efficient service desliming ahead of flotation, classifying, degritting or dewatering, Emanuel said.

Recently, a British company wanted to replace aging scalper centrifuges in one of its American plants. Because of the limited footprint available, Salter's 1-in. hydrocyclones were packaged as a radial of six, 10-way canisters. Bottom-fed, these are arranged around the central overflow collection vessel and are circled by one underflow collection launder, giving the client a very efficient, compact and space-saving solution, she explained. "This was so successful that they ordered 1-in. hydrocyclones in a radial of five, 21-way canisters to thicken the effluent from treating hectorite and bentonite for their U.K. site," she added.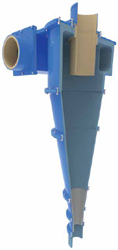 A cut-away view through an FLSmidth Krebs
cyclone, showing the different liner materials
used from inlet to apex. The aim is to provide
even wear throughout, then replace all the
liners in one hit, the company says.


In a different type of application in the Philippines, an eight-way 10-in. hydrocyclone radial and an 18-way 2-in. hydrocyclone assembly are operating in a pilot plant to deslime and upgrade chromite and hematite. "On both these projects, initial test work was carried out in our laboratory," Emanuel pointed out.

"Hydrocyclones are being used more and more frequently in different parts of the process," she went on. "Mines are chasing ever-smaller valuable solids and retreating tailings. More efficient desliming is required to increase downstream equipment performance and reduce chemical consumption, making our smaller and more powerful hydrocyclones ideal for these applications."

Listening for Roping
To get FLSmidth's view on hydrocyclone technology, wear liners and other pertinent aspects, E&MJ spoke to the company's cyclone product manager, Barry Buttler. "While there have been few dramatic changes in the technology over the past 10-15 years, from our perspective the major step-change came with the launch of our gMAX range of cyclones in around 2000," he said. "Since then, more attention has been paid to liner materials; they're thicker than they used to be, and there is a wider range of materials available to suit individual applications.

"In fact, cyclone liner materials are often 'mixed and matched,' with BPC rubber in the top, lower-wearing sections of a cyclone, followed by two to three grades of ceramic liners as you go lower down the cyclone to the apex (spigot)," he said. "The intent is to get the maximum life from the cyclone and then rebuild the entire cyclone at one time. It's a big advantage to use a mix of liner materials."

By way of illustration, Buttler referred to experience gained at an Indonesian copper-gold producer. "Initially, the mine used FLSmidth Krebs D26B cyclones with rubber liners and a ceramic apex, which gave a life of about 4,000 hours," he said.

"Replacing the liners with super-thick resilient rubber increased this to 7,000 hours, which we were then able to double when those cyclones were replaced with gMAX26s. The liners on these are BPC (natural gum rubber) in the upper sections, nitride-bonded silicon carbide in the upper middle cone, reaction-bonded silicon carbide in the lower middle cone and high-grade, sintered alpha silicon carbide in the lower cone and apexes to provide the greatest abrasion resistance."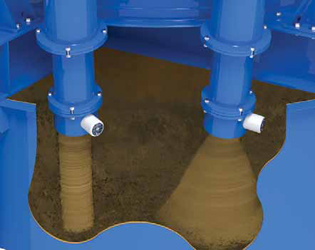 The difference between normal underflow (right) and roping, which FLSmidth's
SmartCyclone sensors, fitted close to the apex, can distinguish and send a
warning to the plant operators.


FLSmidth's most recent technology advance for hydrocyclones has been its wireless SmartCyclone monitoring system. "The key advantage is detecting roping," Buttler explained. "When a cyclone is roping, it is misplacing coarse material to the overflow, which is usually the feed to the flotation circuit.

"In serious cases, if the plant operators are not watching carefully, this can lead to sanding-up of the flotation cells, which will then need to be shut down and dug out, all of which costs money."

SmartCyclone is a monitoring and control solution for reducing cyclone-related process upsets, improving cyclone overflow particle-size distribution, predicting and controlling cyclone maintenance schedules, and optimizing closed-circuit grinding processes. Buttler told E&MJ the new wireless sensors, fitted close to the underflow discharge, "listen" to the noise produced by the flow. "When roping begins, the noise drops off, and ceases altogether if the cyclone apex is blocked. The sensor sends a wireless signal to the control screen, which immediately flags up to the plant operators that there is a problem."

He went on to describe how the concentrator at Vallex Mining's Teghout copper- moly operation in Armenia had typically been experiencing 12 hours a month downtime because of cyclone issues. Since the installation of wireless SmartCyclone monitors, downtime has been zero — "and at $20,000 an hour for downtime, that's significant," he commented.

E&MJ also asked Buttler what FLSmidth has done to help its customers reduce the costs and time involved in maintaining their cyclones. "The basic construction of a cyclone has not changed much, but we have been working with our customers to simplify maintenance," he said. "As an example, we have designed a cradle that can facilitate transporting two or three large cyclones from being stripped out to one of our authorized rebuild shops — it just makes the maintenance crews' job easier."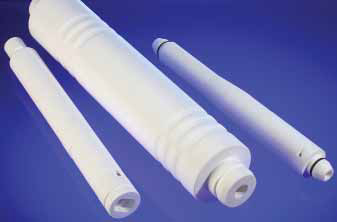 TAlumina liner inserts made by Morgan Advanced Materials are widely used in
hydrocyclones used for oil-industry desanding


And the company recently reported on a success story from Kirkland Lake Gold's Fosterville mine near Bendigo in Australia. Experience with the previously used rubber-lined cyclones there had shown that apex replacement was required every four weeks, with total cyclone relining at a cost of some US$9,000 after four apex cycles. Installing new ceramic liners has pushed out the rebuild interval to a year, with replacement units being delivered on a "slot-in" basis and relining done off-site, rather than using the mine's personnel to do the job. In addition, the cyclone overflow P80 sizing is now less variable, and there is much less sand being misdirected to the flotation cells, FLSmidth noted.

Advanced Liners Help Cut Cyclone Wear
Morgan Advanced Materials produces wear-resistant inserts for hydrocyclones. The company told E&MJ that its Technical Ceramics business manufactures a wide range of high-performance hydrocyclone liners from its Deranox 975 alumina material, chosen for its wear-resistance in abrasive applications.

Morgan's commercial manager, Oliver Ridd, explained that while its principal market for these liners is in the oil and gas industry, where hydrocyclones are used for de-sanding fluids, the mineral sector is also important for the company. "Slurry separation in mineral processing is a significant application for hydrocylones, and we see this as a growth market for us, worldwide," he said.

Containing 97.5% alumina, Deranox 975 is not only abrasion-resistant, but also has good mechanical strength and corrosion resistance, Ridd added. "We can provide a wide range of liner sizes with our most common being between 1 in. and 4 in. internal diameter. Sizes up to 10 in. internal diameter have been produced for special applications."

Ridd went on to explain that operators often do not use full liners inside hydrocyclones, but only in those sections where wear is greatest — typically the inflow. "We can cater for full liner requirements or small segments depending on the application. We use our own proprietary bonding system to join the alumina components together to form highly complex internal shapes and geometries that meet specific customer requirements," he said. "Even where liners are produced up to 1.2 m (4 ft.) long, the bonding ensures that any joints are stronger than the ceramic material itself, so the liner is less likely to break under vibration or impact."

Ridd noted that while confidentiality restrains the company from identifying specific mining-sector users of its liners, its long-standing relationship with National Oilwell Varco (NOV) provides a comparable illustration. NOV is a major provider of equipment and components used in oil and gas drilling and production operations, and of oilfield services.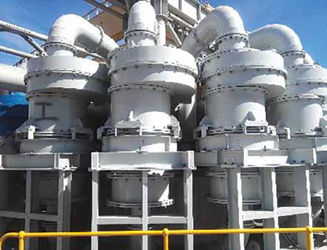 A cluster of the new units designed by Haiwang Hydrocyclone for improving
the separation efficiency and fines recovery in iron-ore processing plants.


Maximizing oil recovery requires the effective removal of sand and other abrasive waste materials from the well, using hydrocyclones for de-sanding. Morgan reports that its linings have provided erosion resistance and enhanced structural integrity, while its bonding technology has provided NOV with flexibility in the custom development of the hydrocyclone inlet and outlet profiles. In addition, this joining technology has meant that its liners last longer than others used in the industry, the company claimed.

R&D Brings New Chinese Designs
A key feature of recent years has been the emergence of Chinese companies into the international mining equipment market. Established in 1989, Haiwang Hydrocyclone Co. told E&MJ it has an annual output of more than 20,000 cyclone sets, for use in a range of industries, and that as well as supplying the domestic market, its cyclones are now sold and serviced by agents in more than 10 other countries.

Haiwang provided E&MJ with details of two applications of its equipment, the first of which concerned the design of new cyclones to operate with low circulating loads in primary closed-circuit grinding (ball mills and conventional hydrocyclones) in iron-ore operations. With the high-specific gravity and degree of liberation of iron ore, there can be problems of low classifying efficiency and recirculating high-SG particles for regrinding when using conventional hydrocyclones for classification. These problems reduce the system capacity and increase the energy consumption per ton, while overgrinding leads to the production of excessive fines, low recovery and greater losses to tailings.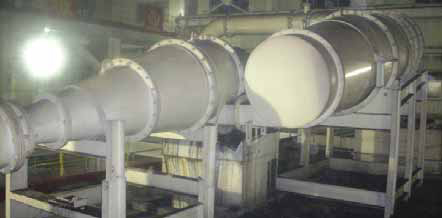 The three-product dense-medium cyclone designed by Haiwang Hydrocyclones for cleaning run-of-mine coal
containing high waste and middlings.


In response, Haiwang has developed and patented two new cyclone systems, which, it said, have proved effective at an iron-ore operation in Australia. Compared to the original hydrocylones used, the qualitative classifying efficiency of the new separation equipment rose from 40% to 61.50%, while fine particle recovery was 23.25% higher at 72.25%.

Meanwhile, overgrinding was reduced, with the production of minus-10 µm particles in the tailings being reduced from 31.2% to 22.5%. Haiwang pointed out that on the basis of an operation with 5,000- mt/h tailing capacity, a cut of 435 mt/h of minus-10 µm particles equates to 3.445 million mt/y less fines being sent to tailings.

Other benefits claimed for the new cyclones include a 600-mt/h increase in raw ore capacity and 200 mt/h of concentrate (equivalent to more than 1.5 million mt/y), with lower energy and maintenance labor costs. Haiwang stated its new cyclones are now in use in more than 200 medium- and large-scale iron ore concentrators in both China and overseas.

The other development that Haiwang reported involved the design of a new three-product heavy-media cyclone for use in coal-washing plants, particularly where conventional equipment is inefficient at cleaning coal with high waste and middling contents.

With diameters from 500 mm to 1,300 mm, the Haiwang heavy-media cyclones can accept feed sized up to 80 mm, with a recovery efficiency of more than 95%. In addition, circulating loads are reduced compared to conventional cyclones, while the energy consumption is around 10% less, under the same conditions and feed pressure.

In an operational example at a Chinese coal prep plant, using cyclones with diameters of 1,300 mm and 920 mm, the clean coal content in the middling dropped from 39% to less than 10% while the coal rejected to waste fell from 8% to 2%. Clean coal recovery is 1.5% higher than before, worth around US$6 million in increased sales, and the tonnage of waste for disposal has been reduced by around 100,000 mt/y.

Specializing in Separation
Established in 1984, Mineral Engineering Processes (MEP) continued with the supply and service of the Stokes range of specialist separation equipment when that company closed in 2000. Today, MEP specializes in mineral process engineering and supplies hydrocyclones, thickener/clarifiers, Hydrosizers and other associated equipment.

MEP offers seven standard sizes of hydrocyclones between 250 mm (10 in.) and 750 mm (30 in.) in diameter. According to the company's managing director, Steven Hyde, in many of the applications with which it has been involved, it has become fashionable or advantageous to use numbers of smaller-diameter cyclones. "This is to produce finer cut points or to maximize solids recovery and reduce solids being lost in lagoons," he said.
The MEP hydrocyclone and Hydrosizer installation at Astley Moss in the U.K.,
designed to produce construction sand products decontaminated from naturally
occurring organic material.


MEP hydrocyclones are lined with hot vulcanized soft gum rubber, polyurethane or ceramic tiles, dependent upon the material they are handling. Other liners could be provided if applications or customers required, Hyde pointed out.

MEP cyclones are most commonly used in dewatering applications, in coal, manufactured sands, silica sands and limestone. "They are designed to deliver optimum efficiency, with high availability and wear life," Hyde explained. "The cyclones are mainly welded carbon-steel fabrications, augmented with some cast metal or polyurethane components to be able to operate within the harsh environments they are installed in."

Hydrocyclone technology plays an important role in the modular fine-coal recovery plants that MEP designs. In this process, the underflow from the raw coal screens is pumped at approximately 15% w/w solids to a four-way in-line cyclone manifold. The excess water and minus-63 µm material is overflowed and piped to thickeners while the cyclone underflow feeds a hindered settling classifier or Hydrosizer.

In another example of the company's hydrocyclones in use, MEP was awarded a contract to modify and upgrade the existing de-ligniting sand plant at the Breedon group's Astley Moss quarry in northern England. The process was designed to handle up to 150 t/h of as-dug sand and 100 m3/h of water to produce decontaminated construction products. In the flowsheet, both primary and secondary cleaning circuits use hydrocyclones to feed a Hydrosizer.

Weir's IOT Approach
Weir Minerals told E&MJ it has developed its own IOT platform, Synertrex, which enables it to optimize the configuration and design of its products. Currently, the company is optimizing its Cavex hydrocyclones with the latest Synertrex technology, enabling operators to detect substandard operating conditions such as roping, in order to implement corrective actions and enhance performance. The system remotely monitors the hydrocyclones from a centralized location, and can detect roping, semi-roping and blockage conditions.

"The Synertrex platform is connected through advanced sensors fixed to our Cavex hydrocyclones that transmit data to an intelligent remote signal processor mounted near each cluster," stated Debra Switzer, Weir Minerals' global product manager for hydrocyclones. "This then converts the signal into alerts that are sent to a central module that customers can access remotely."

The company recently carried out a trial at a copper processing plant in Chile with two out of five of the hydrocyclones connected to the Synertrex platform. Underflow and overflow samples were taken from the feed while the hydrocyclones were undergoing splash, semi-roping and roping conditions.

"Through laboratory analysis we obtained the particle size distribution, which enabled us to estimate the hydrocyclones' efficiency for each of the three conditions. By leveraging the data and slurry samples provided from the system, the plant operators successfully increased their metallurgical performance and saw consistent throughput," Switzer explained.

Weir Minerals told E&MJ that it is now trialing its Cavex hydrocyclones with Synertrex technology at a number of sites around the world in preparation for a global launch later this year.
---
As featured in Womp 2018 Vol 02 - www.womp-int.com