Kirkland Lake Gold Sinking Major New Shaft at Macassa
---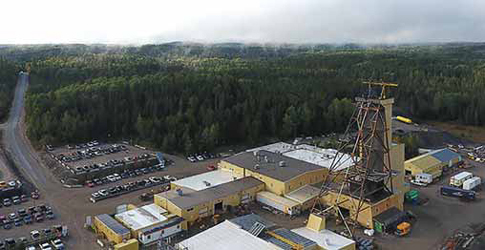 The first phase of the new Macassa shaft will be completed in 2022 at a cost of $240 million.


Kirkland Lake Gold will initiate sinking of a new shaft at its high-grade Macassa mine 580 km north of Toronto, Ontario, in 2018. The 21.5-ft-dia, concrete-lined, four-compartment shaft will have total hoisting capacity of 4,000 metric tons per day (mt/d) (ore and waste) and is an important component of the Kirkland Lake's plan to increase gold production at Macassa to more than 400,000 ounces per year (oz/y) over the next five to seven years.

In 2017, Macassa processed 409,065 mt of ore at a head grade of 15.2 g/mt of gold and produced 194,237 oz of gold. The new shaft will provide a number of benefits for the Macassa mine, including de-risking the operation, enabling more effective underground exploration to the east of the mine's South Mine Complex, improving ventilation and general working conditions in the mine, and supporting higher levels of production and lower unit costs.

Construction of the shaft will be completed in two phases. Phase one will be to a depth of 5,450 ft and will include a mid-shaft loading pocket. Completion of this phase is targeted for the second quarter of 2022 at an estimated capital cost of $240 million, with approximately $40 million of expenditures planned for 2018. Phase two of shaft construction will be undertaken following the start of production from phase one and will involve extending the shaft to an ultimate depth of approximately 7,000 ft. Completion of phase two is targeted for the end of 2023 at an estimated capital cost of approximately $80 million.

Kirkland Lake also announced that its exploration expenditures in 2018 will be in the range of $75 million to $90 million, of which $60 million to $75 million is targeted for its Australian operations. Expenditures in Australia will focus on drilling and underground exploration development activities at the Fosterville mine in Victoria state and at the Cosmo mine in the Northern Territory.

Kirkland Lake is planning lower levels of exploration spending in 2018 at its operations in Ontario, Canada. At Macassa, underground drilling will continue to focus on resource replacement and expansion. Deep surface drilling at Macassa is being discontinued while the company sinks the new shaft, which will support more effective and efficient underground exploration programs going forward. Kirkland Lake is targeting company- wide gold production of more than 620,000 oz in 2018, up from 596,405 oz in 2017.
---
As featured in Womp 2018 Vol 02 - www.womp-int.com