Argonaut Acquires Cerro del Gallo Project in Mexico
---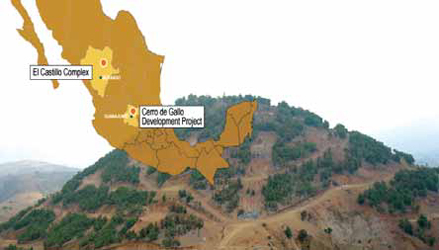 Cerro del Gallo consists of 12 concessions with some mines that were formerly worked for high-grade
vein-hosted gold and silver.


Argonaut Gold has reached an agreement with Primero Mining Corp. to obtain the Cerro del Gallo (CDG) project through the purchase of all the shares of Primero's subsidiary San Anton Resource Corp. for $15 million in cash, which is payable upon closing. Argonaut expects to be able to recover approximately $1.7 million of value-added tax, which reduces the total purchase price to $13.3 million. The company expects the transaction to close on or before November 30.

"We view the acquisition of the CDG as a low risk, high reward investment," said Pete Dougherty, president and CEO, Argonaut Gold. "CDG is a project in our own backyard where we have the ability to leverage our existing operations and projects team's skill sets. We view CDG as a pipeline project that fits well within our portfolio of Mexican assets."

The CDG deposit is located in the state of Guanajuato in central Mexico, approximately 270 kilometers (km) northwest of Mexico City in an active mining district. The property is accessible by road, rail and air services. Additionally, there is availability of a skilled local workforce, grid power, water, sealed roads, equipment suppliers and established transport routes, the company said.

A Definitive Feasibility Study (DFS) for CDG was completed in May 2012. The DFS outlines an initial 7.2-year mine life, which could be extended to 14 years through a second stage carbon-in-leach (CIL)/heap leach mill expansion. The project has been planned as conventional open-pit truck and shovel operation coupled with a 4.5-million-metric-ton-peryear processing plant. The flow sheet design is broadly based upon a conventional cyanide heap leach and gold on carbon recovery technologies, but will incorporate a SART processing stage to facilitate copper removal prior to gold recovery. The plant design is based on the treatment of both fully and partially oxidized ores, producing an average of 95,000 ounces (oz) of gold equivalent annually at estimated cash costs of $700/oz.
---
As featured in Womp 2017 Vol 12 - www.womp-int.com