QIO to Restart Bloom Lake
---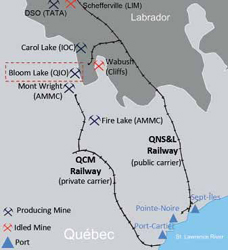 QIO will take advantage of existing infrastructure in
the Labrador Trough.


Quebec Iron Ore (QIO) has confirmed the March 2018 restart of the Bloom Lake iron ore mine located near Fermont, Quebec. After acquiring Bloom Lake in April 2016, QIO secured the necessary funding and has been upgrading and optimizing the facilities, procuring off-take partners and forming mutually beneficial alliances with the host community. QIO is also proud to announce it is in the process of swiftly hiring more than 450 people to restart Bloom Lake.

Only 19 months after acquiring abandoned assets, QIO is set to deliver the large-scale project, the company said. QIO's business plan is based on the mine's long-term operation and an optimized separation circuit, which should significantly improve recovery rates. The mine restart required an investment of more than $160 million, of which the government of Quebec holds 36.8% as a partner.

"Today, the eyes of the world are focused on an iron of exceptional quality, one of the best on the planet. And it's right here," said Executive Chairman of the Board and CEO of QIO and Champion Michael O'Keeffe. "Even though the challenges were huge and the amount of work colossal, our ambition and determination have always been the same: to restart this mine, which has a high potential while respecting communities, the development of the region and Quebec's economic interest."

Since announcing the results of the Bloom Lake feasibility study in February, QIO has hired more than 250 workers to date. It entered into an Impact and Benefits Agreement with the Innu people of Uashat mak Maniutenam. The company also purchased 735 specialized railcars to transport iron ore and entered into an agreement with the Société ferroviaire et portuaire de Pointe-Noire for transporting 8 million tons of iron ore.

The investments in the restart will also minimize environmental impact by introducing an electrode steam boiler that uses significantly less energy, using an overhead conveyer for ore transport and improved tailings management, which will greatly reduce the use of trucks.
---
As featured in Womp 2017 Vol 12 - www.womp-int.com