Meeting the Narrow-vein Challenge
Design improvements provide safer, more productive machines

By Steve Fiscor, Editor
---
Aramine's L140B is the only battery-powered machine on the market with a full electrical transmission.


Equipment manufacturers are constantly looking at ways to improve mining equipment. With underground mining, methods differ based on geology and equipment that works well in one application will not necessarily transfer seamlessly to another mining plan. This holds true especially for narrow-vein mining, where miners need to use robust equipment in a more confined space.

In narrow-vein applications, the use of specially designed equipment allows miners to limit the size of the gallery, further reducing dilution. More importantly, it lets them safely increase productivity as they replace jacklegs, air-powered mucking machines and track haulage.

The equipment makers have transferred many of the features from larger equipment to the smaller machines. Some are even offering new battery-powered units that can compete with diesel- powered units as far as breakout in the muck pile. The move away from diesels will simplify maintenance. Other types of equipment, such as drifters and scalers, have been modified for use in small headings and stopes.

Aramine Develops Battery-powered Mini-loader
Equipment manufacturers must consider a variety of safety regulations worldwide as they design and manufacture equipment for narrow-vein mining applications. When it comes to safety in confined spaces, Aramine has a professional who specializes in ergonomics and regulations in its R&D department. With all that data, he creates a standard for Aramine to follow, explained Marc Melkonian, president of Aramine. "We take great care to analyze EC standards, ISO norms and the different regulations in major purchasing countries such as Australia, South Africa, USA, Canada, etc.," Melkonian said. "This is one of the big difficulties of our job."

From a health and safety perspective, one of the biggest problems for underground mining is emissions generated from diesel-powered engines. Those concerns are exacerbated in narrow headings. To help solve this issue, Aramine created the first diesel miniLoader with an exhaust purifier, Melkonian explained. "We then developed an electric machine with a trailing cable, the battery-powered machine was already on our mind, but this technology was not reliable enough at the time and very expensive," Melkonian said. "Today after two years of R&D, we have a reliable and competitive product and we trust this new machine.

The battery-powered L140B is an optimized and advanced version of the L120B and can carry more capacity with the same autonomy and energy consumption. "Customers tested these machines in the mines prior to this launch and today they are operating in several different mines," Melkonian said. "The true challenge for the miners is to change their habits, but our machine reliability and ease of use have immediately pleased them."

What makes the L140B special is the fully integrated battery system, which was designed by Aramine. It allowed the removal of not only the diesel engine, fuel tank and filters, but also the hydrostatic transmission and its tank, filters and hoses. "The L140B is the only battery-powered machine on the market with a full electrical transmission that makes it very special as maintenance and downtime have been considerably reduced," Melkonian said. "Preventive maintenance intervals have been extended to 250 hours."

These battery-powered machines offer the same or even more breakout force than the diesel-powered units. They use an electric transmission, which adjusts the torque depending on the under-foot conditions to give just enough power and avoid excessive tire wear, Melkonian explained. "We offer two versions and both can run for an entire shift depending on the way it's used."

"The standard machine offers four hours of autonomy, mucking three to four faces," he added. "It has an extremely simple charging system. The charger is integrated into the machine and the operators simply plug it in as required." An optional version features a quick disconnect battery module for mines that prefer to run the machine full time.

The L140B is also available with a radio remote control (RRC) version. The system is already integrated into all L140Bs, which makes this option very competitive and cheaper than the L130 or L150 models. "We have also a fully automated version, remote controlled in partnership with HLS," Melkonian said.

The L140B is ideally pass-matched with an Aramine miniDumper T500D, which has been designed to carry three L140B buckets. Aramine has acquired greater know-how during the development of the battery-powered machine, Melkonian explained, and the company has several new projects in the wings.

Fletcher Focuses on Safety and Productivity
Based on input from its metal/nonmetal customers, J.H. Fletcher & Co. has been looking at ways to reduce risk and improve mining processes, including narrow-vein applications. For several years, the company has designed bolters, jumbo drills and scalers specifically for narrow-vein applications. Now, they are looking at ways to further refine this product line.

Fletcher made some modifications to its 3224-AD narrow-heading scaler, such as placing the cab in the center, to allow it to access tighter mining conditions.


Fletcher's N3016-AD/E bolter can install bolts and mesh in a 3-m x 3-m heading. The Model 3114 bolter can operate safely in headings as narrow as 8 ft and it has a remarkably small turning radius. The J101 jumbo is a face drill that works well for narrow-vein applications. More recently, they have been promoting the 3224-AD, a narrow-heading scaler.

Fletcher supplies equipment worldwide, but they have been customizing more equipment recently for North American miners, who are asking for various features to be added to their equipment. "Much of the conversation these days revolves around the power system," said Ben Hardman, vice president of sales for Fletcher. "Some miners prefer a straight diesel, while others are interested in a full function diesel-electric or possibly a hybrid battery arrangement."

With the standard diesel-electric package, the operators would tram the machine using diesel power and then they run on electricity in the heading to reduce the concentration of diesel particulate matter. Some contractors may not have power to a certain part of the mine, Hardman explained, so they would prefer the full diesel option. "The battery option has been discussed quite frequently," Hardman said. "Narrow-vein applications will likely use the hybrid-type arrangements as the batteries can be quite large." In the hybrid configuration, the operators would tram the machine into the heading using battery power and then recharge the battery while the machine is drilling.

Fletcher has placed a lot of narrow-vein machines in copper and gold mining operations in Ontario, Canada, and the western US. They also view Mexico as a developing market. "We have not sold one there yet, but we are taking some machines to the mining conference this month in Guadalajara," Hardman said. Fletcher's Mexican distributor is Topo Equipment in Zacatecas and they work with Wajax in Canada.

Fletcher manufacturers many custom designed machines. Miners sometimes want a specially designed feed system or the ability to install different kinds of bolts, Hardman explained. "Many of these mines have been successfully operating our machines and systems, and now we are fine-tuning the design to match their inventory and maintenance needs," Hardman said. "Some want to modify the hammer or a set of axles, so they match the hammers and axles they are using on other equipment."

The primary driver in Ontario is the deeper operations where they are concerned about the geology and rock bursts. "They have started using the man-up machines to move drilling operations away from jacklegs and stopers," Hardman said. "They are opening the headings a little wider to accommodate the N3016 to drill remotely. Several of those machines are being re-assembled underground in Ontario right now."

Some of the Canadian machines are being equipped with a form of proximity detection. "It's a light-based guarding system that prevents miners from walking in front of the machine during operation," Hardman said. "On either side, the Light Guard extends from the machine to the ribs. If anything breaches it, all rotation stops and the hydraulics disengage on the front of the machine."

The Light Guard technology was developed by Fletcher internally and they have taken it a step further with the new Light Curtain for the man up machines. "This system shines down in front of the operators, preventing them from reaching out while the machine is drilling," Hardman said. "This is great safety technology and we are incorporating it in a lot of areas."

Fletcher has also made improvements to its Goad system, which is an angle indicator mostly used on the larger machines. Goad currently functions as an operator assist, giving the operator targets to hit. "It makes a good operator better," Hardman said. "We are taking that system and expanding it because more miners are looking at full autonomy. We are also currently developing the Goad MP (multiplane) and Goad AED (automated entry driver) systems. The MP system will have angle indicators for both horizontal and vertical planes, while the AEM system is a one-stop shop for automation."
Deeper mines have elected to use the man-up configuration, such as the Fletcher 3000 series, to move the operator out of harm's way.


Fletcher is making similar improvements to its line of face drills for narrow- vein applications. In addition to the diesel-electric and battery options as well as the Light Guard technology, they are also working with customers to match the percussive hammers to the rock strength. "So many people think they need a high dollar hammer from one of our competitors," Hardman said. "They are great hammers, but they also add considerable costs. Many mines are drilling in relatively soft rock and they could get by with a much more cost-effective hammer."

For rock strengths between 12,000 to 25,000 psi, Fletcher has been promoting its HVL 38 hammer. "It's a good performer and its cost effective," Hardman said. "Rebuild costs are $7,000, compared to $20,000-$40,000 to rebuild some models." Fletcher has two hammers: the HVL 38 for face drilling applications and the HVL 32 for roof drilling applications. Hardman describes the HVL 32 as a bold, short and compact hammer.

Fletcher also suggests miners consider its 3224-AD, a narrow-heading scaler. It's a diesel-powered, four-wheel drive scaling machine with an articulated frame that can reach 24 ft. "We sold 3224s for many years to Canadian potash mines with tight conditions," Hardman said. "We have made some improvements to this machine as well. It's a little more robust. We reconfigured the design and placed the cab in the center on the top for better visibility. The original model was a slower tramming machine. We added a power-shift transmission to increase the tramming speeds from 5 mph to 10 mph." Some of the mines in Mexico need a scaler with the additional height and Fletcher will showcase this at a Mexican mining conference in Guadalajara during October.

Sandvik Targets the Loading Process
Sandvik recently introduced a new 3-metric- ton (mt) capacity narrow-vein loader (LHD) that offers improved reliability and productivity and increased safety for its size class. The Sandvik LH202 loader is targeted for narrow-vein mining applications with tunnel widths between 2 meters (m) and 2.5 m. It has been designed to help reduce dilution and improve flexibility and operator safety when working in narrow-vein operations.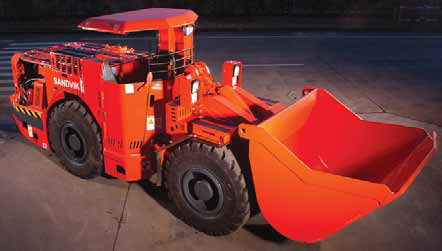 The Sandvik LH202 loader is targeted for tunnel widths between 2 meters and 2.5 meters.


The LH202 is full of features to help mines maximize tons and minimize extraction costs. It has been engineered to optimize machine width, length and turning radius. Sandvik believes the LH202 can reduce cost per ton by up to 36% thanks to its reduced operating width and larger capacity compared to other loaders in the same size class.

"Due to its compact size and advanced transmission, Sandvik LH202 is both easy to drive and maneuver in confined spaces typical of narrow-vein tunnels," said Kimmo Ulvelin, product line manager, narrow-vein and low-profile loaders for Sandvik Mining and Rock Technology.

Ashleigh Braddock, global sales and marketing support manager, product area load and haul for Sandvik Mining and Rock Technology, said an operator compartment located in the loader's rear frame helps improve operator safety and comfort.

"With this safety design, we have moved the operator further away from falling rocks during bucket loading," Braddock said. "Improved visibility and powerful LED lights help reduce collision risk while ground-level daily maintenance reduces risk of slips, trips and falls. Enhanced ergonomics in the operator compartment keeps the operator more comfortable during the shift, enabling to focus on production."

With sustainable operation in mind, and to enable the use of Sandvik LH202 in markets with low engine emission requirements, the new loader will be available with either a standard Tier 2 engine or a lower-emission Tier 4 engine in the future. The new Sandvik LH202 completes a comprehensive offering of Sandvik loaders engineered for narrow-vein operations. From Sandvik LH201, our smallest loader with a payload of 1 mt and capable of operating in tunnels as narrow as 1.5 m, up to the Sandvik LH307, with a tramming capacity of 6.7 mt in tunnels that are greater than 3 m wide, we offer a narrow-vein loader with an optimized capacity and envelope for your unique operation.
---
As featured in Womp 2017 Vol 10 - www.womp-int.com