Nordic Suppliers Make Smarter Machines
New ideas empower miners to develop custom solutions to site-specific needs

By Steve Fiscor, Editor
---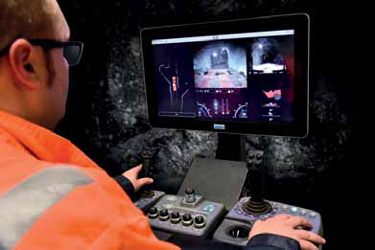 Sandvik's Tele-Remote offers an easy way for miners to start exploring the full potential of
equipment automation


Steeped in tradition, Nordic mining suppliers provide some of best and most advanced equipment for demanding applications. Their ability to drill through hard-rock formations have earned them a great deal of respect, and they continue to improve with time. Following the digitalization trends, it seems the focus has turned to autonomy and data analysis to improve safety and productivity, and lower operating costs.

What sets these suppliers apart is their experience and an understanding of the cyclic nature of the mining business. The brand names are recognized by miners worldwide. They have many years of experience and they will still be here tomorrow. What follows is a collection of important introductions various suppliers from the region have made this year. The common thread is the use of technology to assist the operator, but not necessarily replace the operator. Another common denominator is the attention toward improved maintenance and empowering miners (or other suppliers or distributors) to provide solutions for themselves, which is important considering the remoteness of many mining operations.

Sandvik Offers Intelligent Loading and Bolting Solutions
At a gathering in Tampere, Finland, during September, Sandvik introduced a Tele-Remote for underground loaders and an improved cable bolter. The Tele-Remote system, according to the company, is a new, smart, entry-level addition to its AutoMine product family. The system provides an easy way to start exploring the full potential of equipment automation while improving productivity, safety and cost efficiency in mining operations.

The new Tele-Remote provides functionality for smart teleoperation and monitoring of a single loader from the safety of a remote location. It is easy to set up, operate and maintain without a need for advanced technical skills. Designed specifically for quick production area deployment, AutoMine Tele-Remote is particularly suitable for continuously changing mining environments, such as applications with small stopes or mine development.

"AutoMine Tele-Remote makes remote loader operating simple thanks to a number of smart system functionalities assisting the operator," said Jarkko Ruokojärvi, product line manager automation at Sandvik Mining and Rock Technology. "The advanced features — such as automatic steering and predictive wall collision avoidance — ensure easy and smooth operation of the loader, reducing strain on the operator."

As the intelligent operator-assisting system automatically steers the loader in environments previously unknown to it, loading can start immediately after site installation without a need for area definitions. In addition, the solution enables additional productive hours each day by allowing continued remote operation of the loader during blast clearance times.
Not only does it change drill steels, the DS422i
also stores data on each hole.


Equipment utilization is also increased as operators can hand over between shifts much faster, without the need to locate and travel to the equipment. The intelligent features of the system assisting the operator also help to avoid wall collision damage that would otherwise lead to expensive downtime for repairs and maintenance. This translates into cost savings and higher productivity. The system's compact onboard package is integrated into the intelligent control system of Sandvik loaders, allowing full monitoring and control functionality as well as straightforward retrofit installations.

Combining more than three decades of mechanized cable bolting engineering expertise, Sandvik's DS422i cable bolter is designed to enable better process control through assistive and automatic technologies and connectivity. Sandvik DS422i is built on the same platform as the award-winning Sandvik DD422i, providing lower total cost of ownership through parts commonality, easy serviceability and high productivity.

The DS422i is engineered for intelligent rock reinforcement, providing seamless integration with other key underground mine systems. The cable bolter is a converging point for multiple logistics chains. To efficiently perform its duty it needs to be in the right place at the right time with the right consumables and correct operator information on board. Sandvik DS422i provides the ideal solution for all of these challenges.

Ground support is a quality-focused, statistics-driven and operations-critical process in a mine. The common denominator, which almost all cable bolter users share, is a desire for information: exactly how and where bolts were installed, how much grout was pumped, the mixing ratio of the grout used and other key details of the mechanized bolt install process. Sandvik DS422i can provide this information, store it and pass it on to a mine's systems for analysis through its intelligent control system and connectivity.

"Our customers are constantly asking us for solutions giving them documented 'as planned' and 'as installed' data from the bolting process," said Anssi Kouhia, product manager for Sandvik DS422i. "Handling hole location information has long been in practice for both development and production drilling, but not yet properly utilized in bolting. Our latest intelligent product brings the potential of data integration to our customers."

"Efficient task management with regards to bolter operation is usually more complex to achieve compared to other drill and blast cycle operations," said Petri Mannonen, product manager for Optimine products. "In addition to managing that the machine has a free heading to operate in, the bolter also has to manage the replenishment of concrete and other consumables. Our Optimine task management package provides great advances in this respect through two-way communication with the task management system."
The Doofor kit includes a drifter, feed profile and everything else needed to
build a drilling system


The new Sandvik RD414 rock drill provides a 30% higher penetration rate and a longer shank and drill steel life through its advanced rock drilling technology. Key value adding features of Sandvik DS422i also include automatic rod handling, a quiet and ergonomic cabin, and Sandvik intelligent controls and automation with both operator assistive and automated functions.

Doofor Develops Drill Feed Kit
For years Nokia, Finland-based Doofor has supplied the mining business with reliable rock drills, or drifters and supported them with service and spare parts. "Our philosophy is to offer the highest technical quality in the drilling industry," said Kalle Kuusento, managing director, Doofor. "Our drills are recognized worldwide as powerful, reliable and durable."

Earlier this year, the company introduced a component kit for a hydraulic rock-drill feed system. With the kit, drilling professionals can build custom rock-drill feed systems quickly with a relatively small investment and a little effort. The component kit includes a Doofor hydraulic rock drill, a hydraulic valve block, a feed profile of anodized aluminum, carriage plate for the rock drill with sliders, drill steel guides, drill steel retainer, a durable feed chain, hydraulic feed motor and guarding for safety, as well as all other necessary casings.

"Instead of developing a feed system from scratch, our customers can purchase these kits," Kuusento said. "We do not make drilling systems. We only supply drifters and this is purely an effort to support customers." Kuusento said the system has been well-received. They have received many inquiries from South Africa, North America and Asia.

"As a company, we are innovative and development driven," Kuusento said. "We stand for the highest level of endurance and functionality. Our products are robust, easy to fit in various solutions and built to perform in difficult conditions." Doofor is currently developing new drilling technology for larger (25 kw) systems.

Alimak Adds Traction Elevators
Alimak Hek, a leader in rack-and-pinion elevators, recently launched a new series of traction elevators. The company, which is based in Skellefteå, Sweden, now offers one of the world's most comprehensive industrial elevator product portfolio with both traction and rack-and-pinion drive technology and a wide range of car sizes and capacities. These systems have niche applications as raise climbers underground.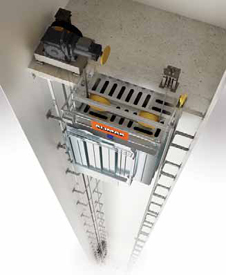 The new traction drives can handle loads up to 5,000 kg.


The new Alimak traction elevator series, Alimak TR-H, is designed and built to perform in the world's harshest environments. The elevator will improve operational efficiency, give superior HSE performance and reduce maintenance costs in any industrial application. With surface treatment corrosion classification up to C5 and ingress protection rating up to IP65, the new elevators are made for the toughest environments on the planet. "The expansion will ensure that Alimak Hek engineers give the best advice to choose the perfect elevator technology for the application," said Andreas Magnusson, marketing communications manager, Alimak Hek.

With more than 22,000 rack-and-pinion elevator installations, the company's in-house engineering department has vast experience. "Many of these elevators have unique applications, but they are all based on standard design parameters and subject to a strict quality assurance management," Magnusson said The modular design of the three new traction elevator series Alimak TR, TR-H and TR-H Ex provides several different car sizes within the standard range — meeting just about every transport need imaginable from 300 kg to 5,000 kg (660–11,020 lb). Additional sizes and specifications can be provided.

The robust elevator cars are made from durable materials including stainless steel, aluminum, or painted steel with bumper rails and diamond plate flooring together with other options. Elevator doors can be manual or heavy-duty automatic with fire rated doors as an option. Robust industrial design gives the new elevators the ability to handle the toughest working environments from non-hazardous areas to extreme environments with temperatures of 0°C to +50°C.

Normet Sets New Standards for Ancillary Support
During June, Normet rolled out some new equipment at the World Tunneling Conference (WTC), which was held in Bergen, Norway. The Iisalmi, Finland-based company said this new offering improves the mechanization and automation aspect of the most demanding underground work phases and sets new standards for sprayed concrete, charging and lifting and installation jobs.

The new Spraymec Norrunner 140 DC with its long reach spray boom is designed to meet the highest production capacity requirements for sprayed concrete with an average capacity up to 26 m3/h. Routine service has been improved with access points reachable from ground level. It is also available with an optional "smart" boom, a tool that helps the operators attain better results with less rebound as its coordinated motion control is linked to concrete pump output.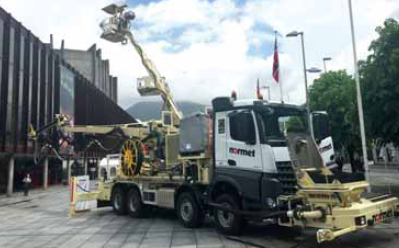 The Norrunner 140 DC sits outside the WTC in Norway in June.


New Himec and Charmec offerings have rigid frame carriers, which provide enhanced driving stability over the articulated carrier used in earlier models. The carriers also have four-wheel drive and crab drive for better maneuverability. The engine has been placed on the side of the machine and therefore all service points for the engine and the exhaust after- treatment system are easily accessible from the ground level. The new models have an optional driving-from-the-basket feature. The operator in the basket can safely and easily move each unit from the work platform. Normet also displayed the Himec RM T 125, which can be modified to a Charmec charging systems by adding an ANFO or emulsion explosive charging unit. It is available with several single or twin boom configurations.

Packaged Pumping Systems
Based in Lappeenranta, Finland, Flowrox recently introduced its Packaged Pumping Systems, an engineered pump package equipped with simple site connections, manufacturer- recommended auxiliaries, and piping arrangement to meet the needs of demanding flow control applications. These systems, according to Flowrox, guarantee accurate and repeatable flow while reducing maintenance downtime and costs. On-site and operational safety is improved through integrated containment, which is especially important for aggressive chemical applications.

"We have 40 years of experience in elastomer technology and flow control solutions," said Simo Manninen, vice president of marketing for Flowrox. "Taking this expertise to our newest offering, Packaged Pumping Systems allows miners to benefit from accurate and repeatable flow with increased safety and reduced maintenance."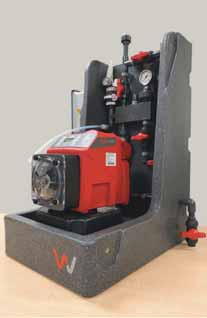 Flowrox's packaged system integrates containment.


Flowrox offers a variety of pumps including rolling peristaltic pumps and progressive cavity pumps. They are introducing this system with metering pumps. The company plans to continue to expand the product to integrate any Flowrox Pump into a packaged system to meet the specific requirements of any processing plant. The company believes that the ease of startup and installation paired with highly efficient and innovative peristaltic pumps and progressive cavity pumps will result in a superior comprehensive packaged pumping system.

Robit Expands and Improves Its Line of Drilling Consumables
Headquartered in Lempäälä, Finland, Robit plc has its sights set on accomplishing goals it set in 2015. The company aims to be the largest supplier of top hammer and down-the-hole (DTH) drilling consumables. In addition to safety, growth is one of the most important business objectives. Robit's long-term strategic objective is doubling its market share and it plans to accomplish that by increasing sales, strategic acquisitions, guaranteed availability and state-of-the-art production.

Robit is drilling consumables sales company. The company has a total of 21 sales and service points and its products are sold through an extensive network of 150 distributors and direct sales. Since 2015, Robit has carried out four acquisitions and thus widened its product offering significantly, especially with DTH products. Strategic acquisitions will continue to be part of the company's growth strategy to expand its technology, reinforce its distribution network, and add complimentary products.

Mines require uninterrupted processes and Robit strives to further develop and secure the availability of drilling consumables for its end users. The company's ability to manufacture products and secure the availability of the products both regionally and locally has improved significantly improved. In addition to the diversified production strategy, Robit strives to ensure availability and service to the end customers by maintaining a good inventory level at its largest own sales and service points. Simultaneously, the company has been developing its sales projection system, with the aim of optimizing the storage needs and delivery ability of each sales area.

Robit prices its products on a product-specific basis, or in larger supplied units desired by the customer. Alternatively, the company may also utilize performance or cost-based billing, or various annual agreement or service agreement models.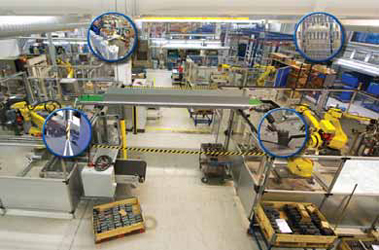 Robit's plant in Finland relies on sophisticated production technology


Robit has made good use of its knowledge relating to modern automated production technology. An example of this is the launch of the drill bits manufacturing in DTA's factory in Perth in April. The company has also decided to build additional capacity and increase automation at its South Korean unit. Robit's management believes that automation improves safety and productivity, speeds up production efficiency and ensures consistent high quality. More recently, the company has introduced its Heavy Duty Australian line worldwide. These mining-focused hammers are widely used at major mining houses and are the preferred choice of drillers for their DTH blasthole and RC drilling programs. Products have been optimized through years of close cooperation with miners resulting in higher productivity, more drilled meters and overall reductions of costs in their operations.
---
As featured in Womp 2017 Vol 10 - www.womp-int.com