Leagold Commences Development of Bermejal Underground
---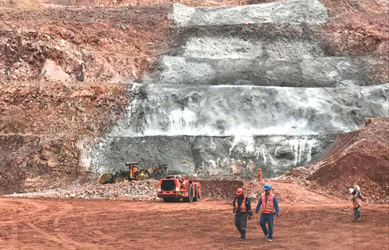 Miners prepare to shoot the first round for portal development at the Bermejal mine, which is
a ramp off of the Los Filos open-pit mine in Mexico


Leagold Mining Corp. recently completed the surface preparation and has commenced portal development for the 1,325-meter-long exploration ramp that will provide access to the high-grade mineralization of the Bermejal Underground deposit in Mexico. The portal is located in a carbonate formation on the north side of the mined-out portion of the open pit. The $13 million capital budget includes a total of 3,136 m of ramp and cross-cut development and two ventilation raises totaling 560 vertical m that will be developed using a raise bore. A spur at the 650-m point of the main ramp will provide access to a test mining area on the southeastern part of the Bermejal Underground deposit and the mineralized body will be intersected in middle of half-year 2018.

"We have been steadily advancing the development of the Bermejal Underground as an expansion project at our Los Filos mine, and the start of the portal and ramp is a significant achievement within our initial six months of ownership," said Neil Woodyer, CEO, Leagold. "The contribution from underground mining at Bermejal will add approximately 150,000 ounces per year (oz/y) to the operation and bring the combined production rate to 350,000 oz/y once fully operational."

The exploration ramp will allow initial mining to begin in the test stope for the collection of a large-scale sample for metallurgical testing and leaching on the existing heap-leach pads. The main ramp continues to the central portion of Bermejal Underground and will intersect mineralization in that area in late 2018. The design of the portal and ramp is fully dimensioned for eventual use as a production ramp and includes cut-outs for underground drilling. This development program provides the opportunity for drilling and mining over a strike length in excess of 1,200 m and along a vertical extent of more than 300 m of the Bermejal Underground deposit.

The ramp will provide access to the eastern and central portions of the deposit and will enable additional exploration, demonstrate the mine ability of Bermejal Underground, and advance the project toward the declaration of reserves.

Leagold has selected Cominvi S.A. de C.V. as the portal and ramp development contractor. Cominvi currently provides contract mining and development services in the Los Filos Underground mine, which has the same host rocks and type of mineralization. The contractor was mobilized in September, surface preparation of the portal area was completed and the first blast for the portal was detonated on September 25.
---
As featured in Womp 2017 Vol 10 - www.womp-int.com