Screening the Options
A look at what's new in products and services designed to improve vibrating screen value and performance

By Russell A. Carter, Contributing Editor
---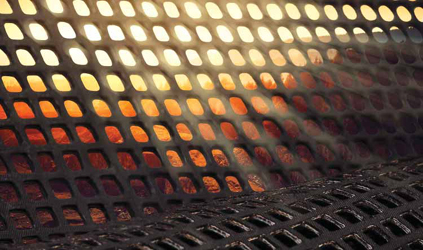 Flexible and delivered as a roll, Sandvik's WX6500 all-rubber screening media weighs only a third as
much as wire mesh, making it easy to move around site and work with, according to the company.


In the mechanical world, a machine that shakes is often a machine that breaks. That's not the case in mineral processing, where thousands of vibrating screens currently in operation are expected — and engineered — to shake, vibrate or oscillate continuously shift after shift, providing predictable and reliable dewatering and particle-separation performance.

Shakiness in machinery can usually be attributed to imbalance or structural weakness, and although screen manufacturers commonly use out-of-balance mechanical arrangements to impart motion to the screen deck, in actuality, screens must adhere to Newton's Third Law regarding balance of forces — for every action, there is an equal and opposite reaction — in both design and operation to provide consistent performance and avoid self-destruction. In fact, mineral-processing screen technology in general is a balancing act of sorts, with suppliers stacking new designs, improved materials and increasingly sophisticated monitoring and analysis services against their customers' desires for higher capacities, less maintenance and lower consumables costs.

Among the many factors that can alter a working balance in any given screen application are changes in particle size and shape, material density, moisture content, and particle size distribution. When the balance point shifts to one extreme or another, higher operating costs or lower production generally follow. Restoring the balance after a shift in any of these factors may be as simple as changing the type of screen media used, or as complex as changing from one type of machine to another. Whatever the solution, the screen is likely operating at less-than-optimum performance, or not at all, until the kinks are worked out — sometimes simply by trial and error. It can be an expensive process in terms of lost output and equipment costs, and one that producers are anxious to avoid. Fortunately, screen equipment suppliers such as Metso, FLSmidth, Sandvik, McLanahan, Polydeck, KPI-JCI, Telsmith, Weir, Derrick, Deister, and Multotec offer a staggeringly large selection of products and configuration options to meet just about any application challenge.

E&MJ recently surveyed the product portfolios of several major suppliers to identify new items and services that bolster customer prospects for maintaining the crucial balance between screen performance and steady production.

Getting It Right
Screen machine designs and updates represent the manufacturer's effort to optimally balance weight, strength and overall stiffness — too much weight requires too much force, not enough mass can result in a flimsy machine, for example — along with the need to minimize opportunities for fatigue cracking at joints and other vulnerable points. Maintenance access, machine footprint and headroom, and other installation considerations also play a major part in design decisions. Computer-aided design and analysis has been of great value in refining machine design. Weir, for example, has used Finite Element Analysis in its design effort since 1992, enabling it to incorporate a steady stream of improvements in screen mass and strength.

McLanahan Corp.'s MAX line of inclined vibrating screens, introduced last year, also illustrates how suppliers are refining their designs to meet user needs. McLanahan's MAX production line manager, Jeff High, provided E&MJ with a list of design details focusing on reliability and improved maintenance efficiency. The MAX line, offered in sizes and configurations ranging from 5 ft x 16 ft to 8 ft x 24 ft in triple-, double-, and single-deck models, was designed to provide maximum headroom between decks, making maintenance and media changeouts more convenient.

From a structural standpoint, MAX screens are fabricated with A572 Gr. 50 plate (45% higher yield strength than traditional A36 plating) for maximum strength. Side plates are a fully bolted construction to reduce and eliminate cracking due to stress caused by welding — also making it easier to change out worn components without cutting.
McLanahan's MAX screens offer design features aimed at improving screen longevity and streamlining routine
maintenance procedures.


Bronze sleeves are integrated on both ends of the shaft for protection in instances where the outer race of the bearing could potentially turn on the shaft. This reduces unnecessary downtime and only requires the sleeve to be replaced, according to McLanahan. All components slide onto the shaft, allowing for easy removal and installation. The straight shaft features jacking bolts in the mechanism tube that supports the shaft during changeouts, eliminating the need for a crane and thus improving safety while minimizing downtime.

The MAX line features labyrinth seals to prevent oil contamination, eliminating the need for a standard breather that could plug and fail. Other design elements include independent cross members that facilitate replacement of just the worn tubes — not the complete deck frame — increasing uptime and lowering downtime. The standard motor base features jacking screws to make belt tensioning easier, and a conventional pivoting motor base can also be provided. A Quick Change Spring Kit allows for removal of the spring pack with only minimal vertical clearance without need of an overhead crane.

Upgrades to existing screen designs can also play a major role in improving machine efficiency. For example, Haver & Boecker recently announced an upgrade to its F-Class vibrating screen system, which is claimed to cut service downtime by 50%. According to the company, its new split-bucket mounting system, featured in all-new F-Class vibrating screens, provides easy access to critical components, such as rubber mounts and body brackets, simplifying and accelerating maintenance and bearing changeouts for operators.

The split-bucket rubber mount includes a two-piece body bracket, which allows operators to remove the side arm and bucket in one piece. Prior to these improvements, in order to remove the side arm, workers were required to disconnect the rubber mounts along with removing 15 bolts. Now, a crew can remove the side arm and split-buckets from the screen as a whole assembly — reducing the number of bolts removed to eight.

Metso's new UltraFine screen utilizes a modular design with up to 10 individual screen decks nested together into a single vibrating assembly. It is a high-frequency vibrating wet screen designed for applications requiring separation from 0.075 mm to 1 mm, and is claimed to be a viable alternative to hydrocyclones for low-capacity plants or for operations with heterogeneous materials. UltraFine Screens can also be used in conjunction with hydrocyclones in a two-stage classification circuit.

The unit incorporates a patent-pending feed splitter box to ensure the feed is evenly distributed across the complete width of each screen deck. According to Metso, this machine arrangement delivers double the screening area relative to other fine screen technologies in a much more compact overall assembly. The smaller footprint contributes reduced building and infrastructure cost and thus reduces the capital cost to implement this technology.
Metso's web-based ScreenPlanner software allows users to design modular-media deck configurations and track
wear patterns, among other features.


Depending on the configuration of the unit, the feed slurry reports to a splitter box and the resulting sub-streams flow through hoses to the screen feed inlets — one for every two decks. Each of these streams is further split to evenly feed across the entire width of each of the screen decks. Each screen deck uses two-side tensioned panels of polyurethane screening media cloth with the appropriate aperture size to achieve the desired separation. Each screen deck also has a separate underpan and overflow collection point. The corresponding streams are combined into one discharge point for the oversize and one for the undersize.

Mixing Art and Science
Selecting the correct screening media for an application begins with a broad choice — wire cloth, synthetic materials or rubber — and often then quickly evolves into a myriad of options involving details that range from aperture size to surface configuration. As Polydeck, a U.S.-based supplier of screening media products, suggested in a recent blog post, the design, manufacture and selection of screening media can be a mixture of art and science.

According to Polydeck, the most important exercise when selecting screen media is taking stock of the entire screening circuit. This will help determine the best materials to be used, as many factors are impacted on this evaluation alone. Wire cloth, polyurethane and rubber have significant differences. Polyurethane has higher abrasion, cut and tear resistance, and is used mostly in wet applications. It can be made in a higher hardness rating, and it has better load bearing capacity than rubber. Rubber is favored in dry applications and offers excellent anti- blinding characteristics at lower (softer) durometer. Both polyurethane and rubber are significantly less noisy to operate than steel screen media and modular screen panels offer the greatest control in meeting product specifications because of their ability to customize the deck surface in 1-ft increments.

For customers who prefer wire cloth, Polydeck said its recently introduced Metaldex AR500 steel media provides the wear life of abrasion-resistant steel along with the open area of wire cloth, bundled in a modular design. The welded wire insert is embedded in a polyurethane border that allows for secure attachment to the company's versatile PipeTop II stringer system. Because Metaldex's pin-style fastenings fit seamlessly on the PipeTop II stringer system, Metaldex panels can be used side-by-side with Polydeck Polydex or Rubberdex modular screen panels. Metaldex's open area is claimed to be equal to or greater than wire cloth with the same aperture and wire diameter.

Sandvik noted its new WX6500 all-rubber screening media "sorts like steel, lasts like rubber," offering the same accuracy as wire mesh at 2-mm to 32-mm separations along with 10 times the product life. According to Sandvik, the thinness and flexibility of the material prevents the blinding and pegging associated with wire mesh; and because it blinds and pegs less, customers can avoid frequent media inspections. In order to achieve a "perfect fit" only two dimensions are needed — length and width of the screen deck.

Mapping the Deck
Metso now offers ScreenPlanner, a webbased software package that allows users to plan or "map" the configuration of one or more screen decks, and by entering various types of data such as modular media panel arrangements, parts lists, application details and notes on wear points and other observations, create an historical diary of the screen's operational life as well as generate reports on wear status and parts to order.

ScreenPlanner was introduced to the commercial market about six months ago, said Claes Larsson, Metso's global product manager–screening media. It is designed as a simple, user-friendly tool to help Meto's customers draw more-informed conclusions about screen performance and improvements.

South Africa-based Multotec, a specialist mineral processing equipment supplier, also uses deck map methodology in an ongoing effort to optimize screen output and lifespan, according to Shawn Faba, the company's manufacturing product manager–screening.

"Multotec has built on its concept of the composite deck for more than a decade, and differentiated ourselves by developing the deck map to design specific screening solutions for a wide range of material with various characteristics," Faba said.

The panels, he noted, are easily interchangeable on composite screen decks due to the modular format of Multotec's two common panel sizes: 1 ft x 1 ft or 2 ft x 1 ft. This modular design allows for different types of panels to be placed in specific areas of the screen as part of the overall goal of achieving metallurgical efficiency on the screening media surface.

With the aim of reducing downtime for customers, composite deck designs must ensure that wear patterns are as even as possible, so that mean time between failures (MTBF) can be extended and scheduled maintenance can be conducted as infrequently as possible. "Typically we want to ensure that customers can run these screens for six to eight months at least before they have to schedule maintenance downtime," Faba said.

The deck map allows the best combination of panels to be placed to suit the conditions, the material and the output targets — employing panel types in materials including rubber, polyurethane, steel, woven-wire, ceramics, Hardox, fiberglass and combinations of these. For instance, certain applications may demand the use of both ceramics and rubber. While a hard ceramic surface provides resistance to wear and cutting, rubber's elastic properties dampen the impact forces and protect the ceramic pieces.

"The deck map allows us to specify, for instance, a set of panels comprising highly impact-resistant material at the feed end of the screen, where the impact of material from the feed box or chute is highest," said Roy Roche, vice president– screening media at Multotec.

The performance of the panels is then fine-tuned through monitoring and iteration, using Multotec's Hawkeye technology, which allows management to systematically analyze the data from the deck maps to create a planning system for ongoing application improvement. The screening requirements in each part of the deck can be constantly refined by tracking the performance of the various panel types on each deck in operation. "Modular panels can cut operating costs on screen decks by more than 30% when using iterative improvement techniques," said Roche.
---
As featured in Womp 2017 Vol 09 - www.womp-int.com