Kingsgate Commences Claim Against Thailand
---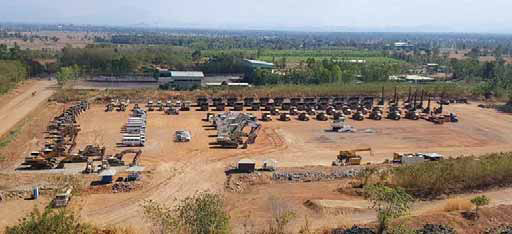 Chatree's fleet of mining equipment sits idle in Thailand.


Kingsgate Consolidated Ltd. will seek a range of remedies, including compensation, from the Thai Government for the measures taken against the Chatree gold mine in violation of the Australia-Thailand Free Trade Agreement (TAFTA). As a first step, Kingsgate notified the Prime Minister of the Kingdom of Thailand that it wishes to engage in consultations as required under TAFTA.

Chatree produced 19,377 oz of gold during December 2016 and it was debt free. With the Thai Government's decision to cease all gold mining generally by the end of 2016, however, it was placed on to care and maintenance effective January 1, 2017.

Over the past 11 months, Kingsgate said it has made sustained, good faith efforts to engage with the Thai Government in relation to the measures against the Chatree gold mine that ultimately resulted in its premature closure on December 31, 2016. "These efforts included numerous unanswered requests for meetings with Thailand's Prime Minister and members of his Cabinet," said Greg Foulis, CEO, Kingsgate. "Regrettably, Kingsgate has now reached a position where it believes that the only option to resolve the situation is to exercise its rights as a protected Australian investor under TAFTA."

TAFTA was signed in 2004 between Thailand and Australia to promote and improve the environment for bilateral services, trade and investment. TAFTA entered into force in 2005.

TAFTA consultations can take up to three months, and failing a mutual outcome, any international arbitration proceedings that may follow under TAFTA can take an undetermined amount of time to resolve.
---
As featured in Womp 2017 Vol 05 - www.womp-int.com