Leagold Acquires Los Filos Gold Mine from Goldcorp
---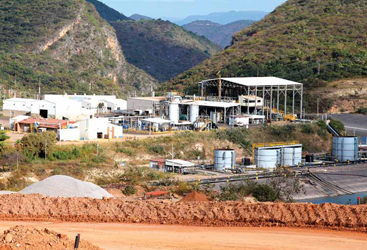 Los Filos, one of the largest Mexican gold operations, uses a conventional, low-cost
heap leach process to recover gold.


Leagold Mining, a Canadian company headquartered in Vancouver, British Columbia, has acquired the Los Filos gold mine in Guerrero state, Mexico from Goldcorp for $350 million. Los Filos operations include two open pits (Los Filos and Bermejal), an underground mine at Los Filos, and the opportunity to develop a new underground mine at Bermejal as an expansion project. During 2016, Los Filos produced 231,000 oz of gold at an all-in sustaining cost (AISC) of $878/oz.

The purchase price for Los Filos consisted of $279 million in cash and $71 million in Leagold common shares. The transaction was announced on January 12, 2017 and closed on April 7. Post-closing, Goldcorp holds a 25.3% equity interest in Leagold, and Russell Ball, Goldcorp's executive vice president corporate development and CFO, has joined Leagold's board of directors.

Leagold has an announced goal of becoming a new, mid-tier gold producer, with a focus on opportunities in Latin America. Los Filos is the company's first acquisition. Proven and probable mineral reserves at Los Filos currently stand at 40.7 million mt at grades of 1.12 g/ mt gold and 7.44 g/mt silver for 1.466 million oz of contained gold and 9.734 million oz of contained silver.

Subsequent to closing the Los Filos acquisition, Leagold announced recent drill results from the Bermejal Underground deposit, including intercepts of 18.5 g/mt gold over 29.2 m and 12.4 g/mt over 21.6 m. Leagold CEO Neil Woodyer commented, "The infill drilling results are exceptional and confirm the widths and grades in the widest and higher-grade portion of the Bermejal Underground deposit. We are initiating a $7.7-million step-out and infill drilling program of 56,000 m to add more resources to Bermejal Underground."

The Bermejal Underground deposit is located entirely below and separate from the current Bermejal open-pit mineral reserves. The deposit would be developed and mined concurrently with other Los Filos mining operations. A preliminary economic assessment (PEA) has selected a combination of sublevel caving and mechanized cut-and-fill as the mining methods, with a ramp serving as the primary mine access.

The PEA estimates that Bermejal Underground production could add 1.392 million oz of gold to Los Filos production at an average AISC of $439/oz. The PEA estimates up-front capital costs to develop the underground mine at $47 million, primarily for access ramp construction and equipment purchases.

Los Filos' current reserves-only lifeof- mine plan calls for an eight-year mine life, producing a total of 1.256 million oz of gold at an average AISC of $803/oz.
---
As featured in Womp 2017 Vol 05 - www.womp-int.com