Barrick Sells 50% Interest in Veladero to Shandong Gold for $960 Million
---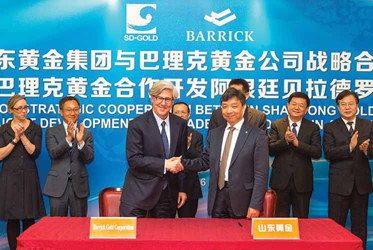 Barrick Executive Chairman John L. Thornton (left) and Shandong Gold Chairman
Chen Yumin (right) sign a strategic cooperation agreement between the two companies in
Jinan, Shandong province, China.


Barrick Gold announced on April 6, 2017 that as a first step in a new partnership with Shandong Gold Mining, of China, Shandong will acquire a 50% interest in Barrick's Veladero mine in San Juan province, Argentina, for $960 million. As a second step, Barrick and Shandong will form a working group to explore the joint development of the cross-border Argentina- Chile Pascua-Lama deposit, which is located 10 km from Veladero. As a third step, both companies will evaluate additional investment opportunities on the highly prospective El Indio gold belt on the Argentina-Chile border, which hosts a cluster of world-class gold mines and projects, including Veladero and Pascua-Lama.

Barrick's agreement with Shandong was its second major co-operation agreement in Latin America in eight days. On March 28, the company announced a joint-venture agreement with Goldcorp for development of the Cerro Casale and Caspiche gold projects in northern Chile (E&MJ, April 2017, p. 4).

On April 7, a day after Barrick's announcement of its partnership with Shandong, Reuters reported that Argentine mining officials had told Barrick it must overhaul environmental and operating processes at Veladero, following a cyanide solution spill, and that the country's environment ministry had asked for a total suspension of operations.

How these regulatory issues will be worked out remained an open question. Regarding the Barrick-Shandong agreement, Barrick Executive Chairman John L. Thornton said, "Our ambition is to make Barrick a leading twenty- first-century company in any industry in any jurisdiction, and by definition, that means creating a distinctive, enduring, and trust-based relationship with China and China's best companies. This agreement moves us down that path.

"Shandong is an ideal partner to help us unlock the untapped mineral wealth of the El Indio Belt over the long-term, while working with us to generate more value from the Veladero mine today. We look forward to working in partnership with Shandong, sharing mining and development expertise, talent, and capital in ways that will create added value for our respective owners, and our government and community partners in San Juan province."

Upon completion of the transaction, the Veladero mine will be overseen by a Joint Venture Board consisting of three nominees appointed by each company. To ensure continuity of operations, both companies intend to maintain the mine's current management team following closing of the transaction.

The transaction was expected to close at the end of the second quarter of 2017. The Veladero mine is located at elevations between 4,000 and 4,850 m above sea level, approximately 375 km northwest of the city of San Juan, Argentina. As of December 31, 2016, the mine had proven and probable gold reserves of 6.7 million oz and measured and indicated gold resources of 3.3 million oz. The mine is expected to produce 770,000 to 830,000 oz of gold in 2017 at a cost of sales of $750 to $800/oz and all-in sustaining costs of $840 to $940/oz.

Barrick/ATAC Agreement: In other news that featured Barrick, on April 10, ATAC Resources announced that Barrick has agreed to a number of transactions with the potential of totaling $63 million to earn up to a 70% interest in ATAC's Orion gold project on the central portion of its Rackla gold property in east-central Yukon, Canada. Recent diamond drill results at Orion have included an intercept of 61.29 m grading 2.75 g/mt gold.
---
As featured in Womp 2017 Vol 05 - www.womp-int.com