Miners Seeing Signs of Improvement in Africa
Cape Town investment conference finally hears optimism after several gloomy years

By Gavin du Venage, South African Editor
---
Cape Town once again welcomes miners and bankers to the annual Indaba, an event characterized this year by optimism that the
industry is headed for recovery.


Plenty of gardening talk happened at this year's Mining Indaba, with bankers and miners largely agreeing that green shoots of recovery had appeared and a commodity spring was under way.

The annual event held in Cape Town, which claims the title of the world's largest mining investment event, has been a gloomy affair for the past three years. This time around, however, a cheery mood infused the conference as the commodity recovery seemed to gain momentum.

"The industry is coming back," the new CEO of the Indaba, Alex Grose, said in his opening address. "We can look ahead with some optimism that the upturn is sustainable."

The event itself had undergone several changes, he noted. Entry fees, long a source of contention, had been cut by up to 50%, and for some attendees waived altogether. Also, more focus was on Africa rather than just on the host country. The result was a 70% increase in attendance. "You spoke to us, and we listened," Grose said.

South African Minister of Mineral Resources Mosebenzi Zwane took up the theme of a nascent commodity recovery in his keynote address. "Last year, we reflected that we were in a winter, and that we must prepare for spring," Zwane said. "Now spring has arrived."
Randgold CEO Mark Bristow warns that mines
should not make the same mistakes that led
them close to ruin during the last commodity
supercycle.


Zwane said mining would continue to be the pillar of the economy, and that the country still had $3.3 trillion worth of unmined reserves. However, emphasis would be put on spreading the wealth and the government would push ahead with efforts to increase black participation in the industry.

To this end, the long awaited amended Mining Charter would be published this year. The charter has been long in the works and is highly contentious, imposing as it does new levies on mines and enforcing procurement targets. For instance, the charter proclaims that no less than 30% of the industry's total goods and services should be procured from black-owned and controlled businesses — entities that largely do not yet exist.

A looming court challenge to the charter has brought relations between Zwane's office and the industry to an all-time low, but the minister called on the mines to "engage" with his office to clear up issues. The charter comes at a difficult time for local miners. According to the Chamber of Mines, mining production data confirmed the fear that the sector would contract by 5% during 2016.

In spite of the shadow the charter cast over the South African miners, most felt better times lay ahead. Mark Cutifani, CEO of Anglo American, said he, too, noticed a change of mood among colleagues, and that Indaba attendance was up. "I really enjoy being here this time of year, when others up north are freezing," he said, in reference to the balmy summer Cape weather.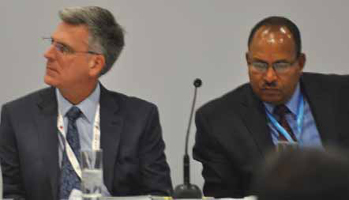 Ethiopian Mining Minister Motuma Mekassa (right) attends the conference to
represent one of the newer resource countries that took part in Indaba.


For the company he leads, the worst is now behind it. "The past two years have kept us on our toes, but we've seen some reprieve," he said. Now that commodity prices are strengthening, the industry needs to learn from the "dark days" and make changes. This includes finding newer methods to mine, especially for South Africa's deep level operations.

Anglo, he said, was working toward a waterless mining strategy as most of its operations were in dry areas. Already, the company was approaching a nearly 80% recycle rate.

According to Bloomberg, with mining at its peak in 2011, the global mining industry was worth around $2.5 trillion. A rapid slide in commodity prices led by a slowing Chinese economy saw it rapidly tumble, and by 2015 it was valued at less than $1 trillion, less than the combined worth of Google and Apple.

If mining companies hoped to make the most of a recovery, they would need to avoid the mistakes of the past, said Mark Bristow, CEO of Randgold Resources, a London-listed company worth around $7 billion. Bristow has been scathing in the past about how companies squandered the gold run by overspending on expansion and doing too little to contain costs.

Randgold was one of the few to escape the rapid decline in fortunes following the end of the commodity supercycle. "Reckless behavior left the industry in debt. Money spent during the supercycle went down the drain," Bristow said. Only by managing their costs would they escape a repeat of the last boom and bust, he said.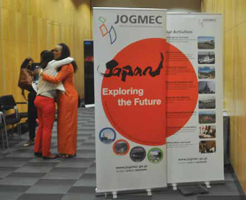 Africa's mining scene is embracing change as demand for
minerals increases, a central theme of this year's Indaba


Bristow added that underinvestment in exploration to try to save costs would mean a shortage of supply down the line. "We are headed for a supply cliff and by 2025 could see a steep decline of gold onto the market," he added.

New Territory
Putting in a strong showing at this year's event were the so-called "Islamic Belt" states in western and eastern Africa. During the previous commodity run, it was central and southern Africa that benefited the most, but this time countries such as Nigeria, Niger, Senegal, Mauritania, Ethiopia and others that form part of Islamic Africa are hoping to join in.

"We've been finding chunks of gold as big as a fist," Hassane Barke, head of exploration at the Niger ministry of mines, said, while manning a booth at the Indaba. "We are getting requests daily from companies seeking a license to explore and mine."

Gold, uranium and newly fashionable minerals such as lithium — used in modern batteries — are among those being sought. Niger has long been the source of uranium, mostly for the French power utility Areva. Now it is looking to develop not only other mineral resources but to bring in further investment into uranium, its chief export.

Indaba attendee Daniel Major, whose company GoviEx Uranium is in the final stages of planning to build a uranium mine in Niger, was enthusiastic. "I can't think of many countries where the minister of mines will simply let me walk into his office to discuss an issue," he said. "Officials in Niger are very easy to work with."

Major said conditions have turned favorably for commodity producers, even uranium miners. "We've battled on with our uranium project since Fukushima, and it looks as if now we can get the mine built," he added. Hardnosed financiers that kept uranium plays at arm's length are now willing to talk money again. By year's end, he expects to begin building his mine.
Indaba organizers say this year's event showed a slight improvement in
attendance due to lower fees for delegates


Another country in the Islamic Belt, Mauritania is also enjoying renewed attention from mineral hunters, said Ibrahim Boh Mavine, an official of the country's mining and petroleum ministry. "We've issued more than 300 exploration permits, most in the past year, and already have 12 mines either working or being built," he said, pointing to a colorized map at Niger's booth, crowded with grids that reference spoken-for claims.

A fresh entrant into the resource game is Ethiopia, which apart from quarrying has almost no significant mining at all. The country is now largely dependent on agriculture for exports and its gross domestic product, Motuma Mekassa, the minister of mines, said.

"We are the fastest growing economy in Africa, but we cannot hope to keep this up if we only depend on agriculture," he said. "By developing our natural resources, we believe our economy will keep growing, and that by 2025 will be a middle income economy."

The country has proven resources of gold, diamonds, coal and potash, among others. However, lack of electricity has hindered development. This, Mekassa said, would soon change as the giant Grand Renaissance Dam hydro scheme comes online in 2018. Ethiopia intends to become a major power producer and exporter into the region, and the additional electricity will also open up the mining sector.

The entry of new countries into the resource sector is attracting interest from contractors as well. Dubai-based Altaaqa Global, part of Saudi Arabia's Zahid Group, considers them a part of its future growth. The company provides instant power stations, using container-sized gas or diesel-fired generators.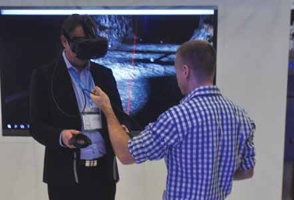 Technology was another theme of the Indaba conference as mining
companies seek ways to improve safety, productivity and reduce costs.


"We've worked in Iraq and Yemen, so if we can survive those places, we can do business anywhere," said Majid T. Zahid, chief commercial officer. The company has offices in Kenya and South Africa, but sees real opporunity in the Islamic Belt.

"We are looking at West Africa very seriously," Zahid said. "It is a region where countries want to develop their natural resources but lack electricity. This is where we can help."

Green Shoots
Tim Biggs, metals and mining leader at Deloitte in London, joined the chorus of positivity. "The mining sector has been through a massive long burn, caused by the collapse of major commodity prices," he said. "Change, however, is in the air." "This year, we've seen a significant rebound in base metals such as iron ore and coal," he said. "Also for lesser metals such as zinc. All the indications are of green shoots."

The looming Brexit was unlikely to change London's position as the center of mining finance, he added. The city would remain the premier destination for juniors and majors seeking capital. Most of the large companies were there. Smaller markets such as Toronto and Sydney would also stay important, but these were better suited to smaller entrepreneurs, he said. Engineering firms were also seeing an improvement in market conditions.

"It is heartening to see signs of revived interest in prospects for mining in various parts of Africa," said SRK Consulting partner and principal consultant, Andrew Van Zyl. "These prospects will be well-served by acknowledgements in both the private and public sectors that mines are complex undertakings that rely on real collaboration and partnerships."
A handful of protestors gather outside Indaba to call for wealth sharing and
better safety for communities around mines.


He said the discussions at Indaba about South Africa were often quite different to those about the mining future of most other African states.

"While South Africa is concerned mainly with sustaining an aging industry — with its attendant challenges of productivity, viability and competitiveness — most of the continent must address issues like infrastructure, logistics and developing mining codes," he said. "In either context, though, good leadership among stakeholders is vital to a successful outcome."

Beyond Africa
While Indaba is indelibly Africa-focused, some participants are looking further afield. Johannesburg-based BME, an explosive specialist, is about to carry out its first blast in the U.S., to secure its operating license.

The company is the world record holder of the largest electronic blast, said CEO Joseph C. Keenan. This method uses a chip rather than a detonator to set off the main charge, allowing much greater precision than if a conventional chemical- based detonator is used.

BME will continue to invest heavily in its African manufacturing base even as it expands in the U.S. "We won't be the hometown kid, competing against U.S. and Canadian explosive companies, so we will have to play to our advantages, such as being a world leader in electronic blasting."

In a twist of script on the ever-present topic of country risk that is raised whenever African states are discussed, it now appears that the big danger to mining projects is not on the continent itself but further afield — the U.S. The "aggressive protectionism" of President Trump's administration could lead to a weaker dollar and sharp drop in imports, which would hurt demand for raw materials, warned Dambisa Moyo, a global economist.

"It is worth reminding you that in the 1930s after the great depression, the U.S. adopted a very aggressive stance similar to what we are hearing today around trade and protectionism," Moyo noted. "It put up approximately 2,300 tariffs to block trade around the world. We know what the consequences were — a decline in economic growth and mass unemployment. Most economists agree that it delayed the recovery of the U.S. economy."
---
As featured in Womp 2017 Vol 03 - www.womp-int.com