New Blasthole Drill Rigs Feature More Autonomy
Evolution of control systems arrives at cabless, remote-controlled rigs designed for safety, accuracy and efficiency

By Jesse Morton, Technical Writer
---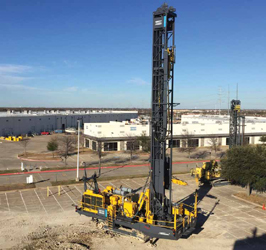 The cabless, autonomous PV-275CA, pictured above at a test and
demonstration site, is tried, true and reflects the company's commitment
to Industry 4.0, Atlas Copco reports. 'We believe strongly in automation
and particularly what automation can contribute to a mine operation,'
Tyler Berens, product manager, automation, says. 'This cabless Pit Viper
not only shows our commitment to that but also is field-ready to go
autonomous.'


By the close of 2016, four of the majors debuted new drill rigs. Three unveiled new rotary blasthole drills at MINExpo. All four now offer either semi- or full-autonomy and machine data integration to mine planning and management systems. This means these days when one shops for a blasthole rig, they are also shopping for remote control and monitoring solutions. The differences in the latest offerings are found in the details.

Cabless Rig for Office Control
Atlas Copco displayed several advancements and offerings at this fall's convention in Vegas, all of which represent the company's dedication to innovation and calculated advancement toward fully autonomous drilling, Matthew Inge, product line manager, blasthole, said. Most noteworthy are a new drill rig, an upgraded cabless and fully autonomous rig, and three autonomous systems software packages for upgrading existing machines and fleets.

Debuted at MINExpo, the Pit Viper 231 is the latest addition to the successful PV-230 series, which is operating in 15 major mining markets. The single pass offering builds on the PV-235 platform, the company reported. It bolsters a 53-ft (16.2-meter [m]) clean hole, single pass tower capable of drilling a hole between 6.75 in. and 9.88 in. (171-250 millimeter [mm]) in diameter.

Those specs should catch the eye of miners, Inge said. "Previously much larger drills were needed because of the tower size to drill those holes in a single pass," he said. "What we've tried to do is create that same single-pass depth but on a frame and on a machine that is 30% lighter than its predecessor and competitors." The benefits are numerous, he said. "It improves the time spent drilling, which is just value added for the blasthole drilling process," Inge said. "You're no longer changing drill rods. You don't have that inefficiency."

Reduced weight translates to reduced costs. "If you can give that same value in terms of single-pass depth but at a lower weight, then you should see the costs to operate that machine go down," Inge said. The rig, like the others in the Pit Viper series, is "technology capable" and a "gateway" to greater automation, he said. The rig is "an entry for most customers to get in there and get their hands on it, and feel it, and see things for themselves, rather than just read about it on paper."




The PV-231 is scheduled for prototype- testing later this year, but has already piqued the interest of several miners. "We're starting to gain interest with customers to see the machine out in the field," Inge said. The company worked with a number of gold miners to perfect the drill and their processes deploying it. The rig "suits most gold mines globally as well as some copper and strip coal applications," he said.

Also unveiled in Vegas, but as a concept design, the Pit Viper 275 CA, a fully autonomous and cabless blasthole drill, features the company's proven CAN-BUS Rig Control System (RCS), which enables the miner to operate the drill from an office. "We can put that machine out in the field today," Inge said. "That is our confidence level in autonomous drilling."

To maneuver it for maintenance, the drill is equipped with a terminal with an RCS display, controls, stool and table. The location of the terminal wiring makes it simple to select a cab or terminal without sacrificing lead time, the company reported. This enables a miner to remove the cab, if needed. RCS components, such as GPS radios, network hardware and the Common Communication Interface data platform are located in a lit ground-level cabinet. The rig also features a boarding safety system, a high precision GPS system, spinning lasers for obstacle detection and a personnel detection system.

The PV-275 can drill to depths of 195 ft (59.4 m), with hole diameter sizes at 6.75 to 10.63 in. (171 to 270 mm).

Key to enabling control from an office at a distance of up to 1 kilometer (km) from the site, Atlas Copco's BenchREMOTE system, empowered by the company's patented Autodrill and Auto Rod Change programs, reportedly provides a 10% increase in utilization benefits. "An operator can control one or more machines," Inge said. "What they are doing is supervising or overseeing the process. Rather than one machine per operator, you could potentially have one operator focus on two or three machines. We actually are doing that in the field."

Autonomous drilling benefits the miner "through efficiency, productivity and safety," he said. "We try to start every discussion around automation with the problem statement. What problem is the customer trying to solve? Sometimes it is all three of those. But usually there is one or two that really stick out in the customer's mind."

Regarding productivity, often the problem statement centers on a desire for greater predictability. "Drilling is at the beginning of the mining process," Inge said. To build plans, miners want to know the rig's availability. "They are going to optimize their fleet, their trucks, their shovels, their blasting, all of that based on what the drill is able to do," he said. "If the drill goes down, that process breaks. We have to make sure it is rugged and reliable. It is that first gateway into producing more."

Thus far, the CA technology has proven itself in field tests. "The mine with Atlas Copco autonomous drills has seen a 30% increase in productivity," Inge said. "They've also seen an increase in bit life, an increase in availability and utilization, energy savings, and the drill that they have is on the 271." Last July, E&MJ reported that BHP Billiton tested two autonomous PV-271s at the Yandi mine for a total of 15,000 hours.1 The miner reported that the automated rigs were 16% faster per hole, had 20% additional utilization, and one-third extra drill capacity. As a result, the company ordered autonomous upgrade packages for 18 drill rigs for a staged rollout to be completed this summer at five iron ore mines in the Pilbara.

Atlas Copco provides training and service to facilitate a swift transition from on-rig to remote control, sometimes occurring in as little as a week.

For its electric over hydraulic controlled rotary blasthole rigs, Atlas Copco showcased the RCS Lite at MINExpo. For the DM30 II, DM45, DML, DM-75 and DM-M3 rigs, and offered as part of three packages, the system supports touch screen displays and cab-mounted user interfaces, and gives operators data needed to improve efficiency for higher quality holes, the company reported. The BASIC system package offering features the AutoLevel functionality. The CONNECTED system package includes that and wireless connectivity through WLAN. It features the SurfaceManager software for managing and reporting drill performance. For maintenance and monitoring, it features the Desktop Viewer, providing a remote read-only connection to the rig for troubleshooting. The TOTAL package features the aforementioned, plus a high-precision GPS functionality. The package enables miners to wirelessly send drill patterns and receive data from the drill, the company reported. A geofence creation functionality is included.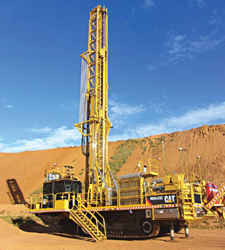 The concept and technology developed for the MD6420C,
pictured here, come from more than 20 years of field
experience working with predecessor models, reliable Cat
components and innovative new designs, Greg Scott,
application specialist, says. 'The MD6420C's smarts protect
the operator, the drill and also ensure that day-in and day-out
that quality holes are drilled — so they can be charged,
blasted, and resulting fragmented material can be loaded,
hauled and processed.'


The RCS offerings reflect the company's commitment to completing each crucial stage of development on the path to full automation, Inge said. "That's why you see our drills in the field drilling autonomously today," he said. "We've done that due diligence. We've done that long process so it is making sure our systems are rugged enough so there is no weak link in the process."

Satellite Guidance Cuts Costs
Caterpillar showcased at MINExpo the MD6420C Rotary Drill, which can drill holes up to 311 mm (12.25 in.) in diameter and down to 74.3 m (244 ft) deep, the company reported. Designed for a long service life and high production at the lowest total cost, it features an application- matched power train, advanced control systems and an optional automation system. "The MD6420C with computer controls drives lower total cost of ownership than a conventional drill," Greg Scott, application specialist, said. "Even drillers that initially reject the technology, find the machine offers them advantages in safety, ergonomics and productivity that are just unachievable with earlier models."

The rig is mounted on a Cat excavator undercarriage with three-point oscillating suspension, which allows negotiation of terrain without overworking the mainframe, the company reported. It features heavy-duty coolers and high efficiency hydraulics that work together with the engine and air compressor as a system to deliver the optimal bit load, rotary torque and speed plus bailing air for superior penetration rates and cycle times. Angle drilling capabilities come standard. "The mast can be raised or lowered in less than 40 seconds, even with a fully loaded pipe rack and full drill string," the company reported. All critical components, including the four leveling-jack casings, the mast pivot and the drill deck, are welded to the mainframe.

Control features include a user-friendly operator interface that provides machine health data and diagnostic functionalities, the company reported. "In the early days the rigs would be fitted with (on-off) type switches to drive basic interlock systems to protect certain functions and components on the machines, which was very basic in nature and limited by its general electrical layout and hydraulics," Scott said. "With the development of CAN-BUS computer controls we have been able to take many more conditional inputs and align them with advanced programming to make the machine 'smart' in regard to overall operation and performance."

The optional automation system controls each step in the drilling cycle to simplify operation and improve accuracy. Connectivity and data management system Cat MineStar Terrain guides the operator and facilitates hole placement and drilling depth, while also reporting on productivity and providing feedback on variation of bench geology. Terrain uses satellite guidance and accurate depth-sensing to ensure that perfectly placed holes are drilled at the exact depth and angle. The system enables depth accuracy within 10 centimeters, the company reported. "The programmable variables for auto drilling, tramming and other functions on the drill essentially tell the computer what it's range of operation will be, whereas the programming will then modulate the machine within those settings to achieve the best possible production rates," Scott said. "These protective circuits and drill assist functions act as a 'force multiplier' and propel the operator to a productivity level many times higher than they could achieve with old-school manual rigs without the computerized tooling and programming onboard."

The system can also contribute to mine safety. Cat Terrain prevents rigs from drilling over bootlegs so redrills avoid undetonated holes from prior benches. Further, it will stop the rig from leaving an area defined by a virtual boundary. The use of digital blast plans keeps surveyors away from working equipment and unsafe areas. "Safety interlocks and conditional monitoring have greatly increased the number of protective layers on the drill — all orchestrated by complex programming, which constantly monitors and feeds input to the control system," Scott said. "Any variation that falls outside of recommended best practices and the programmable variables that are fine tuned for a specific site or application will effectively lock-out or de-energize a subcircuit of the drill (or the entire drill itself, depending on severity of the condition)." The company reported that a miner deploying Terrain will see a 50% reduction in lost-time incidents.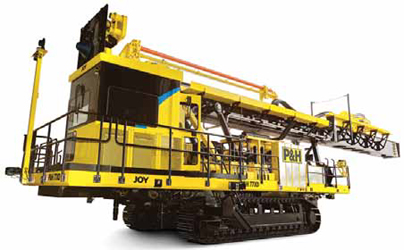 Unveiled at MINEXPO and pictured here, the 77xD's boxer style helps with cycle time efficiencies, Matt Collins,
product manager, drills, says. 'We are finding the mast offers exceptional strength and stability, standing up to
high levels of torsional loading,' he says. 'The design also includes a lightweight carriage with dual pinion
engagement that allows the mast to hoist and lower with full string engaged and carriage positioned at the top of
the mast.'


Terrain reportedly provides a 5% improvement in loader performance as a result of more accurate drilling and therefore more predictable blasting. Loaders can more easily work the muck pile, improving load cycle times, fill factors and overall haulage fleet productivity, Cat reported. In the plant, uniform material size facilitates crushing for optimum throughput and lower energy costs.

The system, in general, boosts productivity and cuts operating costs, the company reported. Additionally, uniformity of processes reduces component wear and therefore slashes the cost of consumables. Miners will see "less damage due to accidents during manual operation, lower fuel- burn, consistent operation and output, better tooling life, and holes drilled to better precision," Scott said.

Bottom line is the rig empowers operators to more easily meet metrics milestones, he said. "Ground conditions and formation will constantly change, cutting tools will wear, plus ambient and climatic conditions will fluctuate, but the push to hit production targets will always remain the same," Scott said. "With the MD6420C the driller has a backstop with the onboard computer controls 'assisting' the driller to meet those targets."

3-D Grid Detects Obstacles
Joy Global introduced the P&H 77XD blasthole drill at MINExpo. The rig, with a bit range diameter of 7.88 to 10.63 in. (200 to 270 mm), can be configured for rotary or hammer, diesel or electric power, and single-pass or multipass drilling, the company reported. The rig is equipped with features the company said can deliver an up to 10% maintenance and repair cost advantage, and an up to 5% availability advantage. "This new machine offers tremendous versatility with the ability to vary in configuration from simple base functionality to highly equipped options with technological features that optimize cycle times, increase ease of use and lower operational costs," said Matt Collins, product manager, drills. For example, it has a boxer style mast construction with a simple bolt-on rack and pinion pulldown design. It features automatic bit handling and pipe handling functions.



Like the competition, the rig features automated functions, and can be remote-controlled and otherwise integrated to a digital or satellite system-en hanced mine. It is compatible with Joy Global's new high-precision GPS teleremote operation console and automation solution, which features geo fencing, auto-navigation, obstacle detection and mitigation, and the Hawkeye 360 camera system.

The rig is remote controlled from a compact portable console with the same interface available in the operator's cab. It is effective from a distance of up to a mile via local site mesh or Wi-Fi. Safety features include a physical lockout key, SIL-3-rated E-stop and a 500-ms communications watchdog.

Enabling the rig's automated functions, sensors and an array of beams create a 3-D grid that calculates size and distance and can differentiate objects. The user defines the GPS limits for boundaries when creating geo-fencing.

Auto navigation, the company said, provides high-accuracy and uniform drilling processes, ensuring desired fragmentation size, which can increase production and reduce wear on equipment and components. It factors x, y and z axes when setting hole depth. The function ensures holes are drilled within 10 centimeters (cm) of the planned pattern. Advanced auto drill adjusts the rotary speed and feed rate to maintain the optimal depth. Operators can compensate and adjust spontaneously when needed to situations that affect cycle time performance to keep the bit engaged.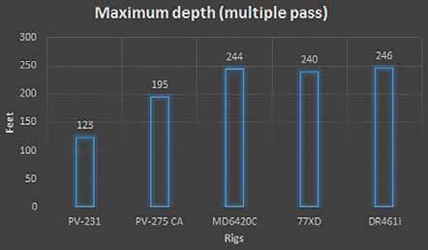 Other innovations separate the rig from its predecessors and the competition. Its new boxer-style single rack-andpinion mast offers the same amount of retract force as pulldown to aid the operator in the case of getting stuck in tricky material, or even hole collapse, Collins said. "The user will not experience any potential chain slippage, but rather operate under constant load."

While it has been proven to increase efficiency, the rig also reflects Joy's "safety- driven core philosophy," Collins said. The rig's auto bit changer function is one example. "This was designed to allow for the highest levels of safety with tasks that are typically manually intensive: lifting and threading bits," he said. "The auto bit changer allows the operator to simply touch a button to exchange a used bit with a new bit in less than 10 minutes — without leaving the cab or, if operating the machine in autonomous mode, without boarding the machine. This revolutionary feature will allow more time in-the-hole drilling."

Similarly, the one-touch Auto Pipe Changer function automatically exchanges or adds drill pipe into the drill string. "Typically, this would be a process-intensive procedure that can introduce challenges with cross threading," Collins said. The goal here is to offer efficiencies with consumable management, leading to longer component life and easier operation through automation."

Last year, Joy told E&MJ it had field tested units at North American copper and iron ore operations.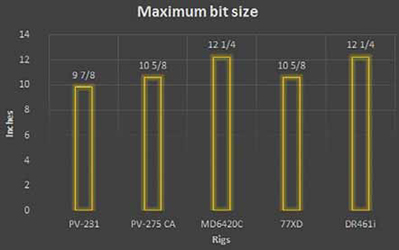 1 Controller, 3 Drills
Sandvik announced at MINExpo its AutoMine Surface Drilling automation solution system had been field-proven on the DR461i rotary blasthole drill. The "system improves machine performance and efficiency by offering automated features that enhance operator comfort and capability," Tab Siegrist, global product line manager, surface drilling, said. "AutoMine provides reduced cost, improved safety and improved consistency to the high performance of the DR461i."

The rig drills an 8.5- to 12.25-in.-diameter hole (216-311 mm) with a maximum single-pass depth of 102 ft (31 m). The maximum multipass depth is 246 ft (75 m). It is reportedly an evolutionary successor to the proven DR460, the company said. "The DR461i features class-leading rotary torque and feed system power enabling improved drilling performance," Siegrist said.

The rig is equipped with a CAN-BUScontrolled hydraulic system, enabling monitoring for timely preventative maintenance. Pipes can be handled from within the cab, meaning without manual intervention, by the hydraulic breakout wrench. The cab features touchscreens, armrests, angled windows and a safari- style roof, the company reported. "The cab and controls are ergonomic and efficient, offering greater comfort for an onboard operator," Siegrist said.

One selling point, the company said, is wider, 360° walkways for drill access during routine maintenance. A hydraulic main access stairway comes optional and will give a parallel step onto and off the drill.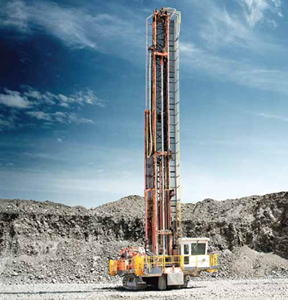 The DR461i, pictured above, has class-leading rotary torque and feed
system power, Tab Siegrist, global product line manager, surface drilling,
says. 'The i series control system offers improved efficiency with advanced
diagnostics to give the customer faster troubleshooting for shorter repair
times,' he said. 'The control platform is designed for integration with the
Sandvik Automation Offering.'


The DR461i can be operated remotely by a station installed in a van, a fixed control center, or on a portable self-powered trailer. "The AutoMine has a superior teleremote station, available as a skid or trailer mount, that is large enough for multiperson simultaneous training," Siegrist said. The system communicates via line-of-sight, direct to the drill or via the mine communication network, the company reported. Up to three drills can be managed per station. "This further enhances machine efficiency by removing the operator from the distractions of the environment on the machine," Siegrist said. "Further, with the capacity to operate three drills from one teleremote station, efficiency of the drilling operation is greatly improved."

The GPS-based 3-D navigation system ensures drilling accuracy, both for location and depth, within 5 cm. Drilling data is streamed to the command center in real time, for use in downstream processes. Coming standard with the latest versions of autodrill and auto level, AutoMine facilitates consistent control of parameters, improving results and reducing wear on drill feed and rotation systems. "The system collects production data to allow for better decision-making based on current drilling conditions and allows for intelligent blast loading by generating drilled hole strata information from the advanced 'Measure While Drilling', MWD algorithms," Siegrist said. "The 'Opti-Mine' information management server collects all relevant drilling data for improved drill and blast results delivering the right fragmentation to optimize the loading, hauling and crushing." In general, the system improves the autonomous capabilities of the DR461i and enables less-experienced operators to achieve more predictable results, the company reported.

Thus far, deployment of the technology has fruited tangible gains for a miner, who, as a result, plans to expand its fleet, Siegrist said. "Sandvik has two DR461i units in operation at a New Gold site in Ontario where we have shown the ability to improve the drilling performance, increasing the total holes per shift with teleremote operation," he said. "The future plan, once they have a third drill on site, is to further improve the efficiency of the drilling operation by utilizing teleremote fleet, where one operator can control up to three machines."

Pairing AutoMine with the rig practically ensures cost savings, efficiency and operator empowerment, Siegrist said. "AutoMine provides reduced cost, improved safety and improved consistency to the high performance of the DR461i." The combo presents a snapshot of future offerings. "The evolution is occurring with the incremental 'i' series models coming in the next few years utilizing the SICA control platform that is compatible with today's and tomorrow's advancements. Enhanced troubleshooting reduces repair time, thus reducing costs. The latest release of our easy-to-operate controls improves operator comfort. Larger displays and advanced lighting reduce nighttime visual fatigue," he said. "Sandvik's next-generation autonomous drills are just around the corner."

An Attractive Exploratory Alternative: Sonic Drilling
Lower gold prices forced Ajax Mining to look more closely at efficiency improvements at its operation in Alaska. "By updating our machinery and optimizing our processes, we increased production and decreased costs," said Kim Ferguson, owner, Ajax Mining. "Ajax Mining's success ultimately depends on reliable and accurate geological data. This enables predictable and environmentally conscious production where only viable deposits are disturbed and processed."

Like Ajax, many mining contractors are looking for ways to increase productivity and decrease costs. As mining markets improve, the temptation to rush through processes, such as exploratory drilling, pre-expansion investigations and thorough planning for new tailings storage facilities (TSFs) will likely increase. Regardless of the specific application, whether it is the initial investigative work or monitoring the situation after the fact, sonic drilling could be an effective, efficient and safe option.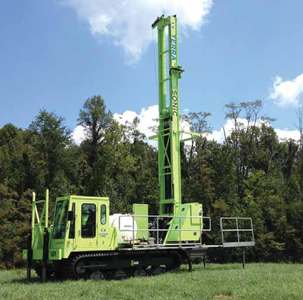 The crawler-mounted TSi 150C Sonic Drill Rig can drill up to 1,000 feet
depending upon the lithology and casing design.


The crawler-mounted TSi 150C Sonic Drill Rig can drill up to 1,000 ft depending upon the lithology and casing design. The vibration of the drill string liquefies the surrounding soil matrix reducing friction and resistance. When rock or other hard layers are encountered, the sonic energy pulverizes the outer edge of the bore while preserving a solid core for accurate mineral analysis.

Sonic drill rigs usually can drill three to five times and sometimes 10 times faster than conventional rigs. This translates to less time on site, more production and fewer mobilizations to the field.

These units are uniquely suited for exploratory work because it can create in situ core samples for analysis. The precision nature of the drilling and the ease with which the drill string passes through the substrate helps ensure the core sample will be preserved. Additionally, because sonic rigs can drill straight with little or no deviation, the location of the ore deposits is accurately determined.

A Sonic Drill Rig can reduce investigative derived waste (IDW) by as much as 80% in comparison to more conventional drilling methods. Along with the obvious benefit of minimizing overall impact on a site's surrounding environment, reduced IDW also translates into cost and time savings, which can be differentiators on a project.

While it is an attractive alternative for core retrieval and exploratory drilling, it can also be used for angle drilling and can shift to split spoons, Shelby tubes, and/or rock coring as the site conditions and project objectives warrant.

The TSi 150C specifically offers the benefit of a track mounting, so areas that may be difficult for other types of drill rigs can be accessed with significantly more ease. And, it can drill a completely straight borehole, according to the manufacturer.

Ajax is one company that will be turning to sonic technology from Terra Sonic International in 2017. "We have been considering alternative drills for several years," Ferguson noted. "The sample quality and ability to quickly drill a wide variety of materials i.e., permafrost, thawed and water saturated gravels makes sonic drilling well-suited to our projects. After considering multiple manufacturers, Terra Sonic was our final choice due to their excellent customer support and knowledgeable staff. We were able to tour their factory and were impressed with the quality of the build and work that went into each rig. We are eager to take delivery of our new rig and are confident it will help strengthen our exploration process and consequently improve our overall success." Ajax is investing in a TSi 150C Sonic Drill Rig

Assessing TSFs
While sonic drilling can help companies like Ajax save money and time, it is also ideal for the assessment of mining sites for both safety and profitability. Over the last few years, the failure of mine tailings dams has become an all-toocommon occurrence and has caused a enrenewed focus on the design and construction of these facilities. Mine owners and operators are assessing the stability of their existing impoundments. In addition, owners are realizing some impoundments contain tailings that, with current technology, can be reprocessed to produce valuable material.

Sonic drilling can assist during the planning and design stages of TSFs. Rapid exploratory drilling can help the planners understand better the area in which the impoundment is planned. Part of this process might include the installation of inclinometers so that it is clear how material will flow in the area. These rigs can also help with the installation of monitoring wells so that the area can be evaluated from a baseline to help ensure no hazardous wastes are seeping into surrounding groundwater tables. In-situ core samples can show geologists the different features of the substrate so that the tailings facility can be placed in an ideal, targeted area.

Once the TSF has been constructed, sonic rigs can help with the installation of piezometers for additional monitoring. The ability of Sonic Drill Rigs to secure perfect, continuous core samples means that geologists and environmental experts can regularly implement soil and water sampling to make sure the structures are sound and all hazardous materials are being secured properly.
---
As featured in Womp 2017 Vol 03 - www.womp-int.com