Altura Awards Mining Contract for Pilgangoora
---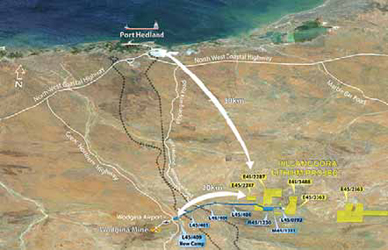 Altura plans to export lithium concentrate by ship from Port Hedland to markets in China and elsewhere.


Altura Mining has awarded a five-year contract to NRW Holdings Ltd. for provision of mine development and mining services at Altura's open-pit Pilgangoora lithium project, located in Western Australia about 123 km road miles southeast of Port Hedland. Mine production is planned at a rate of 1.4 million mt/y of ore to produce 219,000 mt/y of spodumene concentrate, containing 6% Li2O, over a mine life of 14 years.

The definitive feasibility study for the Pilgangoora project was based on 20.3 million mt of probable ore reserves grading 1.06% Li2O. Capital cost to develop the project is estimated at A$139.7 million. The project payback period is estimated at 1.8 years.

The design of the Pilgangoora processing plant is progressing well, and the project and procurement teams have advanced a number of key tenders. Project commissioning is currently scheduled for the fourth quarter of 2017.

The scope of work for the NRW contract includes construction of mining infrastructure, including the tailings storage facility and run-of-mine area; development of mine haul roads; drill-and-blast services; and load-and-haul mining of ore and overburden. NRW will utilize existing equipment that is becoming available following completion of another project and that can be mobilized for a rapid start of work at Pilgangoora.

Up to 60 NRW personnel will be employed on site, and NRW will work with the local Njamal indigenous communities to offer employment and subcontract participation.

Concentrate will be exported by ship from Port Hedland to lithium concentrate processors, predominantly in China, for further processing into a wide range of lithium chemicals, including lithium carbonate, lithium hydroxide, lithium metal, and lithium chloride.
---
As featured in Womp 2017 Vol 03 - www.womp-int.com