Exploration Budgets Fall for a Fourth Consecutive Year
---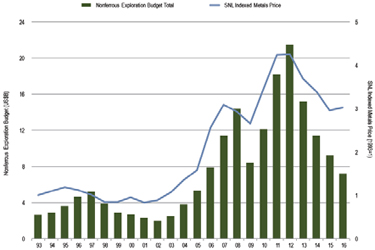 Estimated global nonferrous exploration budgets have fallen to their lowest point since 2006.


The exploration sector remained depressed again in 2016, after a record high of more than $20.5 billion in 2012, exploration budgets have now fallen for four consecutive years. The 2016 exploration budgets by 1,580 companies totaled only $6.89 billion, a year-on-year drop of 21%. The average 2016 exploration budget among the surveyed companies was $4.4 million, the lowest since 2009, and the median budget was $800,000, which is the smallest in more than a decade.

These details and more can be found in the 2016 Corporate Exploration Strategies (CES) report, published by S&P Market Intelligence, working in conjunction with the Prospectors and Developers Association of Canada. The report covers an estimated 95% of worldwide commercially oriented nonferrous exploration budgets.

The report does say that some positive signs have recently emerged with financings having gained traction since March 2016. Nevertheless, caution persists as the amounts being raised remain far below those of a few years ago, and financings for the fourth quarter of 2016 seem likely to have been lower than required to suggest a significant improvement in exploration budgets this year.

In 2016, the CES report said that companies lowered their spending in an attempt to reassure investors, with the major companies shrinking exploration departments and the junior companies slashing spending. Across the board, projects were put on hold and agreements renegotiated, with a marked shift away from grassroots exploration in favor of later-stage, less-risky assets.

As the industry struggles, organic growth will continue to slow and project pipelines will be affected. Exploration spending by the major companies, which are likely to remain focused on brownfields targets until more positive economic conditions prevail, characteristically outperform, or at least track, the industry trend.

Therefore, given some positive signs, S&P Global Market Intelligence expects a small uptick in the majorsí budgets in 2017. Unfortunately, it seems likely that the aggregate exploration budget for junior explorers will be slightly lower in 2017. Given the still mixed indicators, the CES team is cautiously optimistic overall, and projects total corporate exploration budgets for 2017 to be flat.
---
As featured in Womp 2017 Vol 03 - www.womp-int.com