Pretiumís Brucejack Mine Nearing Startup in Northwest British Columbia
---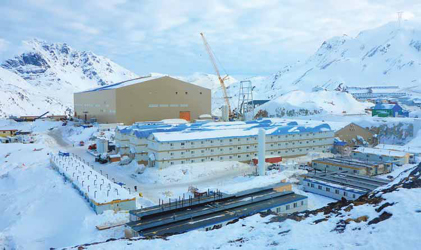 The Valley of the Kings portal building will serve as the primary access point to convey gold ore from
the underground crusher to the mill. (Photo: OceanaGold)


Pretium Resources reported that commissioning is under way at its high-grade, underground Brucejack gold mine in northwest British Columbia and that the mine will reach commercial production before year-end 2017. Brucejack is scheduled to produce an average of 504,000 ounces per year (oz/y) of gold over its first eight years of operation and a mine-life average of 404,000 oz/y over 18 years.

Capital cost to complete the Brucejack project is now estimated at $811.1 million. The feasibility study for the project, completed in June 2014 and updated in December 2016, considers only the projectís Valley of the Kings deposit, which hosts proven and probable reserves of 6.9 million oz of gold in 13.6 million metric tons (mt) grading 15.7 grams/mt gold.

The study describes a path to production for a 2,700-mt/d underground mine. Stopes will be mined using a combination of longitudinal and transverse mining, depending on zone width and orientation. Cemented paste tailings will be prepared in a paste plant on surface near the mill and pumped underground for distribution to the stopes.

As of early February, underground development was well advanced, with 11 stopes crosscut on two levels in preparation for long-hole drilling. Crosscutting of a further four stopes was in progress. Long-hole drills were being mobilized, with long-hole drilling expected to begin in the second week of March. Construction of underground infrastructure, including the crusher, conveyor and transfer tower, was ongoing.

Construction was also ongoing on the Valley of the Kings portal building. The portal will serve as the primary access point to convey gold ore from the underground crusher to the mill.

Also as of early February, all major mill components had been delivered to site and assembly and installation was in progress. Processing will be based on conventional gravity concentration and sulphide flotation. Gravity concentrate will be refined on-site to produce gold-silver dorť. Flotation concentrate will be trucked to Terrace, British Columbia, where it will be loaded in bulk form into rail cars for shipping to a smelter in eastern Canada.

The 330-person Brucejack camp, which includes the mine dry, offices, recreation facilities, dining hall and kitchen, had been commissioned and was fully operational in early February.

The Brucejack project is located approximately 950 kilometers (km) northwest of Vancouver and 65 km north of Stewart, British Columbia. Construction of the 57-km transmission line to the site was nearing completion in early February. All towers were in place, and the first 42 km of the line had been energized. The final 15-km section was 90% complete.

An additional six 2-megawatt (MW) diesel generators along with the projectís initial 5 MW of diesel power are located on-site and will provide sufficient power to maintain full mill and underground production in the event of any grid power interruption.
---
As featured in Womp 2017 Vol 03 - www.womp-int.com