Diesel Update: New Engine Platforms and Updates Aim for Higher Versatility, Lower TCO
High-horsepower engine sales are stuck in the slow lane, but suppliers are adding new services and performance improvements to pave the way for future fleet expansion opportunities

By Russell A. Carter, Contributing Editor
---
A worker tightens a valve spring retainer on a 12-cylinder Series 4000 diesel at MTU's Aiken,
South Carolina, engine plant. MTU, a unit of Rolls Royce Power Systems, delivered the first
Series 4000 unit to a mining customer in 1996.


Like an audience holding its collective breath while a performer prolongs a difficult note at the end of a song, mining-industry suppliers probably won't take a deep breath until they hear a higher note of interest from mine owners in placing bigger orders for new production equipment.

In today's business climate, hard rock producers are largely focusing on reducing operational costs, paring future project plans to an absolute minimum and preserving/extending the useful life of their current mobile equipment assets. One of the consequences of this focus is that trucks and other equipment are in some cases sitting idle — or on their way to an auction site — at mines around the world, and large fleet orders are few and far between. Although some commodity prices showed signs of recovery over the past year, any surge in large fleet purchases is probably still over the horizon for most mining original equipment manufacturers (OEMs).

Sitting in the front row of the supplier audience are the major providers of the diesel engines that power mining-class haul trucks, excavators, wheel loaders and bulldozers. As third-quarter 2016 financial reports from Cummins, Caterpillar and others indicate, demand for new, high-payload haulers and diggers — and the large-displacement engines that power them — remains weak, particularly for topof- the-line, ultra-class trucks and shovels. The most optimistic forecast from these suppliers predicts, at best, a near-term flattening of the downward sales curve that followed the end of the mining boom.

Consequently, it's been a period of revenue realignment, goals adjustment, and for some engine manufacturers, restructuring to cope with economic reality to better serve the needs of their mining customers. This was evident at MINExpo 2016 — the industry's largest equipment trade show, held last September — where engine suppliers emphasized new products and services primarily aimed at helping customers keep their high-horsepower diesels running longer and more reliably, even with extended service intervals.

2 New Platforms From Liebherr
To be sure, however, economic conditions haven't totally stifled new engine development. Earlier in 2016, Liebherr debuted two new engine platforms — the D96XX and D98XX series, covering the 700- to 4,500-kW (940- to 6,000-hp) range. The first of the D96XX series will be a V20 model rated at up to 1,500 kW at 1,900 rpm.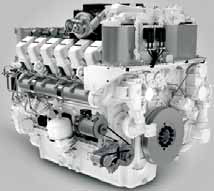 Liebherr's 9812 engine, introduced in 2016, provides
up to 2,700 hp (2,000 kW).


The new Liebherr engines comply with the U.S. Environmental Protection Agency's (EPA) Tier 4 final exhaust emission limits and can be equipped with the company's selective catalytic reduction (SCR) exhaust gas aftertreatment system. During the design phase, said Liebherr, its engineering team incorporated a system that uses multiple fuel injection pulses at a pressure of 2,200 bar (32,000 psi), made possible by a new common rail fuel injection system, and providing enhanced performance and improved emissions control. According to the company, engine cylinder banks also were designed at an optimum angle of 108° and the firing order was sequenced to minimize the need for rotary vibration damping.

With a specific power output of up to 43.5 kilowatts (kW) or 60 hp per liter, Liebherr's D98XX series engines are claimed to have the highest power density available in this market segment. In addition, said Liebherr, principal components such as injectors, high-pressure injection pumps and intelligent engine control units are designed for high efficiency and maximum fuel economy. The D98 series will be available in three different cylinder layouts: first a V12, followed by a V16 and a V20 cylinder configuration. Modular design throughout both series is intended to reduce spare parts diversity while offering more flexibility.

Liebherr exhibited the V12 model of the D98XX line, rated up to 2,700 hp (2,000 kW) at MINExpo. Production of the first of these new-generation engine series began in late 2016 at Colmar, France, and in Bulle, Switzerland.

The company noted that its new SCRFilter exhaust gas aftertreatment system is available for all engine series. The system is described as "compact," with dimensions reduced by combining a DOC catalytic converter, an SCR-coated particulate filter and an SCR catalytic converter. Passive regeneration is intended to ensure reliability and extended operating life: maintenance is not needed until after the first 4,500 operating hours.

The company also announced that, using the diesel-powered D9620 model as a design jumping-off point, it has developed a natgas engine for stationary applications, rated at 1,070 kW (1,454 hp). The 20-cylinder G9620 gas version was displayed late in 2016 at an energy-industry trade show. The 48.7-liter engine offers 44% mechanical efficiency and includes integrated air filters, on-engine Liebherr ECUs with calibrated datasets and a new water-cooling concept. The new gas engine will be available in two basic versions — "high efficiency" and "high response" — and can be used both in net parallel work and island mode, as well as in 50- or 60-Hz applications.

In October 2016, Kohler Power Systems, a major industrial genset supplier, announced it would use Liebherr diesels to power its new line of KD gensets. According to Kohler, the Liebherr engines will be branded as Kohler products, and will be available in KD gensets ranging from 800 kVA to 4,200 kVA and in 50-Hz and 60-Hz configurations. The Liebherr engines used in these gensets will be divided into two series, labeled 135 and 175, with basic design roots of both series related to those of its new mining-diesel series.

Cat Updates a Classic
In September 2016, Caterpillar called attention to the fact that it had been producing versions of its 3500 engine platform for 35 years — and that 190,000 3500-Series engines were in the field and had racked up 3 billion operating hours in mining and other industrial applications. In October, it introduced the next generation in the family, the 3500E, which includes a number of significant upgrades from its predecessors. Although the 3500E series is intended for mass production, it has been designed to allow in-the-factory customization that will enable Cat to serve a wider set of applications while also facilitating specific configurations for small-volume orders.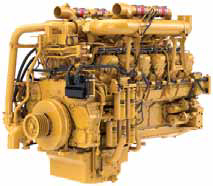 Cat's new 3500E engines are backward compatible
with earlier models in the 3500 Series.


According to the company, the 3500E series offers up to 20% greater power density, 10% greater fuel efficiency, enhanced durability, and longer life to overhaul while reducing owning and operating costs. The 3500E is designed to be remanufactured and key components are backward compatible. The 3500E is also capable of meeting the most stringent diesel engine emission regulations without sacrificing performance or reliability, according to Cat.

The new series extracts higher power from an enhanced cast iron engine block and cylinder heads, while an improved crankshaft design increases durability. Two types of fuel systems are available — mechanical electronic unit injector or common rail — to match applications and regional regulations. The 3500E features fully integrated aftertreatment options to meet EPA Tier 4 Final and European Union (EU) Stage IIIB emissions standards, using either a urea SCR aftertreatment system or an exhaust gas recirculation (EGR) aftertreatment system, depending upon customer application.

The series will be equipped with Cat's A5 engine control module, which offers a faster processor and more memory. The additional processing capabilities also help provide more diagnostics and predictive diagnostics, or prognostics. "We're putting telematic modules on the engine," said Ronald Smith, engineering manager for the 3500 platform. "Users can interrogate any sensor, getting readings and doing things like comparisons of the sensor compared to 30 days ago. Product Link uses cellular or satellite connections to operate anywhere."

The new engines will be built in Caterpillar's plant in Lafayette, Indiana, USA, and at its new large engine manufacturing facility in Tianjin, China.

Volvo Penta's New Engine: Less is More
In April 2016, Volvo Penta introduced the TAD1643VE-B model, a 16-liter diesel engine, which it said was developed in answer to customer interest in finding alternative power solutions to larger-displacement diesels in applications where engine dimensions, weight and limited space are concerns.

Naval Singh, Volvo Penta's global segment specialist in mining and construction, said, "This new product is a perfect example of the close cooperation between customer and manufacturer. The idea and push came from our own existing customers.
Volvo Penta's 16-liter TAD1643VE-B model offers
performance typically associated with larger
displacement engines.


"After listening to them, we did some homework and found that there is huge possibility with our technology and our offering, which can replace the current range of bigger volume engines — from 19 liter to 20 liter — used in the versatile application market today.

"We all know how far technology has moved since those old installations were first introduced in the market, so we were able to use our knowledge to create something compact, powerful and reliable."

The new 565-kW (768-hp), 16-liter engine is based on the TAD1643VE, but with modifications that allow it to be installed in a wider range of machines. It is compliant with EPA Tier 2 Power Band E, which is equivalent to EU Stage II regulation 96, and China's NS III emissions regulations for non-road mobile machinery (NRMM). Main features include:
• New water-cooled turbocharger.
• New fuel injectors and more efficient combustion.
• Engine brake: Volvo Group patented technology offering 250-kW performance and 10-times higher engine brake capacity.
• Increased torque and torque curve: Improved turbocharging results in an extended torque curve, enabling better performance at a wider range of RPM.
• Electronically controlled wastegate, allowing for mobile, high altitude and stationary applications.
• Emission reduction system without the need for exhaust gas recirculation (EGR).
• Modern engine control unit (ECU) and same electrical interface as the latest Stage IV/Tier 4 final engine.
• Upgraded engine management system (EMS 2.3).
• Claimed highest output per liter of displacement in its class.

Singh said in order to maintain commonality of parts in customers' installations, Volvo Penta stayed closely to the same engine footprint as the previous model; the TAD1643VE-B shares common electrical and physical interfaces with Stage IIIA, Stage IV and Tier 4 Final engines. The latest version of Volvo Penta's portable diagnostic tool VODIA is available to support the TAD1643VE-B. VODIA is an aftermarket troubleshooting application for PC platforms, which enables customers to assess any issues to be addressed for repair and maintenance.

Volvo Penta quickly found a home for the new engine, announcing a collaboration with Sandvik Mining & Construction to power Sandvik's newest underground mining truck, the TH663. Commenting on the arrangement, Mark Ryan, Sandvik's product line manager for trucks, noted that "[Underground] is a tough application, but we've noticed that with the better torque delivery of the Volvo Penta engine, our trucks can haul up the ramp faster now, compared to the previous 19-liter engines we used.

"It produces fewer emissions, also, which not only makes ventilation better for workers in the mines, but has an improved environmental footprint — so it's a better option all-round."

Total cost of ownership was a factor in deciding to install the Volvo Penta engine in the trucks, according to Ryan. "Capital and operating costs are both lower than with the previous engines," he said. "Fuel efficiency is better and as the Volvo engine is a newer and more superior design than the engines we used to have, downtime will be reduced and we anticipate that it will last longer overall."

Cummins Tackles TCO Improvements
Cummins noted recently that its Tier 4 Final high-horsepower engines have reached a cumulative 500,000 hours testing and operation working in mining and other applications. Zach Gillen, Cummins' executive director of mining business, said, "We are accumulating more than 30,000 hours of operation in the field every month, and results show that engine performance is exceeding expectations."

Cummins' Tier 4 Final mining engines are based on its Tier 2 engine platform, enhanced by a range of engine features plus the integrated Cummins SCR aftertreatment system. The modular SCR system reduces (NOx) emissions to Tier 4 Final levels. Cummins said it has been using SCR technology since 2006, with more than 1.5 million SCR systems shipped around the world.

Among the modifications included in its Tier 4 Final engines are a new cylinder design, upgraded turbocharging and an improved crankcase breather system. Fuel-injection pressure through its Modular Common-Rail Fuel System (MCRS) has increased, and larger injector accumulator volume helps reduce particulate emissions and improve fuel economy. Cummins said heat-rejection levels in the Tier 4 Final engines are similar to Tier 2 levels, allowing the majority of customers to utilize an existing cooling package, and the SCR system is seen as a drop-in replacement for the exhaust silencers.

Gillen said, "We know that total cost of ownership is critical in today's market, and our Tier 4 Final products are expected to improve average fuel economy by 3% to 5% versus Tier 2, with a total fluid savings of 1% to 2%."
Cummins' Tier 4 Final high-horsepower engines benefit from a new cylinder design, upgraded turbocharging and an improved crankcase breather system, as well as higher
fuel injection system pressures.


As E&MJ mentioned in its MINExpo show wrapup report (See MINExpo 2016 Highlights Advances in Mining and Processing Technology, October 2016, pp. 56–67), Cummins has launched several initiatives aimed at reducing engine TCO and streamlining engine health monitoring and diagnosis.

Its Data Enabled Mining Solution — a new prognostic capability that allows Cummins to monitor engines and deliver accurate, real-time operating information — is aimed at providing customized maintenance and operation solutions that can reduce costs by providing operational data visibility such as driver behavior and idle mapping. The Data Enabled Mining Solution operates over cellular networks, and in the near future, satellite communications systems. The system is able to stream real-time, high-frequency data, which, when coupled with support from the expertise in the company's solutions center, allows monitoring of an entire fleet, 24/7.

Another cost-reduction initiative, called Fuel Saver, is currently available for QSK50 and QSK60 engines, with plans to extend it to other high-horsepower engines. It offers a number of options to reduce fuel consumption for mining trucks by 1%–5% annually, which equates to an average annual savings of $6,000 to $30,000 per vehicle.

Cummins' Gillen said, "The improvements are achieved through base engine modifications, fuel system upgrades and electronic calibration changes. Our technicians will offer a tailored solution based on the customer's specification to achieve the best possible savings. They are available for Tier 1 and Tier 2 engines in service now."

Fuel Filtration Upgrade From MTU
In late 2016, Rolls Royce Power Systems' MTU engine division celebrated the 20th anniversary of delivery of the first Series 4000 diesel in 1996 — a 16-cylinder model bought by Euclid, a heavy-equipment supplier later acquired by Hitachi. (The Series 2000 engine was also introduced to the mining industry in 1996.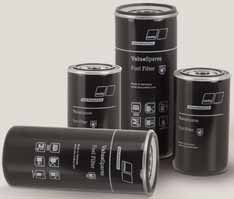 MTU's fuel filtration upgrade kits include options for both
normal and extreme filtration applications


MTU noted that the experience gained from selling 37,000 engines worldwide with a total of 180 million hours of operation in all kinds of applications has driven development of the third generation of its common rail injection technology for diesel engines — a vital cog in MTU's design strategy to meet EPA Tier 4 emissions standards without need of exhaust gas aftertreatment.

With fuel-injection pressures employed by modern common-rail systems almost tripling over the past two decades — MTU said its first Series 4000 used about 13,000 psi, while its latest system uses more than 36,000 psi — the need for better fuel quality and component protection also has grown accordingly. Apart from providing an energy source, diesel fuel serves to lubricate components in high-pressure pumps and injectors; therefore, for maximum component life, fuel must have the correct viscosity and lubricity characteristics — and it must be clean. Dust and dirt contamination in fuel can lead to rapid abrasive wear at the high pressures employed in modern systems. To assist its mining customers in ensuring diesel fuel used in its Series 4000 engines is as clean as possible, MTU has released a new fuel-filtration upgrade kit for these engines.

In a recent paper*, MTU described the configuration of the new kit and its likely benefits: The first aspect of the upgrade involves replacing the filter elements within the primary and secondary filtration unit with new MTU high-efficiency filtration elements. To achieve the required efficiency, the filter elements are embedded with extremely fine glass fibers, which enable a very high separation with maximum dirt holding capacity. The kit includes two primary and two secondary filter elements. Additional single spare elements can also be ordered.

The new filters are designed to have similar change-out intervals as the original filters. In extreme conditions, a significant increase in filtration is often accompanied by a reduction in filter lifetime within the primary and/or pre-filtration system. To compensate for these reductions, MTU developed additional upgrades for both pre- and primary filtration units. These optional upgrades increase filtration capacity by adding duplex units into the system, thereby extending filter life. The MTU Duplex Primary Filtration Kit includes filter head, fittings (standard and metric) and MTU high-efficiency filter elements (including two spare elements) The MTU Duplex Pre Filtration Kit includes filter head, fittings (standard and metric) and filter elements (including one spare element). The filtration upgrades are available individually or as an all-inclusive kit that combines the MTU Fuel Filtration Upgrade Kit, MTU Duplex Primary Filtration Kit and MTU Duplex Pre Filtration Kit in one complete package.

According to the white paper, one of the first mine operations to use the new upgrade kit was Codelco's Radomiro Tomic copper mine in Chile, described as one of the most challenging sites in the world to meet stringent fuel standards. Located 9,800 ft above sea level, dust is ever-present and fuel must go through multiple transfers on its long journey to the site, thus raising the possibility of contamination. Previously, injectors were good for about 4,000 hours of service life. With the installation of the new upgrade, the mine is now achieving more than 8,000 hours.
---
As featured in Womp 2017 Vol 02 - www.womp-int.com