BHP Billiton, Vale Set Deadline for Samarco Disaster Claims
---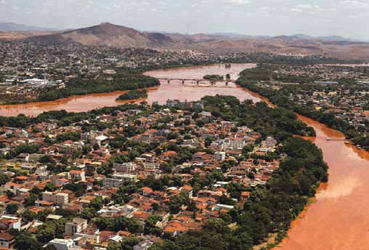 The Fundão dam failure at Samarco released 32 million m3 of tailings and killed 19.
(Estadao Conteudo/Gabriela Bilo)


BHP Billiton and Vale have until June 30 to settle the largest civil claim stemming from its joint venture Samarco's dam disaster in Brazil that occurred on November 5, 2015. The companies entered into a preliminary agreement with the federal prosecutor's office in Brazil to negotiate a settlement of the $47.5 billion claim.

The Fundão dam failure at Samarco released 32 million cubic meters of tailings that flowed all the way to the Doce River devastating numerous communities along the way. Nineteen people were killed during the disaster.

The preliminary agreement provides for the appointment of experts to advise the federal prosecutors on the social and environmental impacts of the dam failure, any revisions to the social and environmental remediation programs under the framework agreement, and for the ongoing assessment and monitoring of the programs.

Samarco, Vale and BHP Billiton Brasil will provide an interim security of about $675 million to support social and environmental remediation programs. The interim security comprises a charge over Samarco's assets of approximately $245 million, insurance bonds of approximately $400 million, and liquid assets of approximately $30 million.

The preliminary agreement also requires Samarco, Vale and BHP Billiton Brasil to advance approximately $60 million of the funding for the municipalities of Barra Longa, Rio Doce, Santa Cruz do Escalvado and Ponte Nova. The funds are to be advanced within 90 days after signing the preliminary agreement.

During the period that this agreement is in place, it will replace the approximately $370 million issued in the BRL 20 billion civil claim. In addition, the applications by the federal prosecutors for the $2.4 billion injunction in the BRL 155 billion civil claim and the approximately $6 billion asset freezing order in the criminal proceedings by the federal prosecutors in Brazil will be suspended.

If a final settlement arrangement is not agreed upon by June 30, the federal prosecutors may request reinstatement by the court of the $370 million injunction. The terms of the agreements are subject to ratification by the courts.

Any restart of operations at Samarco is subject to a separate set of negotiations. Resuming operations would require government approvals, the granting of licenses by state authorities, the restructure of Samarco's debt, and the completion of commercial arrangements with Vale regarding the use of its infrastructure.
---
As featured in Womp 2017 Vol 02 - www.womp-int.com