Outotec Books Orders for 2 Solvent Extraction Systems
---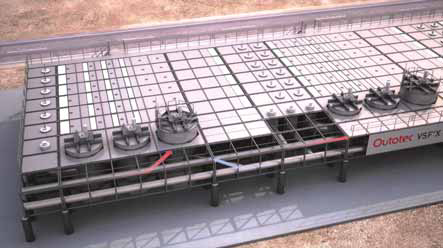 This model view of Outotecís VSFX solvent extraction system illustrates the modular construction approach
used to tailor installations to customer needs.

Outotec has been awarded two orders, worth a total of Ä25 million, for its new VSFX Modular Solvent Extraction technology. The contracts, said the company, were booked in its 2016 third-quarter order intake.

Outotec will deliver detailed engineering and a complete technology package for a modular copper solvent extraction and electrowinning plant for Sardich MC in Kazandol, Macedonia. Production is expected to begin in mid-2017.

Another contract, this one with the Italian engineering company Desmet Ballestra S.p.A Milano, calls for design and delivery of a solvent extraction plant to purify fertilizer phosphoric acid before evaporation. The plant will be built in connection with the El Nasr Co. for the Intermediate Chemicals (NCIC) fertilizer plant in Egypt. Outotecís supply includes VSFX technology, licensing, equipment for crud treatment and a cooling tower. Outotecís deliveries will take place in the end of 2017, and the entire plant is expected to be operational a year later. In June, Outotec contracted for delivery of two sulphuric acid plants for the same project.
---
As featured in Womp 2016 Vol 11 - www.womp-int.com