Fleet Management Systems Expand Their Capabilities
Software and hardware advances are designed to drive improvements in haulage efficiency
By Russell A. Carter, Managing Editor
---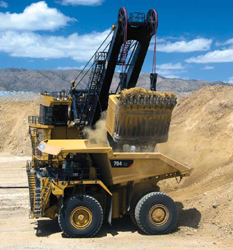 New truck-spotting guidance technology, introduced recently,
has the potential to speed up operations at the shovel and
dump site, while enabling mines to possibly use more
efficient loading practices.

The best-scenario image of a large, openpit mining operation is of an endless parade of shovel-matched, uniformly loaded, evenly spaced haul trucks traveling at constant speeds on precisely engineered roads to predetermined loading and dumping points under sunny conditions and on dry roads. Because of the industry's expertise in planning, scheduling, maintenance and earthmoving in general, that scenario isn't uncommon.

But, there are days when the weather doesn't cooperate, when a truck or two never leaves the line at start of shift, when a key employee calls in sick, a distracted driver backs into—or over— something expensive and important, or ore characteristics suddenly change and more tonnage is needed to avoid a problem at the mill. Present economic conditions throughout the industry make it unlikely that management will, or should, throw money, manpower and additional assets into the pot in anticipation of avoiding or mitigating problems such as these. The goal nowadays is mainly just to operate smoothly with the available assets. Efficient handling of the unexpected is, well…expected.

That's where modern fleet dispatch and management systems can make a difference—helping to optimize truck assignments to level-out dips and spikes in haulage efficiency. The latest versions of the increasingly sophisticated software suites and hardware interfaces that comprise these systems were on display recently at MINExpo International, the industry's largest trade show.

And, while the show's spotlight is always drawn to the new features added to the main elements of leading products (such as Modular Mining's DISPATCH, Cat's Minestar Fleet, Wenco's Wencomine and others), it's apparent that the capabilities of supporting software that is constantly being added to these increasingly modular solutions continue to increase in value and importance. Ancillary programs and services provide technology ranging from improved truck spotting at the shovel and collision avoidance to top-down, analytic assessment of a mine's overall haulage scheme, to name just a few.

Here's a rundown of the latest developments in fleet management technology.

Modular Mining: Spot On
At MINExpo, Modular previewed its new 'Guided Spotting' technology, utilizing advanced guidance technologies to assist truck operators in spotting properly at load and dump locations. Mines often employ less-than-optimum practices such as bucket spotting and single-side loading, which reduce the productivity of shovels and trucks. According to Modular, dynamically providing truck operators with guidance to the optimum load location without the need for shovel bucket spotting support can increase shovel productivity up to 34%. In field trials, Guided Spotting technology has shown the potential productivity increases by facilitating double-sided loading, reducing the occurrence of truck repositioning and shovel hang time. Additionally, the high-precision GPS navigation guidance and proximity alerts can improve safety by increasing operators' situational awareness.

Modular also launched its 4th-generation Collision Awareness System (CAS), which monitors and notifies operators of potential vehicle-to-vehicle collisions based on intelligent path prediction and pattern recognition algorithms. The system uses a high-speed, low-latency peerto- peer communications technology developed specifically for safety applications in the automotive industry to allow timely alarms and informative warnings to reach operators without delay.

Some of the highlights of the new CAS include:
• Advanced algorithms to minimize nuisance alarms;
• Scenario- and context-specific risk calculation;
• Silent informational alerts to the operator when the calculated risk is elevated, and audible warning alerts when intervention is considered necessary;
• 360-degree detection; (Unlike many other technologies such as radar and camera, vehicle-to-vehicle radio communication has no inherent blind spots. Multiple antennas further optimize coverage around large equipment.)
• Configurable scenario-risk calculations can be tailored to a particular site;
• Does not require wireless infrastructure to achieve long-range vehicle-to-vehicle communication; and
• Stand-alone, or integrated with DISPATCH ® FMS.

And, after reaching a milestone in early 2015 with the announced sale of its 250th DISPATCH Fleet Management System to a mine in Brazil, Modular recently announced a strategic alliance with Australian company RungePincockMinarco (RPM) to integrate and support bi-directional communication between RPM's XECUTE ultra-short term planning and HAULSIM haulage simulation software, and Modular's DISPATCH FMS and ProVision machine guidance solution. According to the two companies, shift plans and production targets will be dynamically used as control parameters for execution by the DISPATCH and ProVision solutions. The real-time execution progress will automatically feed back into the planning to refine the next short interval schedule, supporting collaboration from planning, production, maintenance and operations.

Wenco Shows Off System 6
Phil Walshe, president and CEO of Wenco, headquartered in British Columbia, Canada, noted at MINExpo that the latest release of Wencomine, the company's mine performance suite, rests on a foundation built on three decades of Wenco's involvement in fleet management technology. The new release, called System 6, is "…a huge step forward for us as an organization and, I think, for mining systems as a whole," Walshe commented.

Among the improvements is the merger of its two main applications—Fleet Control and MineVision—into a single interface. According to the company, dispatchers will have greater flexibility and control when assigning trucks, adjusting haul routes, or tracking production. The code base also has been rewritten to provide faster processing and to allow for more enhancements to be added in the future.

Wenco also announced the launch of its Activity Dispatch application, designed to reduce time spent on shift change, meal breaks, and blast delays. Activity Dispatch is claimed to ensure that equipment operators start their breaks within a small time window and that they tie down at the best location available. The application, according to Wenco, sends trucks to tie-down locations only as needed, calculating the time and site at which a truck should park, then assigning it accordingly—and automatically— using the mine's own data to find an appropriate location. Dispatchers can stagger breaks and set buffers as needed to limit equipment bunching. The service is designed to work for all trucks assigned to individual shovels, whether or not a mine uses Wenco's Dynamic Dispatch.

"It's the last piece of the puzzle," said David Noble, Wenco's director of product development. "We've had optimized truck assignments for a long time, and automated fueling too. Now, we've got a solution that handles those short breaks that happen throughout the shift."

Aiming for Agility
The word "agile" doesn't come naturally to mind when contemplating the ability of massive corporations such as Caterpillar to innovate at a pace that matches the rapid advance of many current technologies— but that's the company's goal, according to Jim Hawkins, director of Cat's Mining Technology group. "We are changing," Hawkins declared recently, pointing to the company's increased willingness to collaborate with nontraditional, high-tech players such as Uptake, a predictive analytics SaaS platform provider; its expanded focus on interoperability within mixedfleet environments; a strong program to develop and incorporate autonomous operations throughout the equipment fleet; and wider, more effective use of analytics and data science in general.

These initiatives are expected have filter- down effects on just about all of Cat's MineStar suite modules including Fleet, Command, Terrain, Detect and Health— perhaps in ways that are far removed from the familiar nuts-and-bolts routine of daily fleet operations. Advance weather forecasting, for instance: With improved data analytic capabilities, a fleet management system could notify users of 'bad weather ahead' well in advance of its arrival, providing an opportunity for a mine to schedule maintenance during a period when haulage might be halted or curtailed anyway, and reducing the potential for unscheduled downtime when haulage conditions are optimal.

The value to be gained from these types of technological innovations can be sizable, according to Hawkins. Data analytics when applied to a 797F fleet, can provide improvements in availability of 2%–3%; utilization, 5%; repair cost avoidance, $10 million annually; make-up truck cost avoidance, $18 million annually; and scheduled vs. unscheduled maintenance improvement of up to 10%.

Hexagon Goes Live with Atlas Release
Hexagon provides a range of products that allow mine managers and others involved in production planning and implementation to examine haulage performance. Its MineSight Haulage program now offers a refreshed interface that is designed to allow users to easily set up and manage a haul network, interactively display and edit the haul network in the MineSight 3D (MS3D) Viewer, export to a geometry object with the element attributes, display equipment charts, and create and export custom reports, including detailed cycle-time profiles.

Also, earlier this year Hexagon introduced Atlas 3.3 with Live Haulage, described as a major software enhancement that allows easy design, set-up, and management of a haulage network.

Part of Hexagon Mining's MineSight Planning Suite, Atlas is touted as a comprehensive solution for tactical scheduling and stockpile management, integrating multiple departments, such as drill and blast. Version 3.3 incorporates all haulage tools. Using Live Haulage, users can design, set up, manage, and modify a haulage network directly from Atlas, eliminating the need to design the network in a separate component or package.

Hexagon says the new release marks the first time that scheduling and haul network design functionality are unified in a single product, without the need for import/export. Live Haulage allows users to edit the haul network, add/delete/move/ modify road segments, add inter-phase ramps, and add/delete/move locations (waste dumps, mill, stockpiles, etc.).

Designed and modified haul networks can be dynamically visualized through the 3D viewer to allow instant visual validation. By facilitating full access to haul networks directly from Atlas, Live Haulage adds reality to tactical scheduling and eliminates the need to post-process schedules.

Engineers' work is simplified by using one product to generate accurate schedules. Planners can save time importing, exporting, and post-processing data, and spend more time analyzing and generating complete and practical schedules, according to Hexagon.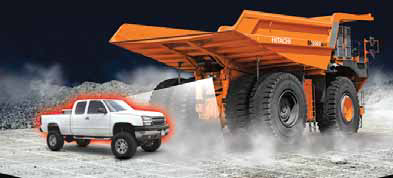 Hitachi's Aerial Angle system provides both object detection and full-perimeter peripheral vision
display capabilities for its mine trucks, using a combination of vehicle- mounted multiple cameras
and millimeter-wave radar technology.

Collision Avoidance/Object Detection Tech Takes Off
Collision awareness systems are gaining technological and market traction as the mining industry moves toward expanded use of autonomous equipment fleets. CAS can also have a strong influence on conventional haulage traffic efficiency as well, because nothing can halt production in the pit faster than a collision between machinery of similar or vastly different sizes, while near-miss incidents on the haul roads can rattle drivers' composure and lead to distracted behavior. Among the major suppliers of primary production equipment, recent developments include:

Komatsu's implementation of the CAS and Guided Spotting systems developed by its subsidiary, Modular Mining Systems.

Hitachi Construction Machinery's introduction of a peripheral vision display system with object detection technology called Aerial Angle. The technology alerts haul truck operators to the presence of obstacles near their vehicles.

HCM previously provided full-perimeter display systems for its haul trucks and hydraulic excavators used in mining. The new object detect assist technology features two operating modes— Stationary Mode, which incorporates camera image processing technology used in the Around View Monitor with the Moving Object Detection System developed jointly by Nissan and Clarion; and Forward Mode, which incorporates millimeter wave radar technology developed by Hitachi.

In Stationary Mode, the operator receives an alert if, as the haul truck stops or starts to move, any moving objects are detected nearby. Moving objects are recognized through images captured by cameras mounted on the front, rear, left and right sides of the dump truck. By quickly notifying the operator of any changes to the surrounding environment, the system contributes to improved operator awareness.

In Forward Mode, a warning is generated while driving, when approaching another vehicle on the road ahead. This mode uses millimeter wave radar, which is effective in low-visibility conditions such as rain, snow, fog or dust.

Two types of warnings are provided to the operator based on the radar data, according to factors such as the approach distance and relative speed of the object. Through these warnings, the system contributes to the operator's awareness of the surroundings. In addition to its use in the Aerial Angle system, the object detect assist technology is also being integrated into Hitachi's driverless, autonomous trucks currently in development.

Caterpillar also introduced a new collision avoidance system, Proximity Awareness, for surface vehicles. Part of Cat's MineStar Detect capability set, the new system uses peer-to-peer communications technology first leveraged by the automotive industry. The system is claimed to deliver fast, reliable communications between vehicles and presents collision avoidance information to operators without the need for a robust site-wide radio network.

The onboard hardware can be fitted to light vehicles and to any brand of surface mining equipment. Fewer components are required compared with the previous WiFi-based Cat Proximity Awareness system, leading to reduced space required onboard vehicles, faster installation and lower cost. The onboard display can store up to 24 hours of incident data. This data is sent to the office for storage and analysis by using strategically located communications hot spots on site. Incident capture, playback and reporting are independent of MineStar Fleet.

Cat MineStar Fleet, Proximity Awareness and Object Detection can run on a single, in-cab display. The new system retains features provided by the previous version such as avoidance zones, speed zones, highly configurable machine envelopes and projected paths, operator notifications, incident capture and playback for training or incident reconstruction. Alarming priority ranges from low to critical. If machines routinely are in close proximity, such as loading and hauling vehicles, alarm filters can be implemented between machine classes to silence non-critical warnings.
---
As featured in Womp 2016 Vol 11 - www.womp-int.com