Kemper Coal-gasification Plant Generates Power
---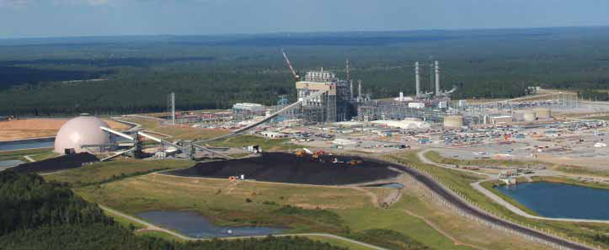 Mississippi Power's new Kemper coal gasification plant will enter service by late November.

Mississippi Power's Kemper coal gasification facility has produced its first batch of power, putting it one step closer to coming online. Company officials said that the milestone was achieved October 12, and it is now eyeing an in-service date on or before November 30. It will be supplied in part with the state's lignite. In the meantime, it will continue in the start-up phase with testing to include syngas, natural gas, or a combination of both. This also includes production of electricity by the project's second gasifier and operating both combustion turbines using all syngas.

Once online, the facility in Gulfport will be the newest large-scale U.S. power plant using integrated gasification combined cycle (ICGG) technology. "The generation of electricity using syngas is just the latest example of our company's commitment to deliver on our promise that Kemper will provide Mississippi Power customers with safe, reliable energy for decades to come," Mississippi Power Chairman, President and CEO Anthony Wilson said. "Achieving this latest milestone means that we are implementing innovative 21st-century technology right here in Mississippi."

In the many years the 582-megawatt Kemper has been under development, it has been riddled with growing cost problems, including equipment repairs, as well as opposition issues. Earlier this year, Southern Co.—parent company of Mississippi Power—estimated the price tag at about $7 billion. One initial cost estimate was about $2.8 billion.
---
As featured in Womp 2016 Vol 11 - www.womp-int.com