Oyu Tolgoi Sets Quarterly Record
---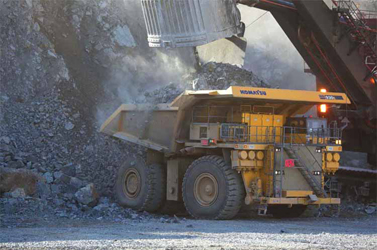 Ore extraction and stripping at a new mining area totalled more than 25 million mt during
third-quarter operations.

Turquoise Hill Resources announced third-quarter production for Oyu Tolgoi, which included setting an all-time high record for quarterly material mined of more than 25 million metric tons (mt).

This record includes stripping for Phase 4, which is the next area of highgrade ore. In the third quarter, concentrator throughput declined 4% over the second quarter due to planned maintenance and conveyor belt repairs. Copper production declined 9.9% over the second quarter as a result of lower recovery from Phase 6 ore. As expected, gold production declined 47.1% over the second quarter due to lower grades from the completion of mining Phase 2.

The company continues to expect Oyu Tolgoi to produce 175,000 mt to 195,000 mt of copper in concentrates and 255,000 ounces (oz) to 285,000 oz of gold in concentrates for 2016.

During the third quarter, work began for Shaft 5 sinking and the convey-to-surface box cut excavation while construction of critical on-site facilities continued. Oyu Tolgoi recently signed an additional underground mining and support services contract with Dayan Contract Mining, a joint venture between Hasu Megawatt and Redpath, for the sinking of Shafts 2 and 5. It has an underground workforce of 1,600 people and that is expected to reach 2,400 by the end of 2016.

Based on the 2014 Oyu Tolgoi Technical Report issued in October 2014, ramp up to full production is expected to take approximately seven years. It is anticipated that the underground production schedule in the upcoming 2016 Oyu Tolgoi Technical Report will be consistent with that report.
---
As featured in Womp 2016 Vol 11 - www.womp-int.com