Skellefteå Hosts Euro Mine Expo 2016
Preparations are under way in northern Sweden for Scandinavia's largest mining conference and exhibition
By Steve Fiscor, Editor-in-Chief
---
Kraft Arena Skellefteå


The Euro Mine Expo International Trade Fair & Conference, which takes places every two years, will be held June 14-16 in Skellefteå, Sweden. Located centrally to several mines, mills and smelters in the region, Skellefteå has a rich mining history and offers a great setting for miners and vendors to build business-to-business relationships.

While the business climate has changed in the last two years, Euro Mine Expo's organizers said that companies are quite eager to participate. In 2014, more than 2,000 people from 36 countries attended. Euro Mine Expo 2016 has four gold sponsors: Atlas Copco, Boliden, Outotec and Mandalay Resources, and an exhibition with a little less than 150 companies. "We have a few open stands in the copper hall and the outdoor area," said Jaana Tengman, project manager for Nolia. "Unlike the others that may have wanted to test the waters in the past, these companies are committed to the mining business in northern Sweden. They realize that this is a soft period and, when the business turns, they want to have a foot in the door." Nolia is the biggest organizer of fairs in northern Sweden. The company also undertakes national and international consulting assignments, bringing together more than 200,000 people every year to exchange experience and to network.

Euro Mine Expo also offers a technical program with presentations geared toward professionals in mining and mineral processing. With the help of Luleå University of Technology (LTU), which is situated just to the north, along with its gold sponsors and other organizers, Nolia has developed a program with information for everyone. The formal program consists of three sessions: Innovations & Business Development, Sustainability in Action, and a Market Outlook. It begins on Tuesday afternoon with sessions on Wednesday morning and Thursday morning. Other sessions and meetings have been organized peripherally and the details of those will be posted at www.eurominexpo.com.

Organized a Bit Different
In Skellefteå, hockey is one thing that is more important than mining. Euro Mine Expo takes place at the Kraft Arena. Named after Skellefteå Kraft, a Swedish power company, the 6,000-seat venue is home to the Swedish Hockey League's Skellefteå AIK, as well as Division 1's SK Lejon. Readers should note the scoreboard above the show floor in the photo below.
The Kraft Arena, which is normally used for hockey, will host the main Euro Mine Expo exhibit.


A compelling technical program adds signifi cant credibility to a trade fair. During trying times especially, it is diffi cult for mining companies to justify attending a conference unless it has an educational component. "Holding a successful Euro Mine Expo is very important for this region and LTU—the mining university for this region, which is recognized worldwide," said Sven-Erik Österlund, vice president, LTU Business AB, who has served on the Euro Mine Expo organizing committee since its inception in 2008. Established in 1983, LTU Business AB is a business development branch of the university that focuses on the commercialization of research and continuing education in the region.

The opening session, Innovation & Business Development, offers a technical perspective. The fi rst speaker, May Hermanus with the Council for Scientifi c and Industrial Research (CSIR) South Africa, will explore future technology needs.

The second presentation by Pär Johansson and Maria Magdalena Holmgren will discuss the KIC (pronounced kick) program and other European Union (EU) Initiatives. The European Institute of Innovation and Technology (EIT), which aims to enhance Europe's ability to adapt quickly to the fast pace of development, created a KIC (Knowledge and Innovation Community) for Raw Materials (http://eit. europa.eu). "The goal of this KIC is to boost innovation as far as the raw materials challenges in Europe," said Österlund. "Several KICs have already been established for energy, health, etc."

"During these periods of low metal prices is when the mining business usually sees some of its greatest innovations," Österlund said. He cited the Boliden presentation on 5G as an example. During that presentation, Peter Burman, program manager mine automation, Boliden, will discuss the fifth generation of wireless technology.

The second session will delve into several aspects of sustainability. Referring to Karl-Erik Rånman's presentation, The Fossil Free Mine, Österlund explained there is a big push in this region to distance themselves from carbon emissions. "For the mines of course, this means replacing diesel-powered equipment with biofuel or electrically powered equipment and using electricity generated from an emissions- free power plant," he said. Following Rånman's presentation, two LTU researchers will discuss a path toward sustainability. On the fi nal day, presenters will turn their attention toward the markets and offer delegates thoughts as to where it is heading.

This year the exposition side of the trade fair has been reduced from three halls to two. "This year, we have two crowded halls and the outdoor area," Tengman said. "Using three halls in 2014 created some challenges with the social events. This year, the conference and the restaurant will occupy the iron hall with the main exhibition in the arena, the copper hall and the outdoor area."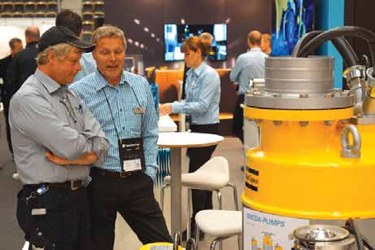 The Euro Mine Expo trade fair brings mining professionals and equipment
manufacturers together..


Nolia also organized a small pavilion for junior miners in the iron hall. "We are offering something new for these smaller companies," Tengman said. "We're hoping to get 10 junior mining companies to participate."

E&MJ reached out to many exhibitors and asked what they were planning to showcase at Euro Mine Expo 2016. What follows is small sampling of the technologies and services delegates can expect to see.

Solutions to Increase Processing Capacities
Outotec will demo solutions that mining companies could use to tackle current challenges such as depleting ore grades, increasing effi ciencies and fi nding affordable solutions to increase capacity. The highlights will be the new cPlant Flotation concept and sensor-based ore sorting.

For flotation processes, Outotec has launched a modular cPlant Flotation concept. The plant is based on pre-fabricated and functionally tested modules inside container-sized steel frames that can be easily transported and installed, and quickly connected to the process. In the core of the plant is Outotec's proven fl otation technology with FloatForce mixing mechanism and other Outotec TankCell features.

As most of the installation and test work is done at Outotec's workshop, the plant requires less labor and lower capital investment than a conventional fl otation plant. The plant's modular construction makes it economical to move to a new site once the ore deposit at the old site is processed.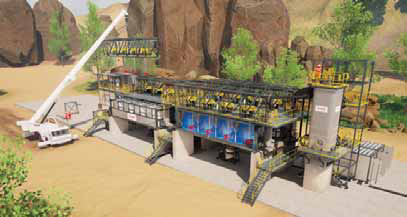 Outotec's cPlant Flotation concept is based on pre-fabricated and functionally tested modules.


Outotec's sorting solution is a sensorbased ore sorting method that provides signifi cant economic benefi ts by removing waste from the ore feed in the crushing and grinding circuit of a concentrator plant. In a greenfi eld application, sorting reduces capital investment and operating cost because waste rock is not consuming capacity from the process. In brownfi eld applications, sorting benefi ts existing concentrator plant in two ways: by removing waste rock that consumes capacity and increasing head grade of the concentrator feed.

The One-man Hammer
Fast and accurate grade control is the key to an effective mineral extraction process and ultimately to mining productivity and profi tability. That's why Atlas Copco Secoroc extended the RC hammer range with COP RC45—the smallest, lightest and fastest reverse circulation hammer ever.

The 120-mm (4.5 in.) COP RC45 reverse circulation hammer features a revolutionary new design. Since it is 40% shorter than the nearest competitor and more than 30% lighter than most hammers doing the same job, one man can easily handle the hammer by himself.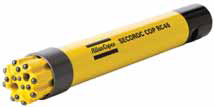 The Secoroc COP RC45 hammer.


The COP RC45 hammer works with an extremely high impact frequency, up to 52 Hz at 30 bar. This is possible thanks to a unique air chamber design. Much smaller air chambers build up pressure faster and make the piston strike at a much faster rate. The marginally lower impact force is more than compensated for by the much higher impact frequency. Tests show excellent penetration rates in all types of rock—also in difficult rock formations.

Like the RC 50, the COP RC45 hammer features Atlas Copco Secoroc's tube retention system. This design allows fast and easy service, and tubes are quickly replaced without disassembling the hammer. The result is less time servicing the hammer and more time sampling.

LED Headlights
Designed to be effi cient and robust, Finnish work light producer Nordic Lights believes its LED combination headlight will set a new standard and offer a brighter future for heavy duty equipment. Since the work day does not necessarily start at dawn and end at dusk, miners need powerful illumination, not only for work to be effi cient but also to maintain safety in darkness. The Sculptor LED N60XX is the world's fi rst all LED, ECE-approved combination headlight in serial production. Developed for the most demanding working environments around the world, the lamp offers headlight, park light and 180° indicator in one application.
Nordic Lights LED Sculptor headlight.


The dimensions of 233 x 161- x 134- mm is extremely compact for a combination light. The universal design of the combination light also makes it an interesting and suitable option for equipment with shorter production series.

Nordic Lights' Quake dampening system takes the durability of headlamps to a whole new level. The combination headlight withstands shocks of 60 G and vibration of 15.3 Grms at 24-2,000 Hz. The LED diodes have much higher vibration resistance compared to halogen bulbs.

Cooling is effectively handled by thermal transfer through the alloy housing to the cooling lamellas at the back.

Directional Core Drilling
Devico will exhibit its latest surveying product line. The company invites miners to visit the stand and learn why "smarter exploration'" can be summed up by three letters: DCD. When seeking to maximize exploration budgets, Directional Core Drilling (DCD) is often the solution. Devico offers DCD services worldwide. Many drilling contractors and mining companies have used the technique to increase precision, reach multiple remote targets with continuous coring, save time and cost, make wiser decisions, and successfully improve profitability.

Abrasive-resistant Solutions
Manex AB (Stand 175), Belzona's distributor in Sweden, will showcase innovative solutions to erosion and abrasion in liquid and solids handling equipment. Belzona 1800 Series resins, containing coarse and fi ne particles, effectively resist abrasive media at low impingement angles. The company's line of elastomers, in turn, are recommended at 60º–90º impingement angles, because much of the impact energy can be dissipated through elastic deformation. Finally, for erosion-corrosion repair and prevention, Belzona 1300 Series materials with ceramic fi llers perform exceptionally well in immersed conditions. Visitors will also be able to use an interactive display table to navigate through a mine and see typical problems that Belzona can remedy.

Vertical-mounted Gear Units for Agitators
Santasalo will showcase its AMF vertical- mounted gear units. By incorporating a bidirectional axial fan, optimized housing design and additional new features, the AMF vertical gear unit eliminates the need for external cooling in extreme ambient conditions. These units feature Santasalo's proven drive technology, in operation in thousands of vertical mixing applications around the world. Direct- drive construction with electrical motor and fl exible HSS coupling ensures high effi ciency, while the highly optimized gear unit layout results in cost savings and a smaller footprint.
Santasalo's AMF vertical gear units offer high efficiency for agitators.


These two- or three-stage vertically mounted helical gear units feature a power range of up to 750 kW and nominal output torque of up to 200 kNm, as well as a reversible operational direction. A robust design ensures they are easy to transport and install without risk of damage.

Santasalo already delivered the fi rst order for the AMF gear unit series in Kazakhstan (fi ve units) and two additional projects are currently being delivered for fi ne grinding applications in U.S. (six units), and Australia (three units).

Real-time Slope Monitoring
Replacing the previous Real Aperture Radar (RAR) technology with Synthetic Aperture Radar (SAR), IDS allowed mine slope monitoring systems to move from monitoring focused areas to entire pit walls at a high resolution. In 2012, IDS took another step forward, adding a new dimension with the FPM360 system, which enables a mine to integrate data from multiple IBIS radars through a single user interface to provide full coverage of an entire pit.

Currently, the IBIS radar family offers the right solution for every mine slope monitoring need: the IBIS-FM longrange solution up to 4.5 km; the IBISFMT mobile long-range version, which is easily towable by a light vehicle; and the IBIS-Rover mobile medium-range radar for broad area slope monitoring. The only Synthetic Aperture Radar with a rotating antenna capability, the IBIS-Rover provides a 270° fi eld of view with a scan time of just 4 minutes.

At Euro Mine Expo 2016, IDS will present revolutionary developments in radar monitoring: the IBIS-FB and IBIS Guardian TrueVector. IBIS-FB is a remote sensing monitoring system designed to support the assessment of blasting operations and control their impact both on the pit slopes and nearby structures. IBIS-FB integrates standard vibration monitoring systems providing remote broad area measurements of ground vibrations with high accuracy. After every single blast, IBIS-FB measures a range of performance indexes at multiple points at long distances, even allowing data to be received from within inaccessible areas that traditional monitoring systems can't monitor.

IBIS Guardian TrueVector is a feature- rich software suite for the interpretation of IBIS radar data and the management of slope stability risks in open-pit mining operations. With the TrueVector technology, IBIS Guardian is able to resolve the spatial direction of displacement vectors for hundreds of thousands of overlapping radar pixels that have been monitored simultaneously by two or more radar systems. Accuracy is sub-millimetric. No prisms, markers or refl ectors are required on the slope, instead, the IBIS systems rely on natural backscattered information to rapidly resolve spatially dense and continuous x, y, z, displacement information.

Vertical Access Solutions
Alimak Hek is a global market leader and pioneer in designing, developing, manufacturing and servicing industrial rack-and-pinion vertical access solutions. More than raise climbers, they are wellknown worldwide for providing high-quality hoists, elevators and platforms.

Alimak Hek recently completed a shaft refurbishment project for the Tauern Tunnel in the Austrian Alps. The Tauern Autobahn near Salzburg serves as an important north-south connection in region. The 6,500-m tunnel tubes are equipped with full cross ventilation and each tube is divided into four ventilation zones. Air handling units are located at the northand south portal, as well as in a cavern between both tubes in the middle of the tunnel.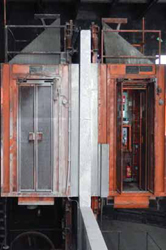 Alimak Hek recently refurbished two elevator
carriages that operate in a ventilation shaft
at the Tauern Tunnel in Austria.


The cavern is connected to the surface by a 600-m high, 10-m diameter shaft. Alimak rack-and-pinion elevators for personnel transport are mounted on the shaft's center wall, which splits the intake and exhaust air. The elevators operate by using a hoisting system that consists of winches, crane girders and defl ection rollers.

Both Alimak elevators were ready for refurbishment after nearly 50 years of use. Because of the special confi guration, new elevator cages could not be installed easily. Therefore, the elevators, the cable winch necessary for the operation, the horizontal carriage and the electrical control cabinets, as well as the transformers, were refurbished.

The project was timed to minimize traffi c interruption as much as possible. During the early autumn months, the elevator cages, electrical cabinets and winches were dismantled. Using chain hoists, muscle power, precision and a special loading crane, these parts were brought through the top of the shaft.

Specially constructed equipment was also used at the bottom of the shaft to disassemble the horizontal carriage, winch and electrical cabinets: A HEK MSM Super mast climbing work platform transported the equipment from the recess to the shaft base.

Refurbishment was completed in an ISO-certifi ed Alimak Hek production facility in Skellefteå. After structural and electrical engineering tests, all components still usable were cleaned, sandblasted, resealed and freshly painted. In addition to the Alimak components, the access stairs and railing in the recess of the supply air lift were cleaned, and the protective housing of the horizontal carriage was refurbished.

Completely refurbished and fi tted with new safety devices, gears and motors, the components began their journey back to their place of origin. Thanks to the experience gained during the disassembly and with the help of the equipment retained, the special elevator installation was able to resume its service after successful installation.

Euro Mine Expo 2016 Conference Program
(Preliminary as of April 4, 2016)

Conference Opening, Tuesday, June 14 (1-2:30 p.m.)
Welcoming Remarks: Lennart Gustafsson, chairman of Georange Government and Keynote Address
Innovation & Business Development (3:00-6:00 p.m.)
Chaired by Jenny Greberg, Luleå University of Technology (LTU) Mining Redesigned: Equipment and Technology Needs for the Future May Hermanus, executive director, Natural Resources and Environmental Unit of the Council for Scientifi c and Industrial Research (CSIR) South Africa What's the role of KIC and other EU Initiatives? Pär Johansson, director of commercialization, LTU Business Maria Magdalena Holmgren, manager EIT Raw Materials Northern Co-Location Centre Why 5G can improve safety and productivity underground Peter Burman, program manager mine automation, Boliden Opportunities for Local Economic Linkages – the Case of Southern Africa Johannes Danz, program offi cer at the Federal Institute for Geosciences and Natural Resources, BGR Germany

Sustainability in Action Wednesday, June 15 (9 a.m.-Noon)
Chaired by Deborah Craig, International Women in Mining The Fossil Free Mine Karl-Erik Rånman, Boliden A Path Toward Sustainability Helena Ranängen, PhD., Industrial Environmental Management, LTU, and Åsa Lindman, LTU Women in Mining Georgette Barnes, Ghananian entrepreneur and owner of drilling company, chairwoman of Ghana Georgette Barnes Ltd. Health and Safety in Focus Glenn Mpufane, head mining industry, IndustriAll global union Prospecting for Secondary raw materials in the Urban Mine and Mining Wastes – ProSum Sarah Downes, MSc, Environmental Quality Management, Repic.

Market Outlook: A Light at the End of the Tunnel?)
Thursday, June 16 (9 a.m.-Noon) Chaired by Anton Löf, SNL Metals & Mining New Corporate Landscape John Mayer, partner/mining analyst, SP Angel, London Metals Markets: Copper, Gold, Zinc, Silver and Lead Dr. Chris Hinde, director, reports, SNL Metals & Mining The Iron Ore Industry, Market and Prices Melinda Moore, head of iron ore, London Standard Bank "Still Rockin" – 10 Good Things about Today's Mining Industry Dr. Mike Armitage, chairman SRK Consulting Closing Remarks Magnus Eriksson, professor, Mineral Economics, LTU and co-founder and partner of the Raw Materials Group (RMG). Tommy Abrahamsson, CEO, Nolia AB
---
As featured in Womp 2016 Vol 04 - www.womp-int.com