Agreement Sets Funding Requirements for Samarco Dam Disaster Recovery
---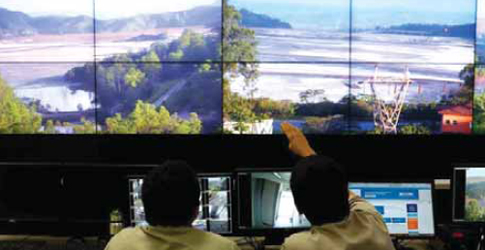 Operators monitor the environment in the area of the Samarco tailings dam breach that took place in early November
2015. The disaster took the lives of 19 people and polluted the Rio Doce river. (Photo: Samarco)


Samarco Mineração and its joint-venture shareholders, Vale and BHP Billiton, signed an agreement in early March with Brazil's federal government, the Brazilian states of Espirito Santo and Minas Gerais, and certain other public authorities to fund restoration of the environment and communities affected by the disastrous Samarco tailings dam failure that occurred on November 5. The disaster killed 19 people, devastated surrounding communities and polluted the Rio Doce for hundreds of kilometers downstream.

The agreement provides a long-term framework for responding to the impact of the tailings dam failure. Under the agreement, Samarco, Vale, and BHP Billiton will establish a foundation that will develop and execute environmental and socioeconomic programs to remediate and provide compensation for damage caused by the dam failure.

The agreement covers two broad types of programs: reparation programs to restore the environment, local communities, and the social condition of the affected areas; and compensatory programs to provide compensation where remediation is not possible and to provide compensation on a goodwill basis for certain special projects that go beyond strict make-good and compensation—for example, improvements to sewage systems and landfi ll management in the Rio Doce river basin.

The foundation will be governed by a seven-member board, with Samarco, BHP Billiton, and Vale each appointing two members and Brazilian authorities appointing one member. The agreement is for 15 years, renewable for periods of one year successively until all obligations under the agreement have been met. Samarco will fund the foundation with contributions of BRL 2 billion (approximately $500 million) in 2016 and BRL 1.2 billion (approximately $300 million) each in 2017 and 2018. Contributions in 2019 and beyond will be determined in accordance with projects undertaken in a given year. To the extent that Samarco does not meet its funding obligations, Vale and BHP Billiton will be liable in proportion to their 50% shareholdings in Samarco.

The agreement is subject to court approval, and if approved, will settle the civil claim brought against the companies by Brazilian authorities on November 30, which sought payments for damages of up to BRL 20 billion.
---
As featured in Womp 2016 Vol 04 - www.womp-int.com