Boliden Acquiring First Quantum's Kevitsa Mine in Northern Finland
---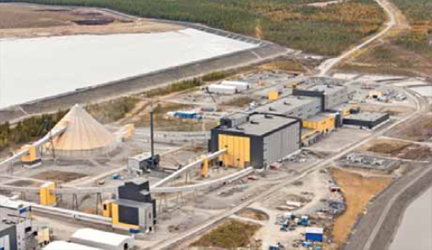 Kevitsa (pictured here) is an early stage mine which we believe can provide good synergies with our
existing business in mining, said Lennart Evrell, Boliden's president and CEO. (Photo: First Quantum)


Boliden has agreed to acquire First Quantum's open-pit Kevitsa nickel-copper- gold-PGM mine in northern Finland for $712 million in cash. The mine processed 6.7 million metric tons (mt) of ore in 2015 and produced 8,805 mt of nickel, 17,204 mt of copper, 12,847 oz of gold, 31,899 oz of platinum, and 25,196 oz of palladium in two separate concentrates.

Boliden is headquartered in Stockholm, Sweden, and currently operates mines in fi ve mining areas: Aitik, the Boliden Area, and Garpenberg in Sweden; Kylylahti in Finland; and the Tara mine in Ireland. The company has copper smelters at Rönnskär, Sweden and Harjavalta, Finland; zinc smelters at Kokkola, Finland and Odda, Norway; and a lead smelter at Bergsöe, Sweden. Feed to the smelters is supplied through concentrates from Boliden's own mines and concentrates and secondary raw materials from external suppliers. Boliden's internal copper concentrate production covers about 30% of its smelters' requirements, while the fi gure for zinc smelters is about 65%.

Regarding the Kevitsa acquisition, Boliden President and CEO Lennart Evrell said, "This is an attractive opportunity to acquire a high-quality mine with an excellent operational and geographical fi t with Boliden. The acquisition is consistent with Boliden's growth strategy. Kevitsa started production at the end of 2012 and is an early stage mine, which we believe can provide good synergies with our existing business in mining, concentrating, smelting and regional exploration. It also establishes a nickel feed base load for our Harjavalta smelter.

"The timing of the acquisition fi ts us well. Boliden has executed substantial expansion projects in recent years and is ready to take on a new major project. Together with the Kokkola and Harjavalta smelters and the Kylylahti mine, the acquisition of Kevitsa will expand Boliden's platform in Finland, an attractive geological region."

The Kevitsa plant recovers copper and nickel in two separate fl otation circuits. The two products are a nickel-copper- PGM-gold concentrate that grades close to 12% nickel and a copper-PGM-gold concentrate that grades close to 28% copper. The concentrates are thickened, fi ltered and stored separately for transport.

In 2015, nickel and copper accounted for roughly 40% each of Kevitsa's net revenue, with gold, PGMs, and cobalt accounting for the remainder. The mine has 380 employees and about 200 contractors. Boliden will fi nance the acquisition through a committed 24-month bank facility provided by Nordea Bank.

First Quantum is a multinational mining company with mines in Zambia, Mauritania, Spain, Turkey and Finland. Following the sale of the Kevitsa mine, the company will continue to own and operate the Pyhäsalmi underground copper and zinc mine in central Finland.

First Quantum is currently developing its 80% owned Cobre Panama copper project in Panama. The project is planned to produce about 320,000 mt/y of copper in concentrate over a mine life of more than 40 years. Construction was approximately 39% complete as of early March. Ramp-up to design capacity is scheduled for 2018 and 2019. Capital expenditures are estimated at $5.48 billion.
---
As featured in Womp 2016 Vol 04 - www.womp-int.com