Munich Prepares for bauma 2016
The world's largest trade show offers something for everyone including professionals in mining and mineral processing
By Steve Fiscor, Editor-in-Chief
---
More than 535,000 turned out for bauma 2013. The event, billed as the largest machinery trade show,
takes place again in April.


With a total exhibition space of 605,000 m2, bauma is the largest trade show in the world. The event takes place every three years in Munich. In 2013, bauma broke all previous records, attracting a total of 3,421 exhibitors from 57 countries, and more than 535,000 visitors from more than 200 countries. From April 11–17, 2016, Messe München, the group that organizes bauma, is expecting another record turnout.
Prior to the event, Messe München will present five companies with its highly coveted Innovation Award. For 2016, the organizer is also experimenting with an exercise in cross-pollination: the Open Innovation. They are also starting a new tradition of giving back with a Charity Alliance. "Corporate societal and social commitment is no contradiction," said Klaus Dittrich, chairman and CEO of Messe München GmbH. "On the contrary, long-term success requires both factors to go hand-in-hand. Many bauma exhibitors have long since taken this on board and are acting accordingly." Inspired by the "Pilosio Building Peace Award," bauma has established the Charity Alliance to coincide with the forthcoming event. The network intends to promote dialog between members on the implementation of social projects and to attract additional interested parties to become actively involved. Applications are restricted to companies exhibiting at bauma 2016, who are carrying on projects in the fields of education, nutrition, health, social integration or the environment, and that bring about a lasting improvement in the living conditions of people living in, or hailing from, crisis areas, emerging or developing countries.
Messe München is launching another platform related to improving business, the "bauma Open Innovation." The online platform allows bauma participants and other professionals interested in a particular sector to solve their innovation-related challenges, by calling upon the expertise of Messe München's entire cross-disciplinary network of contacts. The object is to get companies to engage on this platform in applications or technology "scouting." For example, companies can seek out new industries or fields of application for their existing products and services, and/or find appropriate technological solutions to meet specific challenges they are facing.
By trade show standards, bauma is huge and it's important. It's mostly a construction event, but many European mining suppliers will be on hand and several of them are exhibiting new products and services. With this bauma Preview 2016, E&MJ offers a glimpse of what readers can expect to see this spring in Munich.

Liebherr to Debut New Dozer and Excavator
Delegates do not need a map to find the Liebherr Group at bauma. They simply look for the overhead cranes to get a bearing and then walk toward the 240-metric-ton (mt) haul truck. Liebherr will showcase its extensive range of construction machines, mobile and crawler cranes, material handling technology, mining, as well as components, on a total display area of more than 14,000 m2. For miners, the highlights include a large crawler tractor, the company's first in the 70-mt category, and a newly developed 200-mt excavator.
The R 9200 excavator was built to complement Liebherr's broad range of mining-class excavtors. Equipped with a 12.5-m3 bucket, the company said it offers sustainable performance while delivering peak fuel burn efficiency, even in the most challenging conditions. The excavator is a pass match for 140-mt haul trucks.

The Liebherr PR 776 crawler tractor features a hydrostatic drive.


The R 9200 is available in backhoe and face shovel configuration and is fitted with the company's advanced bucket and ground engaging tools (GET). The bucket has been engineered to deliver superior digging performance and high fill factors, according to Liebherr. It is powered by the Cummins QSK38 diesel engine that has a rated output of 810 kW. The cutting-edge cab of the R 9200 provides the operator with a panoramic view of their operation. The R 9200 integrates an advanced electronic piloting control system, which is both intuitive and versatile.
Liebherr will also unveil the new PR776 crawler tractor, which is powered by a Liebherr 12-cylinder diesel engine developing 565 kW (768 hp). The dozer has a maximum operating weight of 74 mt and is equipped with blade capacities of 18 m3 (semi-U blade) or 22 m3 (U blade).
The modern drive concept of the new PR 776 offers extremely efficient and safe operation to customers. A new feature in this machine class is the infinitely variable hydrostatic travel drive. Another advantage of the modern drive concept is the optimization of pressure flow. Hydraulic servo pressure is based on demand, according to the task. If, for example, the full feed of pressure supply is not required when operating, this is automatically returned.
An engine management system combined with a power efficiency system and the hydrostatic driveline allows the PR 776 to maintain constant engine speed, increase overall machine efficiency and reduce fuel consumption. This differentiates Liebherr's travel drive concept from other drive concepts available on the market, where the engine speed fluctuates sharply during operation.

Paus Showcases Compact Personnel Carrier
The new generation of the Paus MinCa has arrived—a compact personnel transporter for the mining industry. For more than 20 years, the MinCa (Mining Car) has been a successful model in the product range of the Hermann Paus Maschinenfabrik (Hall C2, Booth 339 or at the open air area FM 615/1). The MinCa is a front-steered, all-wheel-drive transporter vehicle for use in the mining industry worldwide.

The MinCa all-wheel-drive transport vehicle.


The Paus Minca 18A is an economic, safe and reliable transport vehicle. With a payload of 4 mt, this highly maneuverable and robust vehicle was built specifically for the extreme mining conditions and openings from 3.7 m x 3.7 m. The water-cooled engine with hydrostatic drive, permanent all-wheel drive and special suspension with good ground clearance provide best driving comfort for driver and passengers. Even in difficult road conditions or extreme inclines the Minca reaches a maximum speed of 30 km/h.
The new generation of the MinCa is based on the proven concept. With its compact dimensions of 3,998 mm x 1,725 mm and a payload of 1,200 kg the MinCa 5.1 is the perfect personnel transporter even for narrow mines. The fully suspended chassis guarantees a comfortable transportation at any road conditions. The specialty of the new MinCa is the three-drive concept at one platform. The compact mine vehicle is available with a Deutz diesel engine generating 85 kW at 2,300 rpm with the proven hydrostatic drive. The hybrid generates 50 kW with an electric drive and a range of about 12 hours. The third version is a fully electric engine generating 50 kW and a range of approx. 3-4 hours, which will be extended in the near future.

World's Largest Gyratory Crusher will be Debuted by thyssenkrupp
The Industrial Solutions business area of thyssenkrupp will unveil the world's biggest gyratory crusher at bauma 2016. The new machine is the KB 63-130, which despite a roughly 14% larger mantle diameter of 130 in. (3.3 m), weighs much less than its predecessor at 490 metric tons (mt). Its throughput of up to 14,000 mt/h is more than 30% higher than that of the predecessor model.
The unit weighs less because thyssenkrupp's engineers have said goodbye to usual design principles. "In the past, the rule of thumb was the bigger the diameter, the taller the crusher," said Detlef Papajewski, head of mineral processing for thyssenkrupp Industrial Solutions. "But because users generally only need a bigger diameter to increase output, the KB 63-130 is exactly the same height as the other crushers in the 63-in. series despite the larger mantle diameter."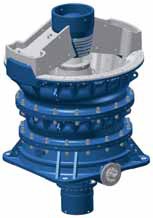 The KB 63-130 gyratory crusher.


The new machine sets new standards with a drive rating of 1,500 kW as well. It replaces the KB 63-114 gyratory crusher developed by thyssenkrupp in the mid-90s, which is in operation at the world's biggest gold mine in Indonesia. The 30% increase in throughput, combined with the significant weight reduction compared with its predecessor, has been made possible by combining finite element modeling with advanced discrete element method simulations.
The housing parts have a similar "fish belly design" to other thyssenkrupp gyratory crushers. This special design reduces stresses in the crusher housing and increases its strength despite the optimized weight. Technical highlights of the new crusher include the rotatable countershaft assembly for setting tooth clearance, and the eccentric bearing assembly with top bevel gear. As well as allowing better balancing of the machine, the new bearing system permits a much more compact design as well as maintenance-friendly assembly and disassembly.
To give potential users a better impression of the new crusher, thyssenkrupp is also taking a new approach to its display in the mining exhibition area (Hall B2, Stand 203). "We will be demonstrating new products like the KB 63-130 not just as 3-D computer animations but also as 3-D prints," Papajewski said. "It's hands-on gyratory crusher technology."

New Bucketwheel for Harder Formations
For the open-pit mining side of the business, thyssekrupp will present a new generation of compact bucketwheel excavators (BWEs): the Barracuda and the Mine Shark. Both machines will be able to work in hard materials with compressive strengths up to 50 MPa.
While BWEs today mostly work in soft and medium-hard rock with a compressive strength of up to 20 MPa, this machine has been designed to work in a broad range of materials including coal, limestone, phosphate rock, potash, frozen materials in winter conditions as well as in its corresponding overburden layers.
To fulfill the requirements of the severe working conditions, special bucket and tooth designs have been applied by thyssenkrupp. These designs are based on innovative testing methods and include a larger number of teeth and buckets. This stage of development of BWE demonstrates the changing character of the extraction process from digging to cutting.
The combined extracting and loading process with a single machine eliminates the need for blasting as well as additional loading activities. The new BWEs are able to produce throughputs of more than 3,000 mt/h. thyssenkrupp will have a model of the Barracuda on display (Hall B2, Stand 203).

Beumer Conveyor Belts
The Beumer portfolio includes curved belt conveyors for fast and cost-efficient transport of large quantities of bulk material from the mine to mill. Belt conveyors are able to navigate long distances, high angles of inclination and tight curve radii, and can be adapted individually to the belt or pipe conveyor bulk handling solutions. Depending on the customer's requirements, Beumer provides either troughed belt or pipe conveyor bulk handling solutions. Open troughed belt conveyors are recommended for larger throughputs, higher mass flows and wider curved radii. Closed pipe conveyors protect both transported items from environmental influences and the environment from falling items. Troughed belt conveyors can also be covered or encased to minimize dust formation during transport. This seal guarantees dust-free transport.

LHD for Underground Mining
GHH Fahrzeuge (Hall C2, Stand 437) will display the LF-21H LHD with a payload of 21 metric tons (mt). GHH claims that the LF-21H is the most powerful and efficient machine in the large LHD class. The unit is equipped with a proven Efficient Drive System (EDS), the newest hydrostatic drivetrain.
Optimized for rough conditions underground, the EDS achieves significant productivity gains compared to conventional hydrodynamic drivetrains. Working in combination with an intelligent monitoring system, it guarantees simple operations as well as maintainability.
The LF-21H is available in different cabin variations for highly efficient mining in low-seam applications of 2.5 m. A Z-link for hard rock applications is designed for high breakout forces and loading trucks. A low-profile version of the Z-link and the lowest machine height of its class provide superior visibility even in confined spaces. A great variety of optional assistance systems such as collision avoidance and the automatic loading mode will improve safety.
The Brokk 120 Diesel.


Demolition Robot
Brokk will debut the 120 Diesel, the world's smallest diesel-driven demolition robot, at bauma. This compact machine (only 780 mm wide) can operate independently and untethered for more than 8 hours and effectively tackle jobs that no other machine can. In addition to maneuvering through tight spaces, the machine's low weight (1,200 kg) makes it easy to transport.
"The Brokk 120 Diesel is developed based on the needs communicated to us by our customers facing especially challenging situations, where they need a very compact machine that is completely independent from a fixed power source," said Martin Krupicka, CEO of Brokk Group. The 120 is the third, and by far the smallest, dieselpowered machine in Brokk's lineup.

Additives Enhance Hydraulic Fluids
The word is out—high-performance hydraulic fluids formulated with Dynavis technology from Evonik Industries save more money than they cost. "A simple change of hydraulic fluid can help save fuel, even—and particularly—in used construction machines," said Rolf Fianke, Dynavis technology aftermarket support manager at Evonik. As one who knows the sector well, Fianke has noticed increasing demand for technologies that contribute significantly to increasing efficiency. Those who want to more fully exploit the potential of their machine, or their fleet, would find it well worth their while to drop in at the Dynavis technology team's exhibit (Hall A6, Stand 245).

GET Bucket Protection Solutions
A little more than seven years ago, MTG was well-known in the European construction business for its GET, and started its global expansion into the mining market. With this objective in mind, in 2013 the company built a new large foundry in Monzón, around 300 km west of Barcelona, Spain. The plant specializes in the production of large wear parts for large surface mining equipment, something very special in the wear parts market given the huge investment in technology necessary to produce such parts. Today, the company has protection systems installed on loaders, excavators and rope shovels in Latin America, South Africa, Australia and throughout North America.
To stand out, José Luis García, marketing manager for MTG, believes a company needs to do focus on system performance, quality and the cost efficiency for ground engaging tools (GET) as it relates to efficiency and hassle free operations.
For bauma, MTG (Hall A6, Stand 437) will display a wider range of its MTG Systems ProMet wing and blade shrouds, which offer increased wear life as well as an improved bucket performance in both construction as well as mining machinery. For rope shovels in particular, the company has launched a new hammerless lip locking system along with new designs for teeth and adaptor systems, developed specifically for mining applications. "We have proven that our systems can work in mining," García said. "We are now building on that line in a way that adds new elements, which make the system more complete. We do not speak just about GET anymore, we offer full bucket protection systems, and are capable to find the best option, depending on the client's bucket.
The 3 x 1 MTGTwist Hammerless locking systems are easy to assemble and disassemble. ProMet mechanical shrouds protect the side of the dipper. The company offers a range of weldable and bolt-on shrouds. Realizing that mining conditions are site specific, the metallurgy can be engineered for more abrasive or less abrasive loading applications. "Similarly, the crowding action differs between shovels and loaders and MTG adds more wear protection in certain areas depending on the application," García said.
A new range of wing and blade shrouds offer increased bucket protection and ensure improved performance for large mining machinery. "The design of the blade shrouds has been specifically optimized to offer up to 30% more wear material than comparable systems," García said. The front of the MTG shroud contains between 10% and 20% more steel. The fitting system only requires welded base for each shroud, making installation easy and quick while reducing downtime. MTG is also offering a reversible 1-m long wing shroud for mining class loaders.

Off-Highway Equipment Research
Off-Highway Research is a management consultancy specializing in the research and analysis of equipment markets, and is the largest of its kind in the world. The consultancy was formed in 1981 as part of The Economist Intelligence Unit (EIU) and is now part of KHL Group, the world's largest and most respected provider of international construction information. The group offers a unique level of international research expertise. Off-Highway Research (Hall B5, Stand 227/B) will present updated forecasts for the equipment sector across its Chinese, European and Indian subscription services, its Chinese, Indian and international databases and the global volume and value service.

Orlaco Super Compact Camera
The EMOS camera from Orlaco (Hall C4, Stand 336) adds a new dimension to the digital camera world. It is a compact camera that can be used universally on all types of monitors. Simply connect the camera to a network and a high-quality video stream appears with only a minor delay (less than 100 mps). EMOS is designed for use in the most challenging situations and is fully shock and vibrationresistant. The super compact camera is the size of a matchbook and has a solid aluminum housing. The interior is fully protected with potting compound that holds everything in place. No risk of damage and the system is fully waterproof (IP68) and resistant to high-pressure washing (IP69K). The universal bracket allows users to mount the camera in numerous positions on any type of vehicle.

Surface Mining Means Simple Mining
Wirtgen's Surface Miners (Hall FS, Stand 1010-1111) replace drilling, blasting, crushing and loading with one single machine. These machines cut and crush the rock with a special cutting drum and load it onto haul trucks in a single pass via a slewable conveyor system. Alternatively, the rock can be deposited as windrows between the crawler tracks or sidecast. These three different processes make for a high level of versatility in surface mining applications.
With cutting widths of between 2.2 m and 4.2 m, it can cut to a depth of up to 83 cm and to an unconfined compressive strength of 120 MPa. "Wirtgen is the only manufacturer that can offer a performance range of 100 to 3,000 t/h with direct loading by conveyor belt," said Bernhard Schimm, product manager for Wirtgen's Mining Division. Wirtgen offers three time-proven performance classes, which can be configured variably to meet the needs of each project: the 2200 SM/2200 SM 3.8, the 2500 SM and the 4200 SM. Wirtgen has developed two innovations: a camera system for rock interface detection and a cutting drum unit for the flagship Surface Miner 4200 SM.
With the new camera system, selective mining is now even more precise thanks to simple visualization of the rock interface. To this end, two cameras are mounted at the level of the cutting drum. To compensate for the slope of the layers, which are not always horizontal, one camera is attached on the left and the other on the right. These cameras transmit 1:1 photos of the surface to a double monitor in the cabin. The machine operator can accurately detect the transition from valuable mineral to interburden based on the different colors and/or structures of the two minerals and can then adjust the cutting depth, if required. Reduced dilution saves costs with downstream processes.
The second innovation also maximizes profits. This is because Wirtgen's newly developed cutting drum unit for the Surface Miner 4200 SM has been specially designed for the windrowing method. Capable of outputs up to 15% higher than a standard cutting drum unit, it will also reduce tool consumption by up to 15%. These advancements are the result of an optimized milling drum design. The essential feature here is the increased tool spacing of 75 mm—this being the horizontal distance between the tool cutting tracks. This boosts the cutting performance so that more minerals can be deposited behind the Surface Miner in windrows.
---
As featured in Womp 2016 Vol 02 - www.womp-int.com