Schalke Marks Two Decades of Locomotive Sales to Codelco
---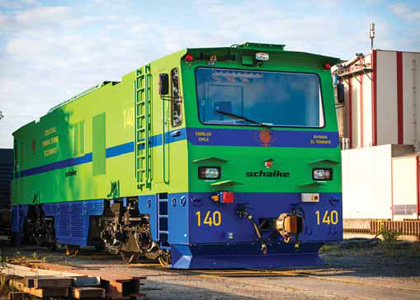 Shown here is the 22nd locomotive to be delivered by Schalke to Codelco's El Teniente underground
copper complex.

German locomotive builder Schalke recently announced it had delivered a custombuilt electric loco to Codelco's Esmeralda mine at the Chilean copper producer's El Teniente underground mine complex. The latest delivery is the 22nd unit purchased for that operation by Codelco from Schalke, dating back to 1996 and starting with 72-metric ton battery/trolley hybrid locos, then progressing to 130-mt trolleypowered units. The first eight of these larger models were delivered in 2002, followed by one more in 2009 and the latest unit earlier this year. Schalke said that not only are the 130-mt locos in constant operation at the mine, pulling 2,400-mt trains, but the older units are also still in service, working in the haulage level at the Esmeralda mine. In addition to these units, in 2012 Schalke designed and delivered three additional 105-mt diesel-electric service locos for service on El Teniente's main transport level.

The 130-mt units were designed to Codelco's specifications and provide a maximum speed of 60 km/h, powered by four 600-kW traction motors that generate maximum tractive force of 256 kN. The locos' AC technology allows for electro-dynamic braking down to a complete stop, eliminating the need for mechanical brakes in normal operation and reducing wear on rails, wheels and other components.

All of the locomotives are equipped with Bombardier's INTERFLO 150 train control system, an advanced traffic control system well-suited for operations in underground mining conditions. The system provides for unmanned train operations as well as remote-controlled loading and unmanned unloading, can accommodate a mixture of automatic, semiautomatic and manual operations, and allows for simultaneous operation of both production and auxiliary trains.

All 22 locomotives were sold to Codelco via Ferrostaal, a German trading and service company. Ferrostaal Chile, a subsidiary of the German parent company, has a maintenance contract for all locomotives delivered to Codelco. In a cooperative program involving Schalke, Ferrostaal and Codelco, the first major overhauls for the 72-mt locos, as well as the original eight 130-mt units, will take place in 2015 and 2016, allowing the locomotives to be fitted with current-generation gearboxes, traction motors and traction converters.
---
As featured in Womp 2015 Vol 08 - www.womp-int.com