Aureus Hits Nameplate Capacity at New Liberty Gold Project
---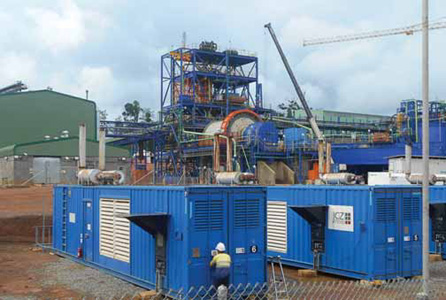 First gold was poured at the New Liberty processing plant in May. Owner Aureus Mining expects full
production by the end of 2015. (Photo: Aureus Mining)

Aureus Mining reported on July 20 that the process plant at its New Liberty gold project in Liberia had reached nameplate capacity following a successful period of commissioning. The plant underwent a 24- hour period of performance testing, during which it operated at a feed rate of 152 metric tons per hour (mt/h) of run-of-mine ore at a plant availability of 96%. Aureus issued a certificate of performance test completion to the engineering, procurement, construction and management (EPCM) contractor, DRA Mineral Projects.

New Liberty poured its first gold in May. Its first shipment of gold doré was scheduled to be transported from the mine to MKS PAMP in Switzerland for refining by the end of July.

The New Liberty project is designed to mine and treat 1.1 million mt/y of primarily unweathered ore. The plant design incorporates two-stage crushing, ball milling, gravity concentration, and a carbon-in-leach circuit for a steady-state recovery rate of 93%.

Aureus expects the project to reach full commercial production by the fourth quarter of 2015 and to sustain a production rate of 120,000 oz/y throughout 2016. The mine has a current design life of eight years and is expected to produce an average of 119,000 oz/y of gold over its first six years of production.

The project has estimated proven and probable mineral reserves of 8.5 million mt hosting 924,000 oz of gold at a grade of 3.4 g/mt. The reserves are contained within planned open pits that have depths of between 180 and 220 m below surface. The orebody is still open at depth, and Aureus has identified measured and indicated mineral resources of 9.8 million mt hosting 1.1 million oz at a grade of 3.6 g/mt and an inferred resource of 5.7 million mt hosting 593,000 oz at a grade of 3.2 g/mt.

The New Liberty project is located on Aureus' 100% owned Bea Mountain mining license, which hosts several additional prospective gold targets.
---
As featured in Womp 2015 Vol 08 - www.womp-int.com